Norah Jones Rocks with Sennheiser and Neumann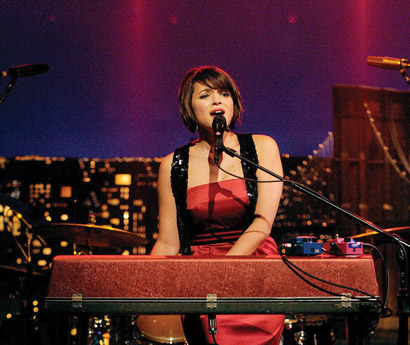 MONTREAL – Singer/songwriter Norah Jones is supporting her fourth studio album, The Fall, with a tour and performances on late night TV. The album, produced by Jacquire King, is a rock 'n' roll departure from Jones' earlier work. But Jones' voice has not changed, and FOH engineer Brett Dicus continues to rely on Neumann gear for vocals and a backline of Sennheiser wired mics and wireless PMs.
Depending on the acoustical circumstances, Jones sings into a Neumann KMS 104 cardioid or a KMS 105 super-cardioid. Both microphones deliver the Neumann studio sound with the handling required for a live performance. "Above all else, the most critical sound reinforcement tool that we bring with us to every date is Norah's Neumann vocal microphone," said Dicus. "She's been using some variant of a Neumann microphone or a Neumann capsule with a Sennheiser RF transmitter for almost all of her touring career. On those rare occasions where we're asked to use something else, we miss the studio-quality high-end and lifelike sibilance that we get 'out of the box' with the KMS 104/105."
Sennheiser e 935 wired vocal microphones provide pick-up for all backing vocals, and Sennheiser's classic MD 421 delivers robust electric bass. Dicus' drum sound relies on a collection of Sennheiser evolution 900 Series microphones. He explained, "A Norah Jones show requires consistent tone quality. Transparency is very important because we cannot hide behind loud guitars or screaming fans. Every nuance of each musician's performance is equally important to both the music and the sound reinforcement. With a typically busy tour day and many issues competing for our attention, we rely heavily on the performance of our tools. Neumann and Sennheiser consistently deliver."
Several of Jones' musicians use Sennheiser wireless personal monitors. Monitor engineer Russ Wilson remarked, "Sennheiser belt-packs are ideal for performance because of their size and weight. Their small form factor and light weight allow easy integration into any wardrobe choices, plus Sennheiser wireless monitoring has always been ideal for Norah and her band, both in terms of tone and reliability. And Sennheiser's support staff have been extremely helpful around the world in maintaining consistent RF performance."
Jones and her band will kick off a 36-city tour in early March.
For more information, please visit www.sennheiserusa.com.
Leave a Comment: