Winter NAMM 2008 Still Not an Audio Show, But…

FOH hit the convention floor for a firsthand tour of new gear that stood out in the crowd.
OK, so for an MI guitar show there was a respectable amount of new audio gear at Winter NAMM. Nothing earth-shattering, but enough to keep things interesting. Here is some of what floated our boats…
Crown Audio expanded its affordable XLS line with the XLS 5000 power amplifier, putting 1,800 watts per channel at 4-ohms into every person's gig budget (about $1,400 MAP). Although three rack spaces and 62 pounds with a conventional supply and the Crown branding, this is the macro-tech-on-a-budget dream for anklebiter subwoofer needs.
While also strolling through Harman world, a couple other things were interesting. First are two new direct boxes from dbx. Listing at $120 and $130 each, the db10 and db12 passive and active direct boxes are rugged and roadie-weapon-like devices that are professional performance quality. Also at dbx was a slimmed down version of the DriveRack series made specifically for powered speakers where things like crossover point and delay are already set.


AKG's new D4 Stage Mic is now vying to be the microphone everyone can use everywhere, with the exception of vocals. Sporting a stubby dy-namic profile, the D4 has a wide-frequency band and a universal mic clip that doubles as a drum rim clamp for percussion usage. And Soundcraft entered the quality rack-mount mixer battle royale with its GB2R, with one version offering 16-channel XLR, 100 mm faders and six aux sends. And with Asian manufacture and the quality GB circuitry, the Soundcraft GB2R is going to get a big fan club.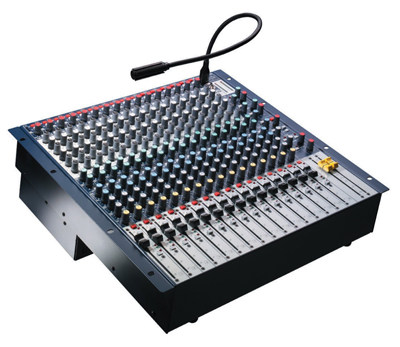 Leaving Harmanland, QSC made some noise with its GX series power amplifiers (and a cake that looked just like one of the amps at the press un-veiling). The GX3 and GX5 have front panels similar to the new PLX2 amplifiers. But in keeping a specific cost sensitive market, the GX series are only 4-ohm and above capable amplifiers for installs and MI-market customers. The GX3 can provide 425 watts per channel at 4-ohms, and the GX5 can do 700 watts per channel at 4-ohms. These amplifier are targeting the under $400 cost markets.
Sabine came to NAMM 2008 with a new gizmo called the Phantom Mic Rider that plugs through vocal mics via the XLR connections and mutes mics not having a human Infrared heat signature near them. The Phantom uses phantom power and costs about $160 MSRP each to do its job. This is a small beautiful gadget for loud stages ( I can see sound engineers keeping a couple in the briefcase as problem solvers).
The Bosch/Telex/EV/Dynacord/KT/Midas, etc., empire was at the show with many new products, but what caught my eye was the new DC-One speaker processor with a $999 MSRP. The DC-One from EV is a single rack space unit with a 2-in, 6-out XLR speaker processor and a good-looking human interface. I especially liked the dual LED bargraphs for each output channel showing both an eight-LED signal status and an eight-LED limiter/band select status as well. Look for this in a future road test review.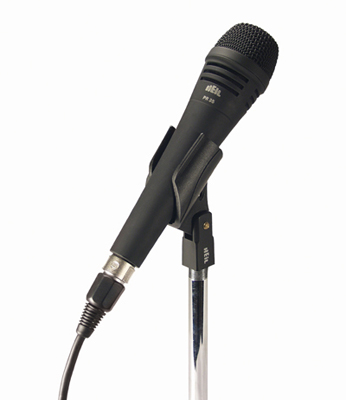 Heil Sound brought king Bob Heil out to NAMM to show off his attire and a couple new mics. Of note are the PR 35 mic and the Handi Mic. The PR 35 is pretty much the PR 30 side address mic, but redesigned for handheld vocal use. The PR 35's huge dymanic capsule with plenty of sorbo-thane shock mounting makes the PR 35 a great vocal mic that provides studio quality vocal detail at a bargain price. The Handi Mic is a mini-sized dynamic mic originally intended for Leslie cabinet mixing of the rotary horn element, but can be used with hi-hat, cymbals and anything needing great presence and high frequency detail.
Carvin quietly stunned me by sneaking out their XD88 X-Drive digital speaker processor. Featuring a large LCD display for Graphic EQ settings and other displays, this 8 in by 8 out unit has a lot of capability. Not only can you route the inputs and outputs universally, but each channel has time delays, parametric EQ, crossover filters, gain controls, mute selection, phase selection and a RTA/pink noise capability with a rear RTA mic XLR jack for metering. And at $699.99, the price is right.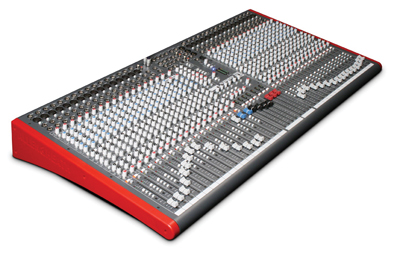 Allen & Heath was busy on both the analog and digital sides of things. Adding to the iLive series, they brought in a smaller control surface with 32 x 16 capability and a price tag under $30K. On the analog end, they introduced larger frame size ZED consoles with four-bus capability in the 16, 24 and 32 mono-XLR input sizes. The ZED-420, ZED-428, and ZED-436 consoles are positioned a touch below the GL series offerings, and get a USB output capability with most of the GL2400 features.

Digidesign also went downmarket without sacrificing features. Their new Venue package combines the stage and FOH boxes, allowing you to get into a Profile system for less than $40K. This leaves just DiGiCo and Soundcraft/Studer without a sub $45K digital console offering. Expect to see the march toward digital turn into at least a trot here soon. Digidesign live marketing guru and uber mixer Robert Socville says they are out to do nothing less than completely change the live mixing paradigm…
Over in Peavey City — in addition to some wicked cool guitar amp stuff that we are not allowed to talk about yet, they were showing a new full-size version of the Versarray as well as the CV-20, which is likely the last large analog mixer to carry the Crest logo.
In the LOUD Technologies Pavilion, the Mackie line introduced several new products for live sound. What caught my eye were the new SRM plastic portable loudspeakers with Class-D amps and switcher power supplies. Both a 15" SRM450v2 and a smaller 12" SRM350v2 keep a lot of the older styling, but reportedly address most of the issues users had with the previous version. (You own at least one pair of these, so you know what we are talking about.) We'll put them to the test in an upcoming review.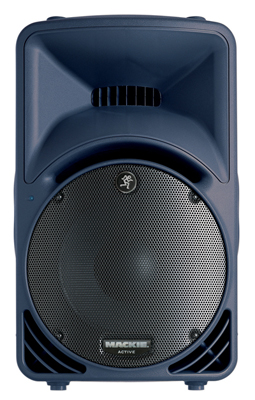 What else? Audio Technica showed a pair of new wireless personal monitor systems. Though originally conceived and designed for the NAMM crowd, with a pretty pro feature set and price tags of $599 and $799, you can count on seeing a lot of these on gigs. Again, a road test is coming.
Other random stuff — SKB had some wicked cool new cases including a Gig Rig and some watertight stuff that they used for sound gear on the Pirates of the Caribbean set. Evidently, they so trust these cases that they just closed them up — with things like a Yamaha OM1V inside — and floated them down the river to the next location. Oh, and Audix had a neato clip-on mic stand for guitar and bass cabs that allows you to avoid those little stands that everyone trips over and keep a cleaner looking stage for $59 bucks.
Finally, it may not seem like anything for FOH to be covering, but there were no fewer than half a dozen systems out there that aimed to get guitarists using a laptop as their amp. While I think it's one of those "never gonna happen" things, it was gently pointed out by someone at Waves that this is largely a generational issue. Just like the kids don't flinch at digital mixers, the time may come when the laptop-as-amp thing becomes the norm. Which will present us with a whole new set of issues and a market for tube direct boxes to "warm up" that guitar signal. Same as it ever was…
Leave a Comment: