New Gear

AKG D7 Dynamic Vocal Microphone
AKG Acoustics introduces the D7 vocal microphone for live sound applications. AKG`s newest dynamic microphone features a humbucking coil that reduces electrical interference and stage feedback. The D7 also features an integrated high-pass filter that cuts out low frequencies, eliminates handling noise and provides audio clarity. The D7 delivers high-end sonic performance with its new Laminated Varimotion diaphragm. This design allows the diaphragm to be fine-tuned without extra tuning resonators. The D7 response evokes the subtle, open sound of a condenser microphone, while maintaining the rugged reliability of a dynamic microphone. The D7 comes complete with a carrying case, mounting clamp and replacement windscreen. Two additional models are also available: the D7-S, which features an on/off switch; and the D7-WL1 microphone capsule for use with AKG wireless systems. www.akg.com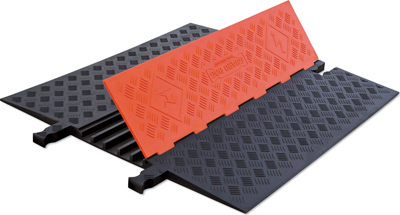 Checkers Guard Dog
Checkers introduces the Guard Dog Low Profile Heavy Duty Cable Protector. With a height of 1.25", the Guard Dog is a low-profile, top-loading, multi-channel cable protector. This design features wide, gently sloping ADA Compliant ramps that allow effortless crossing and a hinged lid to organize valuable cables/wires into separate channels. Guard Dog Low Profile Cable Protectors fit multiple cable sizes and are compact for easy setup, takedown and storage. www.cableprotector.com.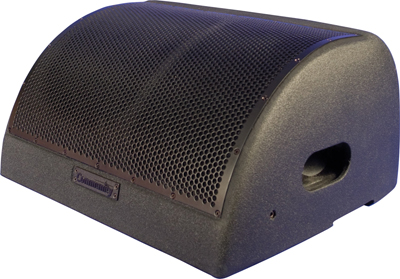 Community M12
The Community M12 stage monitor has been redesigned in response to customer feedback. Community has improved the M12 with rubber pocket grip handles for portability and a larger, easier-to-access connector base. The ergonomically designed stage monitors feature recessed handles de-signed to simplify lifting and carrying by both handles or just one. The M12 is designed for any application where low visibility is a key require-ment. The base of the M12 has been redesigned to provide easier access to the input connectors, streamlining setup and teardown times for live events and portable applications. The high-frequency driver is mounted to a molded one-piece asymmetrical horn with a 90-degree pattern at the top and 40 degree at the bottom, allowing full-range monitor output close up or at a distance. This pattern delivers even coverage while keeping energy away from stage walls. For installers seeking to mount the M12 to walls or ceilings, an optional built-to-order install version will also be available with four M10 hang points and a mounting bracket plate for permanent installation.
www.communitypro.com.
Electro-Voice DC-One
The Electro-Voice DC-One digital loudspeaker system controller, based on a two-in-six-out topology, is designed primarily for users of small- to medium-sized sound systems in both mobile and installed applications. While the unit is a new development based on a SHARC processor, it is 100% compatible with all settings from other Electro-Voice signal processors, including the Dx38. Though free PC-Editor software is available, the DC-One can be operated via the front panel. Direct access buttons, six predefined configuration modes (one being free configuration), straightfor-ward output delay settings and professional metering allow for safe operation. DC-One's "front-panel-access-control" allows the user to select a personal library of accessible presets (out of 60 factory and 20 user presets). In addition, the user can determine which individual parameters in each preset are locked (e.g. factory predefined output parameters) or editable (e.g. master EQ or delay settings). The DC-One has a 1U 19-inch chassis that is deep enough to match typical amplifier depths, a front panel USB connector for the PC-Editor, and accepts either analogue or digital (AES-EBU) input signals; a 6-dB input pad is available. The RS232 on the rear also provides eight contact clo-sures for preset changes, or allows two units to be linked for larger systems. www.electrovoice.com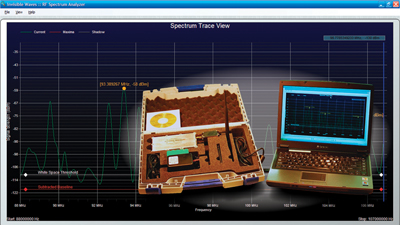 Invisible Waves IW1800
The Invisible Waves series of PC-based RF spectrum analyzers are touted as the world's first, PC-based RF spectrum analyzers, which offer auto-matic charting of open white space (open RF frequency) for use with wireless microphones, in-ear monitors, remote control, etc. The Invisible Waves model IW1800 covers the frequency span of 100 KHz to 1.8 GHz. Resolution bandwidth (RBW) is 1 KHz with a typical sensitivity of -120 dbm. The Invisible Waves (IW) analyzers feature an Automatic White Space Finder that identifies all open RF space within a user-defined range. The White Space Finder graphically depicts the ideal frequency positioning of transmitters within the given open space. The Priority Monitored Frequencies feature allows the user to select up to 10 different frequencies, monitored in a colored barograph display, for quick identification of priority channels, their signal presence and strength. The IW analyzers are designed to offer intuitive and easy-to-use sweep analysis, (including the ability to split-screen the display into simultaneous broad span sweeps and a zoomed-in view), spectral image printout capability and extended logging and playback capability. www.rfanalyzers.com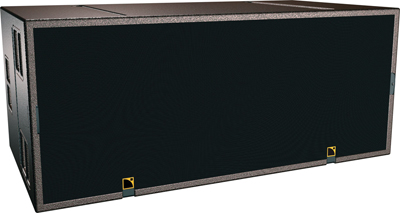 L-ACOUSTICS SB28 Subwoofer
Designed as the successor to the SB218 subwoofer, L-ACOUSTICS' new SB28 enclosure brings more powerful low-frequency impact and im-proved bass articulation to tours, installations and corporate productions utilizing KUDO, V-DOSC, dV-DOSC and ARCS systems. The four-ohm SB28 contains two front-loaded, 18-inch direct radiating transducers integrated into a bass-reflex tuned enclosure capable of operating down to 25 Hz. These specially designed LF transducers provide cone excursion capability combined with low thermal compression even at the highest operat-ing levels. The enclosure's bass-reflex vents feature a progressive profile allowing for laminar airflow. The combination of the SB28's modern components with the new vents ultimately delivers a +5 dB SPL output compared to the previous standards. Control and amplification of the SB28 is managed by L-ACOUSTICS' new LA8 amplified controller platform. The LA8's DSP filtering encompasses crossover functions, system EQ and L-DRIVE thermal and over-excursion protection of the transducers. Made of Baltic birch plywood, the cabinet features industry-standard aero-quip rails for column rigging, a single 4-pin Neutrik Speakon connector on the rear panel, integral side handles for portability and a black epoxy perforated steel grille covered with an acoustically transparent "Airnet" cloth. www.l-acoustics.com

NEXO NXAmps
Two new high-powered amplifiers manufactured by NEXO and powered by Yamaha will make their debut at Yamaha Commercial Audio Systems, Inc. The NEXO NXAmp 4×4 and 4×1 provide a cost-effective integration of command, control, protection and amplification of NEXO loudspeaker systems. Using Yamaha EEEngine technology, the amplifiers offer sonic purity of conventional class AB, but with a heat dissipation equaling class D technology. The UL-certified NXAmp models both feature four amplifier channels that can be configured in 2×2 bridge mode, providing up to 4x 4000W at 2 ohms per channel or 2x8000W at 4 ohms per channel on the NX 4×4 and 4x1300W per channel at 2 ohms or 2x2600W per channel at 4 ohms on the NX 4×1. The NX 4×4 is 4U high, contained in a 19 in. rack and weighs 49 lbs., and the NX 4×1 is 3U high, in a 19 in. rack space weighing 33 lbs. The NXAmp power supplies are full resonance-type with half bridge converters, and its design minimizes noise via ZCS (Zero Crossing Switch) technology. The NEXO NX 4×4 employs four times the structure of a mono amp to realize high power with a low-impedance load. Front panel features include three amp status LED indicators, LED display, encoder, user-control navigation buttons, volume and channel in-dicators, and mute and select buttons. NXAmp signal processing is identical on both models and derived from the NX242 TD controller features. www.yamahaca.com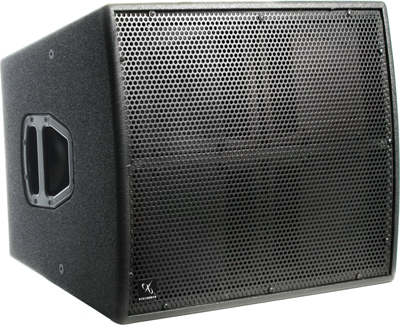 Worx Audio M80X2-P Line Array
WorxAudio Technologies introduces the M80X2-P Line Array. A new addition to the company's TrueLine Series, the M80X2-P is a two-way, high efficiency, ultra-compact line array loudspeaker system. It incorporates two modules, each with a medium format, 1-inch exit compression driver coupled to a stabilized proprietary FlatWave Former (wave shaping device) that is designed to deliver clear, penetrating high frequencies over a predictable and controlled coverage area. These compression drivers are paired with dual 8-inch cone transducers coupled to the Acoustic Intergrading Module that minimizes cone filtering throughout the entire operating spectrum and provides a rich, fully balanced sound with a fre-quency range that spans from 45 Hz to 20 kHz (-10 dB). The M80X2-P loudspeaker system provides a total of two high frequency drivers and four bass drivers — all housed in a rugged enclosure. www.worxaudio.com
Leave a Comment: