New Gear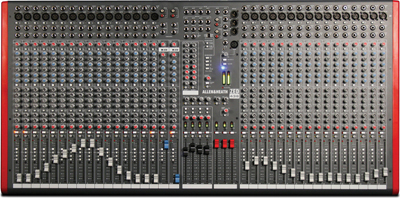 Allen & Heath ZED 4-Bus Series
Allen & Heath has announced the ZED-420 (16 mono + 2 dual stereo channels), ZED-428 (24 mono + 2 stereo) and ZED-436 (32 channel + 2 stereo) mixers. Similar to the smaller ZED-14, the 4-bus series features the same performance DuoPre TM padless preamp, which is a microphone circuit and an optimized line input circuit, rather than one pre-amp handling both mic and line signals. It uses a two-stage design with carefully controlled amounts of gain in each stage, offering high headroom and a low-noise, clean signal path. The ZED 4-bus series has a responsive 4-band, 2-swept mids EQ with in/out switch, 6 aux sends (2 pre, 2 post, 2 pre/post), 4 sub groups, direct outputs on each mono channel, separate L, R & M main buses, 100 mm long-throw faders, 2 matrix outputs and a talkback facility to auxes or LRM. The connectors are placed on the top surface for easy plug-in and patching, and the construction, with individual circuit boards nutted to the top panel, is identical to Allen & Heath professional touring mixers.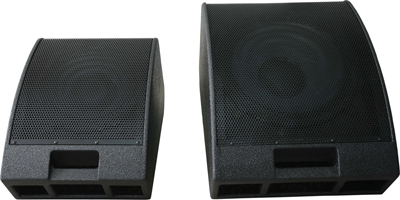 Radian Audio Apex Series Monitors

Radian Audio Engineering has introduced the new Apex Series of compact stage monitors. The Apex 1200 and the Apex 1500 are ultra-compact, low-profile, two-way floor monitors for live performance and installed sound applications. The Apex 1200 features Radian's 12-inch coaxial speaker with a 2-inch compression driver, offering a 90-degree conical dispersion. Power handling is 500 Watts RMS with a frequency response of 55 Hz–17 kHz and a sensitivity of 99 dB. The enclosure is 12.5" x 14.5" x 21.5" and weighs 56 lbs. The Apex 1500 houses a 15-inch coaxial speaker in an enclosure engineered to be almost half the size of conventional stage monitors without sacrificing performance. Also incorporating a 2-inch compression driver and generating a 90-degree conical dispersion, the Apex 1500 offers a power handling of 500 Watts RMS, a frequency response of 45 Hz –18 kHz and a sensitivity of 102 dB. By using coaxial drivers, Radian Audio has been able to engineer the two new Apex wedges with front baffles that are 40 percent smaller than most conventional floor monitors. The low-profile cabinets minimize audience sightline interference while the compact form factor reduces the onstage footprint. Constructed from 13-ply 3/4-inch Baltic birch with a sturdy steel front grille, both enclosures incorporates a built-in carrying handle plus a hidden cable management system that prevents accidental damage to the twin NL-4 connectors.

www.radianaudio.com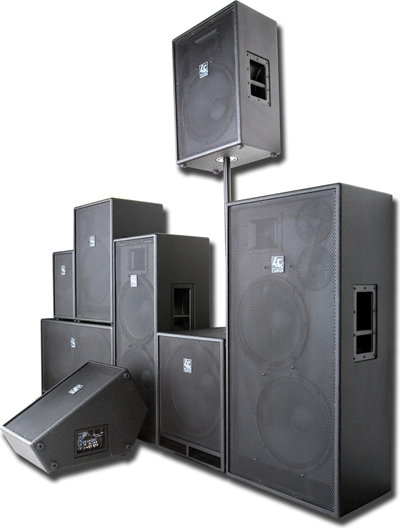 Carvin LSx Series Loudspeakers
Designed to address a wide range of SR applications, from portable PA systems for mobile DJs and performing musicians through large venue sound systems, Carvin intro-duces the LSx Series loudspeakers. Consisting of 17 models, 10 non-powered and seven powered, the LSx Series includes 18-gauge steel grills, recessed steel handles, high or-der, low-loss crossovers plus Neutrik Speakon and quarter-inch connectors. The LSx Series enclosures are built with 18-mm multiply hardwood and finished with a multilayered, catalyzed poly¬urethane Duratex finish designed to withstand the rigors of the road. Each enclosure is designed, tuned and ported using LEAP software and measured with LMS software for system performance. Carvin's LSx1002 is a 2-way Main/Monitor loudspeaker featuring a 10-inch woofer and a Mylar 1-inch HF driver. The LSx1202 (passive) and LSx1202A (powered) loudspeaker systems are both 2-way designs that employ a 12-inch woofer paired with a Titanium 1-inch exit (1.5" VC) HF driver. They can function as stand-alone systems or be coupled with the LSx1801 subwoofer. The LSx1202A incorporates two internal active bi-amped amplifiers plus a 3-band EQ section.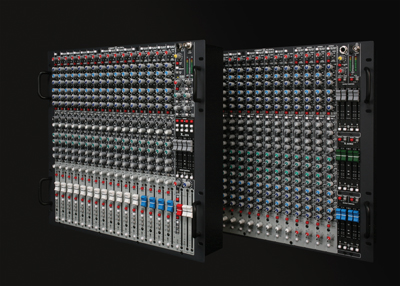 Crest Audio X Series Rackmount Mixers
Crest Audio introduces the X Series rackmount mixers, the successor to the X-Rack Series. X Series mixers feature the same lauded sonic accuracy, quiet op-eration and core features as their predecessors plus an updated circuit design and four new models: the X18R and X20R for mains and the X18RM and X20RM configured for monitors. With high-end performance and rock-solid construction, Crest Audio X Series mixers feature a modular package coupled with an ex-tensive feature set suitable for virtually any application. X Series models are available with up to 14 mono and up to four stereo inputs, long-throw faders, versatile four-band semi-parametric EQ, channel inserts and high-quality, low-noise microphone preamplifiers. The X18R and X20R consoles have six config-urable aux buses and three main buses that provide many FOH mixing configurations, while the X18RM and X20RM have up to 12 mono or six stereo mix buses for floor or in-ear monitoring. Integral monitor and tape-level outputs provide additional flexibility. The X Series will be available in Q4 2008 from authorized Crest Audio dealers.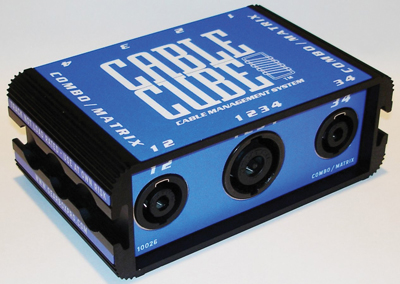 Gear Box Pro Cable Cube
Gear Box Pro's Cable Cube is a multi-conductor speaker cable accessory that breaks-out, combines and functions as a hi-tech adaptor for Neutrik Speakon style speaker cables. The Cable Cube is equipped with fly clip track that allows you to fasten them to trusses and other types of rigging. It functions bi-directionally for use as splitters and combiners. Cable Cube products provide the user with a multi-conductor output connection for small temporary amp racks. Cable Cube Combo/Matrix Cable Cube products are designed to increase efficiency of mid-show changes, as well as improved public safety by minimiz-ing potential trip hazards. Cable Cube products can be put in a rack mount adaptor to increase the versatility of the product, allowing the same product to be used in a rack, on stage, etc.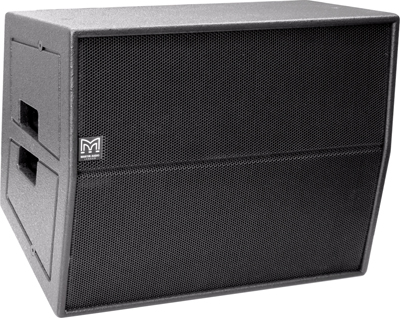 Martin Audio W8VDQ
Martin Audio's W8VDQ compact, three-way system combines line array and differential dispersion technologies provide an advanced solution for even cover-age over wide angles and throw distances. The system has been designed to provide a short-throw horizontal dispersion of 120°, narrowing to 100° as the throw increases. The vertical differential directivity (VDQ) creates progressively more HF output as throw distance increases. The resulting dispersion pattern is de-signed for covering audiences located on flat or gradually sloping surfaces. Designed for passive or bi-amp operation, and combining a Hybrid quad 8 in LF and MF configuration with quad 1 in HF — all horn-loaded — the system achieves a maximum SPL of 131 dB (continuous), 137 dB (peak). Aimed at a wide range of ap-plications, from live and theatre sound to fixed installations, the W8VDQ is compatible with WMX, WS18X and WS218X subwoofers.
Leave a Comment: