Recent Nightclub Projects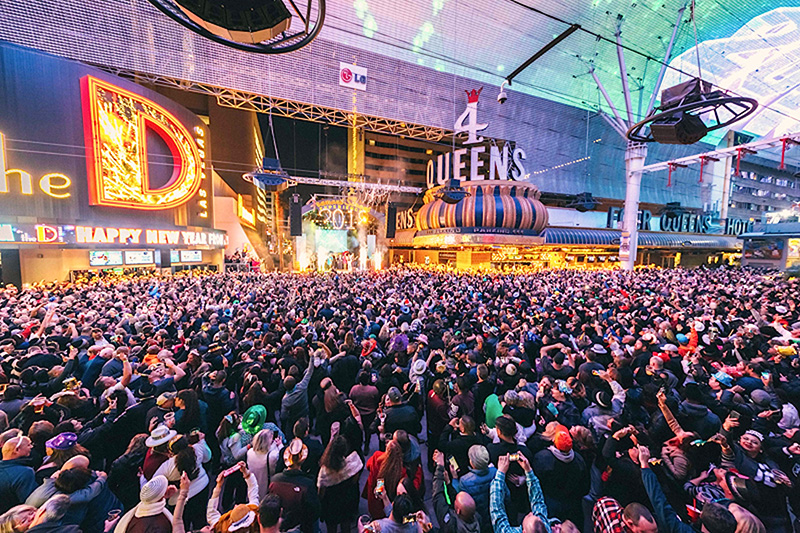 No matter what time of year, or state of the economy, one thing is constant. People like to get out, party and have a good time — certainly a compelling reason why the club scene remains vibrant and growing. And a major factor in the "club experience" can include combining music with something "different" — microbrewing, bowling, boat racing or the outdoor Las Vegas experience.
These may be nontraditional in terms of the definition of a "typical" club approach, but all of the projects we checked in on shared the common requirement for a great sound system. And clubs today often have to wear many hats — not only providing the usual drinks and dance beats, but also have the flexibility to handle other events — whether private functions and receptions as well as corporate bookings, all of which can become a key part of a smart venue's cash flow.
With that in mind, we decided to look into some recent club installations and see what's driving the action. Each project was distinctly different in terms of its approach and reaching the goal of serving the clientele, but all were seriously focused on audio excellence — a good thing for all concerned.
Veza Sur Brewing Co.
Miami, FL
Located ted in Miami's Wynwood Arts district, the Veza Sur craft brewery is all about great beers and good vibes, in both the inside and patio areas. .To ensure sound reinforcement capabilities would be able to enhance the visitors' experience, Veza Sur elected to deploy loudspeakers for both the inside and patio areas. The brewerey opted to purchase DAS Audio WR and Artec Series components.
Sound Investment Audio, an AV design/build company that handles lighting, video and audio and has offices in Washington, D.C., New York, Miami, Los Angeles and Las Vegas, was contracted to handle the project. Sound Investment Audio's John Fiorito assembled a SR system consisting of eight DAS WR-6412FX 2-way passive enclosures, four WR-322SFX subwoofers, six Artec 308 2-way passive boxes and two Artec 322S subs.
"Veza Sur hosts a monthly concert series called Veza Sur Unplugged as well as DJs on weekends," Fiorito explains. "Music is important for anyone with Latin American roots, and Veza Sur is set up in such a way that it's very easy for people to move between the patio and indoor areas, so house management wanted loudspeakers that provided plenty of SPL throughout the entire space. Being that Miami is a tropical area with lots of rain and high humidity, they also wanted to ensure that the loudspeakers placed on the patio were properly designed for this type of environment. This led to the deployment of the WR Series loudspeakers on the patio, while the Artec speakers are installed inside."
All that separates the inside from the patio area is a glass wall that spans the entire length of the space. On the inside, the Sound Investment Audio team placed the two Artec 308 point source enclosures above the glass wall — near the ceiling — angled down to cover the venue. At each end of the room, the team positioned a single Artec 308 on the end walls, angled down and facing into the room. On the opposite wall, there are two additional Artec 308 enclosures. These are positioned in the corners at each end of the bar and face down into the customers' listening area. For low-frequency support, the two DAS Artec 322S subs are positioned up against the ceiling, with one enclosure each at the extreme ends of the room, directly above the Artec 308 enclosures.
On the patio, the eight DAS WR-6412FX point source speakers are positioned with four enclosures on each side of the area's retractable awning structure, aimed down onto the patrons. The four WR-322SFX subwoofers are positioned at floor level, stacked two each and positioned in the opposite corners. In both spaces, all mid/high enclosures run in stereo while the subwoofers run in monaural.
Fiorito credits the DAS Audio loudspeakers, with features including all-weather use, constant directivity, rotatable horn and high-quality mounting hardware, for "great sound quality without disturbing neighbors" and "true clarity. They are also affordable and do not gouge the pocketbook of the venue owner." Fiorito also lauds the Miami-based DAS Audio team's customer service and support. "The entire staff is very passionate about sound. They're a pleasure to work with."
"We are happy to be featuring such a great sound system," adds Javier O. Garcia, one of Vesa Sur's managers. "We now have wonderfully rich sound. DJs, guests and our staff are ecstatic with how good the system sounds."
Veza Sur Brewing Co.
Capacity: 250
Key Components: DAS Audio WR-6412FXs, WR-322SFX subs, Artec 308ss and Artec 322S subs
Designer: John Fiorito
Integrator: Sound Investment Audio
Lucky Strike Live
Hollywood, CA
The appropriately-named Lucky Strike Entertainment hits all the right points: the 20-location entertainment and hospitality company has operated its trendy bowling lounges in Los Angeles, New York, San Francisco, Houston, Chicago, Denver, Honolulu and other major cities for 15 years, combining bowling with great food and cool cocktails.
Four years ago, the company began adding live music, locating entertainment stages in several of its locations. Hollywood was the first Lucky Strike Live venue, and it's become a major force in the L.A. live music scene as well as a showcase for many well-known concert artists and the sound equipment they use while there, notably a Bose Professional ShowMatch compact line array loudspeaker system.
Artists including Johnny Depp, Gilby Clarke, Deryck Whibley, Dave Grohl, Phil Anselmo, Jerry Cantrell, Sen Dog, Steve Vai, Nuno Bettencourt and many others have performed through the Bose concert system. The setup includes two arrays of four ShowMatch modules per side and six ground-stacked SM118 subwoofers supporting a stage that faces out onto several of the venue's dozen lanes. The system is powered by six Bose PowerMatch PM8500N networked amplifiers and controlled using a ControlSpace ESP-880 processor. The ShowMatch system is joined by backline guitars and amplifiers provided by Friedman Amplification, drums from DW and microphones from Shure.
"When musicians hit the stage, they are blown away by what we have here," says Dan DeAngelo, unit/entertainment manager at Lucky Strike Live's Hollywood location, who is responsible for curating and booking the venue's live music event calendar as well as coordinating marketing/promotion of all shows. "We have an incredible backline, and the Bose P.A. system is the star of the show. The musicians love it, the audience loves it. It sounds fantastic."
Michael Sanders, owner of Los Angeles-based integration firm Pyramid Pro Audio Inc., worked closely with Lucky Strike Management to tailor the system to perfectly match the architecture, including the use of Bose Modeler Sound System software. To address the layout around the stage — a wall and a bar at stage left with more open space to the right — Pyramid Pro Audio recommended the use of asymmetrical waveguides (50° on the right side waveguide, 70° on the left, for three SM5 and one SM10 modules per array) on the house right side hang in order to direct audio away from the bar and out towards the listening area. Before ShowMatch, the venue had an older system that first needed to be removed. Sanders then discovered that the existing rigging points were not sufficiently robust to support the new system. "We had to design some hanging points within the Lucky Strike structure and work around the existing electrical. We then ran all new cabling for the system, and installed the entire new ShowMatch system within a few days," stated Sanders.
Once installed, they were ready to commission the system, and Sanders recalls the first time it was turned on: "One of the really exciting things was when we first fired up the ShowMatch system. The first song we played was AC/DC's 'Back in Black,' which I am very familiar with, and I could clearly hear the sticks hitting the high hat. That's when I knew ShowMatch totally impressed me. I noticed there was no harshness in the midrange and high frequencies, and that the guitar sounds were accurately reproduced exactly as they sounded on the stage. I also noticed the system could get super loud without tearing your head off, and I believe that has a lot to do with the Bose compression divers. Over all the years I've been dealing with sound equipment, ShowMatch is, bar none, the most accurate P.A. system that I've ever heard in my life. It's revolutionary."
The venue, which holds 762 people, is described as a high-energy space, and a "known secret" by L.A.'s music crowd, DeAngelo says. "With music, the sound is everything, so we have only the best on this stage. The Bose sound system is at the top of that list."
Lucky Strike Live Hollywood
Capacity: 762
Key Components: Bose Professional ShowMatch line arrays
Designer: Michael Sanders
Integrator: Pyramid Pro Audio Inc.
Fremont Street Experience
Las Vegas, NV
Sometimes what happens in Vegas could only happen in Vegas. Such is the case with the Fremont Street Experience where, several years ago, its three outdoor live music stages were transformed to create a local club scene without any walls. The multi-block attraction is truly one-of-a-kind — part open-air mall, part Mardi Gras celebration, part non-stop music festival and part thrill ride — all for the non-stop pleasure of some 15,000 guests. A recent "new tradition" for the Fremont Street Experience is a wild New Year's Eve celebration. The 2017/2018 event featured 12 bands on four stages (a special EDM stage with alluring dancers and aerialists was added for the event), along with onstage pyrotechnics and other surprises.
Guided by production manager Joe Pizzo, the stages have become a focal point featuring the appearance of local bands as well as national headliners, amid the bedazzlement of the street's casinos and the 90-foot-high, 1,500-foot-long, 135,000-square-foot Viva Vision canopy (the largest video screen in North America).
The audio systems on these stages run virtually 24/7/365 in an unforgiving desert environment. To survive, they have to be imbued with the fortitude of a feral mule. Regular upgrades play a big role within this world. So following an overhaul of the street's loudspeaker blueprint in 2016 that brought in new line array and point-source systems from RCF, Pizzo began thinking about taking the Fremont Street Experience to the next step, with new consoles.
"Our old desks had outlived their useful working life," he relates. "So when I heard the new Allen & Heath 48-channel SQ-7 was available, we ordered one for each stage along with a spare."
Each SQ-7 is outfitted with a 96k engine, extended control and I/O, 33 faders, 32 onboard preamps, 16 custom soft keys, and eight user-definable soft rotary controls.
"What we've gained is more like what you'd expect from the higher-end of the market," Pizzo adds. "Now our sound seems like we just did another loudspeaker upgrade too. The musicians noticed it onstage right away in their IEMs, and the crowds gathered quicker, stayed longer and grew larger. We've had a busy year on the street. If we learned anything, it's that if it sounds good there's no shortage of people. It brings out the best in everything and everyone."
Fremont Street Experience
Capacity: 15,000
Key Components: Allen & Heath SQ-7 consoles
Designer: In-house/Joe Pizzo
Roostertail
Detroit, MI
A waterfront entertainment venue overlooking the Detroit river, Roostertail — named for the jet spray created by racing boats — was founded in 1958 by Joe Schoenith as a combination restaurant and nightclub. It originally hosted celebrity performers such as Aretha Franklin, Tony Bennett, Eric Clapton and the Rolling Stones, and is now a premier event facility for weddings, proms, corporate meetings, charity functions and holiday parties.
This year, Roostertail is currently undergoing an extensive infrastructure and cosmetic refurbishment which includes a Martin Audio sound system comprised of CDD8 speakers and CSX212 subs in their elegant downstairs room.
As the installer, Joel Faddol of Thunder Audio explains, "Roostertail has two stories with a club room and upstairs and downstairs banquet halls surrounded by huge glass windows and a tremendous view of the river. It's one of the most elegant places in Detroit, so it was a big deal that they let us change the speakers as part of this upgrade."
For the main room downstairs, Faddol continues, "they wanted coverage from the stage to the bar area in the back, we were fortunate the client had no problem with eight CDD8's mounted around the room. On the other hand, they wanted us to hide the subs, so I found a couple of pockets by the window up near the art deco ceiling for two CSX212's by the stage and we put two CSX212's further back in the corners of the room. For amplification, we used Martin MA5.2K and MA5.0Q amps with a DX2 speaker management system.
"Ultimately, we ended up creating three zones, one for the dance floor and two for the flanking areas so they can better control the subs to get a bigger sound when they want to really thump the room and dial it back for speeches at weddings, meetings and other events where we didn't want to drown out the conversation on both sides," Faddol notes.
"The downstairs hall is our most popular space, and it needed an audio upgrade because the original system was over 15 years old," says Michael Schoenith, Roostertail's owner and operator. "We wanted a number of speakers to cover the room, but our challenge was providing audio without blocking the view from our 12 foot-high by 10-foot-wide glass windows.
"Joel was able to find the right sized speaker, a Martin Audio CDD8, to deliver the punch we were looking for and still be small enough to be hidden away in the limited soffit space that's available, Schoenith adds. "As it turns out, we couldn't be happier with the speakers because of the way they cover every part of the room so effectively for music and speeches."
"It really helped us that Roostertail was able to use the system immediately. We were tuning it on a Thursday night and it was up and running for the first of two Hydroplane race parties on Friday," Faddol concludes. "They loved the sound. The audio quality is outstanding and we didn't need to do any EQ-ing to speak of. Some people had doubts about the 12-inch subs but they gave us more than enough for what we needed. Next up is a Martin Audio CSX218 for the upstairs room and that system will totally roar once it's installed."
Roostertail
Capacity: Two main rooms: 800 and 500
Key Components: Martin Audio CDD8s, CSX212s
Designer: Joel Faddol
Integrator: Thunder Audio
Leave a Comment: