New Club Projects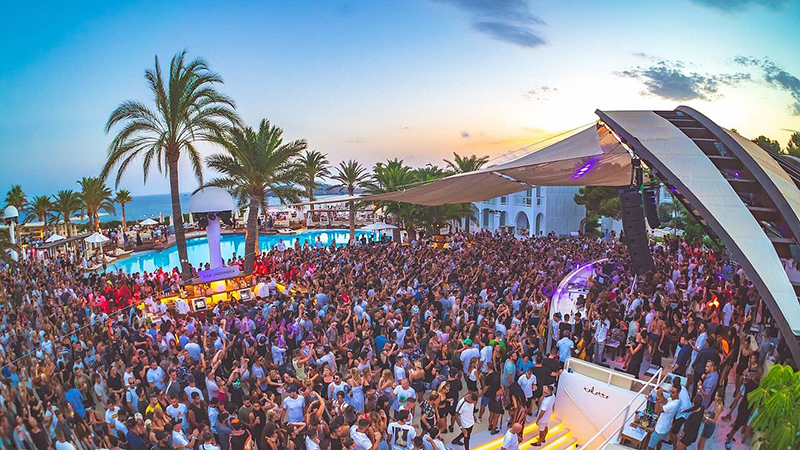 The Beat Goes On
It's been some 52 years since Sonny & Cher's hit song "The Beat Goes On" flashed across the airwaves. Yet today, the scene for smaller venues is both vibrant and thriving, whether for intimate performance spaces or throbbing, dance-oriented clubs. And as we discovered in researching this article, it's an ongoing global phenomenon, where people just like to get out, relax, party and enjoy themselves. We decided to look into some recent club projects, both domestic and overseas, and found that an increasing demand for high-quality sound (in upgrades and new construction projects) among owners and the general public was a common thread — which is definitely a good sign. It's a win-win situation, in our opinion.
Pacha's Destino Resort, Ibiza, Spain
Pacha's Destino Resort on the Spanish island of Ibiza revamped its entire outdoor DJ stage and club, installing a d&b audiotechnik GSL system to increase sound quality and volume inside the resort while reducing emissions for nearby neighbors.
Perched on a cliff top at Cap Martinet above the resort of Talamanca, Ibiza's Pacha-owned Destino resort offers stunning views over Ibiza Old Town. Besides the d&b sound rig, the upgrade included a new, soaring wooden arched stage and half-dome, along with revamped VIP and outdoor dance floor spaces.
At center stage is a custom DJ booth, flanked by six GSL tops each side, consisting of four stacked directly beneath in a distributed sub array for a total control of the LF dispersion beam. For monitoring, the DJs are hearing four V-GSUBs and a pair of V7Ps. Everything is controlled remotely via d&b R1 software presets and distributed/networked using the d&b DS10 Dante interface.
The system was commissioned by Pacha and overseen by Destino's head of technology, Jordi Ferragut. "We were looking for control. We chose the GSL system because of its ability to deliver high quality sound with directivity, thanks to its design and full-range cardioid techniques. GSL is the next level for us — we can go for more in our P.A. and less for our neighbors," said Ferragut.
The result is an open-air dance floor with 100 dB of pure, directed sound. This is 9 dB more volume than was achieved in 2017, when Destino was working with a d&b J-Series System, yet outside of the resort's grounds, noise remains within the legally required limit. Ferragut and his team used d&b NoizCalc software to model the far-field noise emission from the new GSL System.
Also benefiting from the directivity of the SL-Series, the restaurant area enjoys sound from eight GSL8s with four SL-SUBs. The VIP area has eight Y-SUBs with six Y-tops and two E12 installed, while the pool area is covered by ten Q10 cabinets and ten 27S-SUBs, with a pair of 10S cabinets serving as delays.
"So far, the feedback from clubbers, DJs and promoters to the GSL system at Destino has been extremely positive," notes Ferragut, who added that the support from d&b before, during and after the project has been first-rate.
Pacha's Destino Resort
Key Components: d&b audiotechnik GSL12s, GSL8s and SL-GSUBs
Integrator: In-house
Designer: Jordi Ferragut
Herr Nilsen Jazz Club, Oslo, Norway
Located is the bustling city center of Oslo, Norway, the Herr Nilsen Jazz Club is an intimate venue to enjoy internationally recognized jazz talent from around the globe. The club marked its 25th anniversary last year, and with a spirit of celebration, owner Espen Nilsen set his sights on the future with a high-tech audio update from VUE Audiotechnik and Oslo-based integrator avon.
The finished design includes four VUE h-208 high-definition systems with VUE's trademark beryllium HF components. The low-profile design and versatile mounting options of the h-208 line arrays made them ideal for the venue's intimate environment and low ceiling height. To accommodate the "L"-shaped layout of the room, avon configured the four h-208's into two stereo zones and mounted them above the main stage. A pair of compact VUE h-5s provide front fill, while low frequency comes courtesy of two hs-25 dual-15-inch ACM subs, also mounted above the stage between the h-208s.
Extending coverage to the bar area are two VUE e-352 Architectural Element Systems. Four V4 Systems Engines provide power for the h-Class speakers. As an added benefit, the client also has access to end-user level controls like mute, sleep, input, EQ and shaping; and given the system's precision, there is no need for house EQ adjustments.
"We have a discerning audience of genuine jazz enthusiasts who come here to listen, rather than just socialize," explained Espen Nilsen. "Our guests want to connect with the artists in an intimate setting. They appreciate a premium experience and our VUE Audio system is a critical piece in that equation. Even when we turn the system up to accommodate a packed house or different styles of music, the clarity and detail are always there. I couldn't be more pleased."
Herr Nilsen Jazz Club
Key Components: VUE Audiotechnik h-208s, hs-25 subs
Integrator: avon
Designer: avon
Trio, Charleston, SC
Trio, Charleston's dance club and lounge has a new owner, a million-dollar renovation and a lineup of internationally recognized DJs. Among its upgrades are a high-tech light and video system and all-DAS Audio speakers, including acting as a "proving ground" for DAS' forthcoming E11EVEN Sound loudspeakers.
Miami-based AV design/integration firm iDesign was contracted to deploy Trio's new sound systems. Company owner/lead designer Michael Meacham worked with DAS Audio's John Fiorito on the project.
Trio includes an upstairs club, a downstairs lounge, plus an outdoor patio area for a total of approximately 6,400 square feet. The upstairs area focuses on EDM, Top-40 and generally maintains an open format. The downstairs lounge and patio areas mostly have Top-40 cover bands. "With the emphasis on live music, it was important to deploy loudspeakers that had accurate reproduction and solid dispersion characteristics so that the sound would be evenly distributed throughout the spaces," Meacham explains.
In the first floor lounge area, the iDesign team installed four DAS Artec 310.96 2-way point-source enclosures with LF reinforcement provided by two DAS Vantec 18 subwoofers.
Meacham and his team deployed the forthcoming E11EVEN Sound loudspeakers in the second floor nightclub area. Four flown ES-10 top boxes surround the dance floor at a height of 12 feet in a true 4-point stereo configuration. These are augmented by a pair of DAS ES-218 sub bass enclosures coupled in front of the DJ — under the stage. Two DAS Artec 308 2-way point source enclosures serve as sidefills.
"The new E11EVEN Sound loudspeakers are currently under development and this environment will serve as an application site to learn about and fine-tune the speakers' performance traits," says Meacham. "The loudspeaker delivers smooth HF clarity and the 10-inch woofer handles 1,000 watts of continuous power. They deliver the beat all night long under the stressful conditions where DJs push the system for hours on end."
Meacham says his client is very impressed with the DAS Audio gear. "Trio is one of the Charleston's busiest nightclubs," he said. "The various DJs, and guests have all reported positive feedback. Owner Eric Gussin has been ecstatic with the outcome — stating that he has never heard anything sounding better in terms of clarity and coverage. Everyone is extremely pleased with the new sound system."
Trio
Key Components: DAS Audio E11EVEN ES-10s, ES-218 subs
Integrator: iDesign
Designer: Michael Meacham, John Fiorito
TAO, Chicago, IL
The latest TAO Group project in Chicago follows its predecessors in implementing K-array to meet the many aesthetics, performance, reliability and sound quality requirements for its nightclub and restaurant. To create a better experience for the clubgoers, a K-array Firenze Series system was employed to provide a powerful sound with high-definition in a compact design that integrated perfectly with the club's ornate decor.
Housed in a landmarked Romanesque Revival building in Chicago and designed by Rockwell Group, the space's aesthetics reflect the theme of existing TAO locations with Asian-inspired decor. The restaurant seats up to 300 diners and hosts a DJ booth while the 7,000-square-foot, 1,000-person capacity nightclub on the second floor has two bars, a lounge area, dance floor and DJ booth.
Rockwell's go-to AV consultant Anthem Sound Stage and Lighting selected all K-array loudspeakers for the project. A combination of Python KP52 and KP102 speakers integrated seamlessly in the main dining area, paired with six Thunder KMT18P 18-inch subwoofers driven by Kommander KA24 and KA84 amplifiers. Tornado KT2C and KT2 point-source enclosures were in abundance and installed throughout the room. A Dragon KX12 driven by a Thunder KMT18 I sub handles DJ monitoring.
Anthem suggested using a less-aggressive live sound system than the other TAO locations for a better experience for the clubgoers, but still maintained a powerful sound with high-definition, and TAO was impressed with the high performance from its compact design that integrated perfectly.
For the main P.A., eight Firenze KH7 loudspeakers were flown in each corner with eight Dragon KX12 point-sources above the VIP tables. Low-end was provided by six Mugello KS5 and three Firenze KS8 subwoofers. The DJ booth was equipped with four Dragon KX12 units paired with four Thunder KMT18 I subs.
With grand opening performances featuring DJ Ruckus and EDM superstar Deadmau5, there was no margin for error from the system. After a successful launch and continued satisfaction with the audio, the owners and Anthem are pleased with the system's performance.
TAO Chicago
Key Components: K-array Firenze KH7, KS8 subs
Integrator: Rockwell Group
Designers: Anthem Sound Stage and Lighting
Podium Victorie, Alkmaar, The Netherlands
For years, Podium Victorie has been a well-known venue hosting classic and contemporary bands from all over the world and recently moved to a new location in The Netherlands' Alkmaar region. This change of venue offered a logical opportunity to upgrade the facility's sound system.
After demoing several different systems in the room, integrators The Audio Specialists selected a Clair Brothers i212 line array with kiT series infills; and for the smaller room, several kiTCurve+ speakers and subwoofers, along with Clair's 1AM and 1.5AM floor monitors. "We managed to get so much more than the proposal stated," explains Podium Victorie chief engineer Robin van Lingen. "We're proud of the result. The acoustics are great, and the sound is better than expected. Other speaker manufacturers felt our venue required a 15-inch line array, but Clair Brothers suggested a 12-inch line array. The surprising part is that the 12-inch i212 line array fills our entire room with better sound that the 15-inch. And as the i212 is smaller, the sight lines are clearer."
To complete the install, The Audio Specialists selected Lake D-Series amplifiers and a Lake LM44 for additional processing. All together, the result is a winning sound system that makes the name "Victorie" both appropriate and meaningful.
Podium Victorie
Key Components: Clair Brothers i212s
Integrator: The Audio Specialists
Designer: Robin van Lingen
Leave a Comment: