Top Tours of 2017: U2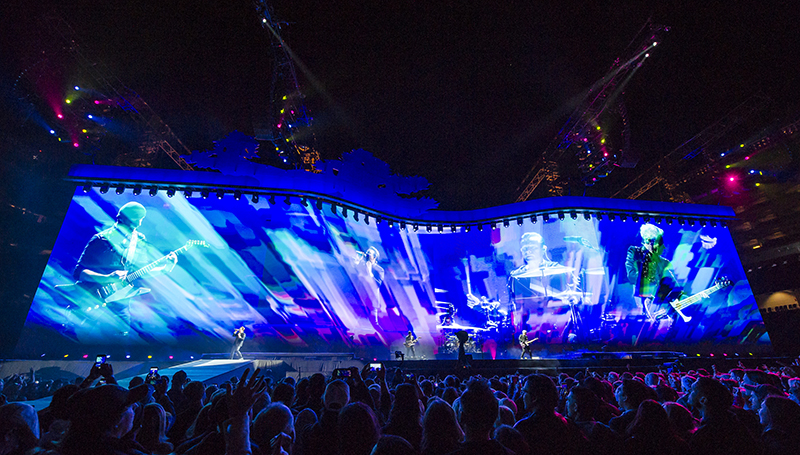 Tour:
The Joshua Tree Tour 2017
Sound Co:
Clair Global
Crew
FOH Engineer: Joe O'Herlihy
Monitor Engineers: Alastair McMillan (Bono); Richard Rainey (The Edge); CJ Eiriksson (Adam Clayton, Larry Mullen Jr.)
System Engineer/Crew Chief: Jo Ravitch
ASE: Joel Merrill
Stage Engineers: Niall Slevin, Brandon Schuette
Techs: Mike LaCroix, Pascal Harlaut, Hannes Dander, Ann Butt
Gear
P.A. GEAR
Mains: Two Clair Cohesion clusters, each with (16) CO-12's
Side Hangs: Two clusters, each with (16) CO-12's
Upstage Side (270°) Hangs: Two, each with (4) CO-12's
Subwoofers: (30) Clair self-powered CP 218's, ground-stacked 15/side in a steered, cardioid configuration.
Delay Towers: Four, each with (8) CO-12's
Front Fills: (20) Clair CO-8 across edge of stage.
Amplifiers: Clair StakRaks w/ Lab.gruppen amps
FOH GEAR
FOH Console: DiGiCo SD7
FOH Processing: Lexicon 480L, PCM70; 2 Summit DCL-200 compressors; 2 Manley Labs VOXboxes; 2 Avalon VT-737SP preamps; Eventide H3500 UltraHarmonizer; Klark Teknik DN6000; Yamaha SPX1000 reverb.
MON GEAR
Monitor Consoles: (3) DiGiCo SD7
Speakers: Clair Cohesion CP-118's
MON processing: Lexicon PCM80; AMS RMX16; Yamaha SPX1000, SPX990; Amek 9098; Antelope Isochrone Trinity.
Hardwired Mics: Shure SM48, SM57, SM58, SM81, SM98, Beta58, Beta87, Beta91, Beta52, Beta52a, Beta58, PG58; AKG C 451 EB, A51, C414 B; Sennheiser MD-421, MKH-416, MKH 50; Audio-Technica AT4050; DPA d:vote 4099, d:fine 4088; Countryman DI; Radial JD7
Wireless Mics: Shure Axient
Tour Notes:
U2's Joshua Tree tour marked the 30th anniversary of the band's fifth studio album, originally released in 1987, which included such hits as "With or Without You," "I Still Haven't Found What I'm Looking For" and "Where the Streets Have No Name." The tour ran from May 12 to Oct. 25, 2017, with legs North America, the U.K./Europe and Mexico/South America.
More details at www.plsn.me/FOH-U2
Leave a Comment: