CMA Fest 2018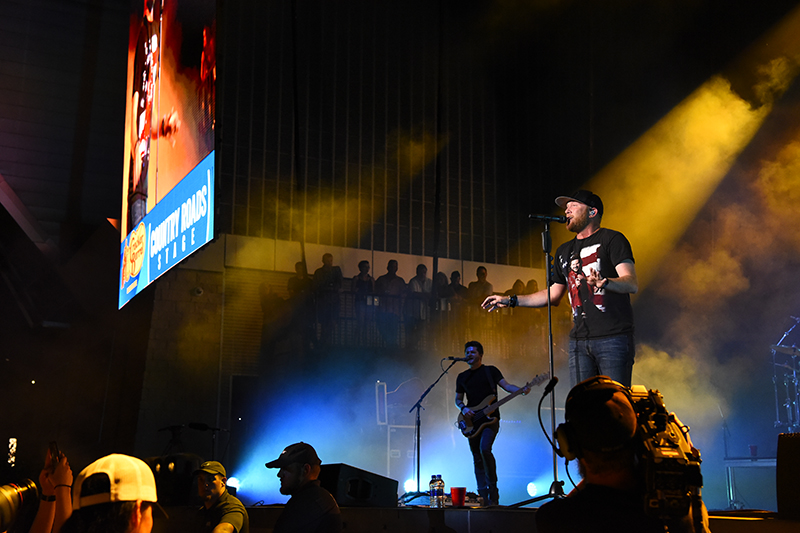 Ultimate Country Music Fan Experience Gets Big Assist from Morris Light & Sound
Country music fans from every state and 36 foreign countries converged on Nashville in 2018 for the Ultimate Country Music Fan Experience. Now in its 47th year, CMA Fest is the city's signature country music event, featuring more than 350 artists performing across 11 stages. CMA chief executive officer, Sarah Trahern comments, "We will also host the 52nd Annual CMA Awards this fall. While we're known for our large-scale events, the fact that we're able to bring together our entire country music community speaks to the excellence and importance CMA has provided throughout its 60 years."
Nashville-based production company, Morris Light & Sound, a.k.a. Morris, has been working with CMA Fest for the last seven years to ensure that fans receive the country music experience they deserve. This year, Morris handled five of the 11 stages, including the Chevy Riverfront Stage and Cracker Barrel Country Roads Stage at Ascend Amphitheater. "CMA has worked closely with Morris since 2011 through CMA Fest, CMA Awards and CMA Touring Awards. They're an excellent provider and one of approximately four audio and lighting vendors we work with during CMA Fest," Trahern says.
‡‡         The Country Roads Stage
The Cracker Barrel Country Roads Stage at Ascend Amphitheater is located further down the riverfront inside the Metro Riverfront Park. The venue seats 2,300 fixed, and 4,500 on the lawn, with a total capacity of 6,800. A tremendous draw for CMA Fest fans, the free nightly concerts featured many popular artists including Lee Brice, Michael Ray, Clare Dunn, Tyler Farr, Chase Rice and Cole Swindell.
"The Amphitheater is a beautiful venue that unfortunately points directly at expensive, riverfront condos. As a result, it has received mixed reviews from the community," explains Mills. "With the concerts happening at night, we wanted to make sure we were respectful of those residents. Our new GSL P.A. from d&b audiotechnik was the perfect fit, it provides a tremendous amount of control and handling."
The main P.A. was made up of 14 GSL8s per side. The enclosure offers directivity control, which is maintained seamlessly over the full bandwidth, from 45 Hz to above 18 kHz. This is coupled with exceptional low-frequency headroom and resolution in the mid and high frequencies. Mills specified six V10Ps for front fill while 12 SL-SUB subwoofers drove the low-end.
"We wanted Ascend to be more than a great show – we wanted to demonstrate to the city that the P.A. can work in this venue very well," Mills adds. "The GSL array processing allowed us to focus the sound on the field and avoid the back of the lawn, keeping the neighbors happy."
CMA decided to let artists playing at the Cracker Barrel Country Roads Stage at Ascend Amphitheater bring in their own board groups, backline and scenic elements, allowing for set changes to be made in 15 minutes.
In partnership with DiGiCo, Morris equipped the stage with a DiGiCo SD5 at FOH and an SD12 at monitors. A SD rack with 32-bit preamps at monitors kept the quality high for all performances.
"In my opinion, the SD12 with the new high-performance preamps is the best of the new world of DiGiCo," says Mills. "It could easily replace the 9 and 10 – it's the same DiGiCo with a new control surface and nice tight package with a much smaller footprint. The DiGiCo guys on site were also great in supporting us, most impressively."
‡‡         The Riverfront Stage
"Riverfront is a unique location. You never know what the Cumberland River is going to hand you, plus you are building a stage on a barge. Consider that the audience listening area is wider than it is deep, and on a hill, you can see what I mean," explains Greg Pitman, production manager at CMA. "It's four days with ten bands a day, playing on a festival backline with no sound check on an extremely tight timeline. Fortunately, the Morris crew consistently knocks it out of the park. Set changes never run long and the artists admire how the Morris pros handle challenges."
One of the reasons the Chevy Riverfront Stage lineup ran so smoothly was dual systems at FOH and monitors. FOH, located in the audience area halfway up the hill, is manned by two FOH engineers on two DiGiCo SD12 consoles. Two monitor engineers with two more SD12s are at stage left, where monitor world resides.
"This setup allows one set of engineers to prep for the next act while the other is live," adds Gordon Buchanan, stage manager for the Chevy Riverfront Stage. "We run 30-minute sets with 15-minutes in between for set changes, sound check and setting monitors. It would be almost impossible to keep to the schedule with a single system."
The next challenge is covering the 500-feet wide and 115-feet deep, sloped listening area, while keeping sound contained. For this application, Morris system engineer John Mills specified d&b audiotechnik J-Series line arrays. Utilizing d&b's NoizCalc and Array processing, Mills was able to dial in a system that wowed the fans without impacting residents in the area.
The P.A. was made up of left/right arrays, each consisting of eight J8 over four J12 enclosures. Matching outfill arrays – hangs of eight V8 over six V12 boxes – fired to the left and right of the stage respectively. Front fill support came from six Y10Ps. For low-end, Mills deployed 24 J-SUB subwoofers. The J-SUBs employ three long-excursion neodymium 18-inch woofers, with two drivers facing to the front and one to the rear, to provide a cardioid directional pattern. Four by three tall ground stacks of J-SUBs were located under each array.
"Because the first layer of the hill is a cement wall, the subs are split and stacked to make sure everyone received enough bass support," adds Mills. "It was the best way to drive the sound while making sure everyone has the same experience."
The entire console system was connected via an Optocore fiber loop with two DiGiCo SD-Racks located on stage. The P.A. was powered by d&b D80 amplifiers and deployed using ArrayProcessing software.
"When we partnered with d&b audiotechnik we did so in order to expand our offerings to deliver the best quality audio technology available," says Morris president David Haskell. "CMA Fest is an example of us pulling out the stops. The d&b J Series rig deployed on the riverfront stage provides both the coverage and control the situation calls for."
The riverfront lineup kept fans rocking from 10 a.m. to 5:15 p.m. each day. CMA New Artist of the Year Jon Pardi kicked things off on Thursday followed by an assortment of country stars including A Thousand Horses, Chase Bryant, Eric Paslay, Lee Brice, William Michael Morgan and Maddie & Tae.
‡‡         One Busy Week in Music City
To say there was plenty of music in Nashville in the days preceding — and during — the CMA Fest is an understatement. Just about every bar, club, hotel lounge and possible venue was booked solid with music, as well as the Ryman, the Grand Ole Opry, CMT block parties at the Schermerhorn Symphony Center and of course, the CMT awards at the Bridgestone Arena. And a good portion of the activities offered free performances, while generating a steady stream of work for local sound companies.
Besides handling the Chevy Riverfront Stage and the Cracker Barrel Country Roads Stage, Morris also managed three Xfinity Fan Fair X stages at the Music City Center in downtown Nashville — the CMA Close Up Stage, Radio Disney Country Stage and Spotlight Stage. Once again, they rolled out an assortment of DiGiCo consoles along with d&b audiotechnik and NEXO sound reinforcement systems. Fans of all ages enjoyed pristine audio quality in each locale.
CMA's nonprofit arm, the CMA Foundation hosted an event in the weeks before the festival called Music Teachers of Excellence, designed to honor teachers around the country for their commitment to music education. Trahern noted "We've always relied on Morris for quality of service, as does our entire country music community — but it's their team that goes the extra mile. Their support of this event specifically goes a long way in making the night truly special for the educators we honor."
"In prepping to outfit five stages in three different venues for one festival, our inventory allowed us to range from a 500-person audience to 5,000 with ease," concludes Haskell. "Our scalability and capacity to keep consistent quality, is something that has set Morris apart. CMA is remarkable in its ability to bring together the entire country music community for events of all sizes. We're happy to support their efforts here in our hometown."
The four-day CMA Fest will return to Nashville next year from June 6 to 9, 2019, and given their performance at this year's event, we have a feeling that Morris Light & Sound will be getting a callback.
Pictured, very top photo: Cole Swindell performs at the Cracker Barrel Country Roads Stage at Ascend Amphitheater on Saturday, June 9 during the 2018 CMA Music Festival in downtown Nashville.
Leave a Comment: