California Roots Festival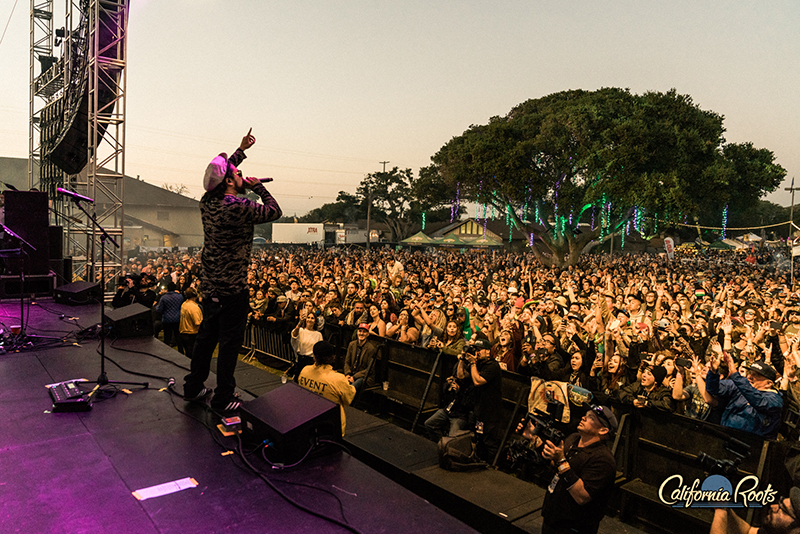 Reggae Festival by the Sea
"Sun is shining, weather is sweet. Makes you wanna move your dancing feet."
Echoing across the California Roots festival, Bob Marley's words heralded the beginning of summer and welcomed more than 13,000 fans to one of the nation's largest reggae festivals.
Now in its ninth year, California Roots has expanded to fill three days and four stages during the Memorial Day weekend. Drawing from an international pool of reggae talent, the two main stages featured more than 40 performers ranging from veterans Steel Pulse and Stephen Marley to up-and-comers Chronixx and Slightly Stoopid.
Prairie Sun Live has handled audio for the past five years and was responsible for the Cali Roots main stage and a second stage this year. Heading up the crew of four was Travis Strain, FOH engineer and system tech.
"Since this is our fifth year on the show, we've had a few crew changes over the years," says Strain. "I've been on the show since the beginning as the crew chief, FOH engineer, and system tech. Chris [Maijala] has been on the show for four years now. Chris has tons of festival experience especially in the reggae world. He is an excellent monitor engineer and patch tech and he is extremely attentive. He's used to the long hours and is able to deal with all the chaos that comes with being on stage for multiple days at a festival. This was Joe's [Jones] second year on the show.
He is great at filling in at any position. We've had him take care of the pop up stage both years, but he's also great at stepping in on the Cali Roots stage to knock out a change over or give me a break at FOH. This was the first year we've has Susy [Dugan] on the show, and it was great. She's super detail-oriented and does a great job interfacing with all the bands and their crew on stage."
‡‡         Minding Your SPL's
The festival takes place at the County Fairgrounds in Monterey, a central California town about 100 miles south of San Francisco. Known as the onetime home of novelist John Steinbeck, as well as having a world-class aquarium, whale watching boat tours, rocky beaches and tidepools inhabited by playful sea otters, this is an attractive place to live, attracting residents to this quiet seaside community. Well, usually quiet, except when a large reggae festival comes into town. Unfortunately, the fairgrounds are surrounded by residential neighborhoods, and staying within the local noise ordinance limits was a challenge.
"One of the largest obstacles with this show is keeping under these SPL limits, which are pretty strict," Strain says. "The limit at FOH is 94 dBA average over the last hour. Since it's A-weighted over an hour, it's not too bad, but that's still tough to maintain in the reggae and hip-hop genres. We have to make sure the top of our line array is aimed precisely to cover just our area because any overthrow can easily disturb the neighbors."
With a strategic sound design and careful monitoring, the audio crew members were able to keep the sound on point and the neighbors happy. "The biggest problem at a show like this is the low-end. The main thing we do to combat issues with low-end is putting a rear cancelling sub array. We've put in a broadside-arced end-fire array since our first year. Overall, this gives us fairly even coverage across the audience area while drastically reducing the low-end noise behind the stage, which is extremely important, as the closest residents are about a quarter-mile behind the stage."
The noise spill issue is very serious to the fair management and not taken lightly, according to Strain. "The fairground brings in a very pro crew to enforce the noise regulations, and I have to say, they are extremely pro. They put in a computer at FOH that shows current SPL, five minute average, and one-hour average, so it's very clear where you're at from any point throughout the day. They also stay in constant communication while they do their offsite readings and give you super-specific feedback on what the problem frequencies are. That way we are able to concentrate on specific frequencies rather than having to turn down the entire system."
‡‡         The Right Gear
Top-shelf audio engineering requires top-shelf gear, and as the festival has expanded, so has Prairie Sun Live's gear. This year's festival featured both J and Q series loudspeakers from d&b audiotechnik and a new subwoofer package from RMS Acoustics.
"d&b has been huge for us since we got into our first rig back in the fall of 2013. The overall sound quality is amazing," says Strain. "The d&b arraycalc software is incredibly accurate and reliable. We've had to make small adjustments to the rig each year, and once I know what the change is, I can just plug it into arraycalc and know that when I arrive on site, the changes will be accurate. The Avid desks are a huge player in the festival world because almost everyone is familiar with them. Most guest engineers have their own files, and for those who don't, it's pretty easy to get up and going from scratch. The Avids are also nice because of the amount of plug-ins you can run on them, most popular being Waves. We've started to add DiGiCo to our festival setups when we can because of the large I/O count, superb sound quality, and diverse console layout options."
Strain adds that "our biggest upgrade this year was our subwoofer package. We put out 16 RMS Acoustics M218 dual-18 subs powered by Linea Research 44M20 amps. We've owned M218s for a few years, but this was the first show we've put all 16 out on with the new 44M20 amps. These subs are great for the amount of reggae and hip hop that comes through Cali Roots; they go down to 27 Hz and with 16 of them out, you have plenty of low-end."
Chris Maijala, monitor engineer, also spoke highly of the DiGiCo SD10 setup. "I just started getting on the SD10 myself. I've been a Profile guy using the Digidesign Profile and the Avid SC48. This is my first festival using the SD10. Sonically, the desk is much more musical. Even in a situation like monitors, there's a sonic difference. I can hear the DiGiCo difference," he says.
As the festival looks forward to its tenth anniversary, Strain anticipates continued growth. "[We're] looking forward to seeing the festival grow and expand the bands it brings in. We try to improve our sound every year to give the fans the best experience possible while still adhering to the noise ordinances put in by the fairgrounds. Next year, we're considering adding delay towers, especially since the attendance at the Cali Roots stage continues to grow and they move larger headliners to that stage," he says.
Speaking of next year, after this successful ninth year event, the tenth anniversary California Roots Festival will be jammin' again next year from May 24 to 26, 2019 and returning to the Monterey County Fairgrounds.
Leave a Comment: