Norah Jones turns to Neumann and Sennheiser Microphones for Worldwide Tour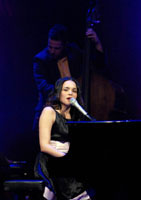 OLD LYME, CT — Norah Jones and the Handsome Band, together with longtime FOH engineer Lee Moro, are using Neumann microphones, Sennheiser's evolution 900 Series, evolution wireless 300 Series instrument systems and 300 Series personal monitor systems for her worldwide tour.
"Neumann makes a lot of sense for an artist like this," says Moro. "One key model is the Neumann KMS 104 vocal microphone. The way they've changed the pattern from the 105 is working quite well for us. It sounds like a million bucks up there."

Jones sings from three different locations on stage — from behind an acoustic piano, a Wurlitzer electric piano, and front-and-center with an electric guitar. "I have the 104 on two positions and one with a Neumann KMS 140,"says Moro. "The 104s sound great, so we might switch that third mic to keep things consistent. Plus, it's easy if we have a problem with any of them out on the road. It's easier to find a 104 or 105 than a 140."

On this tour, which mainly takes in theaters plus a few amphitheaters such as Denver's Red Rocks, there has also been a slight change to the acoustic piano setup, according to Moro. "We had three KM 100s with the AK 40 capsules last time. Now we've taken the middle one and put a TLM 103 in there. It's the hugest of large diaphragms and gives a bigger overall sound. I've become a big fan of the 103.

Neumann TLM 49s have also been added to cover the electric guitar and bass amplifiers. Another change this year is the move back to Neumann's large diaphragm TLM 193 for drum overheads. There has also been a wholesale changeover to Sennheiser's evolution 900 Series to close-mike the drums, including an e 901 and e 902 on kick, e 905s on snare top and bottom, e 904s on the rack and floor toms, and an e 914 condenser for hi-hat.

Sennheiser evolution wireless 300 Series personal monitor systems are also getting used on the tour. "The bass player uses it for a few songs where he plays bowed bass. He throws ears in because the wedge can't handle it. Norah uses it at specific venues where it's just too hard to hear herself. She'll throw them in right away," Moro says.

Following a two-month North American leg the tour heads for Europe, where dates are currently scheduled through to late August. "Norah is going to take some time off in the fall, then, probably early 2008, we'll ramp it back up and go out hopefully for another year and hit the rest of the world," Moro says.
ACTION ITEM:
For information, please visit www.sennheiserusa.com.
Leave a Comment: