Lab.gruppen Introduces PLM 10000Q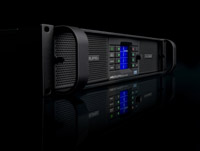 KUNGSBACKA, SWEDEN — The Lab.gruppen PLM 10000Q provides a complete drive system, designed for any type of loudspeaker, and integrates of crossover, delay, equalization, limiting and power amplification functions.
It also includes load verification and monitoring features for all system components, including loudspeakers. The power amplifier platform is based on the circuit designs of the FP+ Series and is designed to integrate into the Dolby Lake processing environment; the power output stage uses Lab.gruppen's patented Class TD topology.
The PLM 10000Q also incorporates an R.SMPS (Regulated Switch Mode Power Supply), designed to provide stable rail voltages even with significant fluctuations in line voltage.
Other features include the Intercooler copper-finned cooling system, power density, and protection and fault monitoring. The PLM 10000Q includes proprietary Voltage Peak Limiter (VPL) implemented in the DSP domain, dubbed Inter Sample Voltage Peak Limiter (ISVPL), provides both AES digital and analog inputs, plus network ports for integration into new DANTE low-latency digital audio networks.

ACTION ITEM:
For information, please visit www.labgruppen.com/.
Leave a Comment: