ISP Technologies Introduces Weather Resistant Speaker Line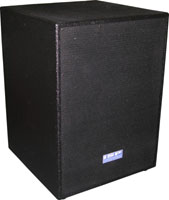 WATERFORD, MI — ISP Technologies has introduced its first offering of weather resistant speakers designed for clarity, fidelity and mid-range.
ISP Technologies has announced the new Weather Resistant line available with the HDM Series and ISP Technologies subwoofers. The speakers are 3-way powered DCAT amplifiers that include an excursion weather resistant woofer, dual midrange compression drivers and a neodymium polyester diaphragm high frequency driver with extended response out to 19KHz and active 24db per octave crossovers. The HDM115WR speakers have a ruler flat response of 50Hz to 19KHz.
The ISP speakers are made with the same Baltic Birch wood construction used for indoor speakers, which plays a role in the sound and response of the speaker and are sealed with a polyurethane spray.
Lutheran Northwest High School installed an ISP Technologies Weather Resistant System for the football/soccer fields. The school uses two HDM 115 WR speakers mounted on light poles and an XMAX 115WR subwoofer under the bleachers.
"Music has become an integral part of the athletic program," says Don Justice, Lutheran Northwest athletic director. "We wanted not only the clarity to understand the announcer, but a system that could really kick out the music. We were excited because we got our first complaint that the system was too loud. We got what we wanted with ISP. In fact, we are having an ISP system quoted for our gymnasium."

ACTION ITEM:
For information, please visit www.isptechnologies.com.
Leave a Comment: