Corey Hart Tours Canada with CODA Audio AiRAY System from Solotech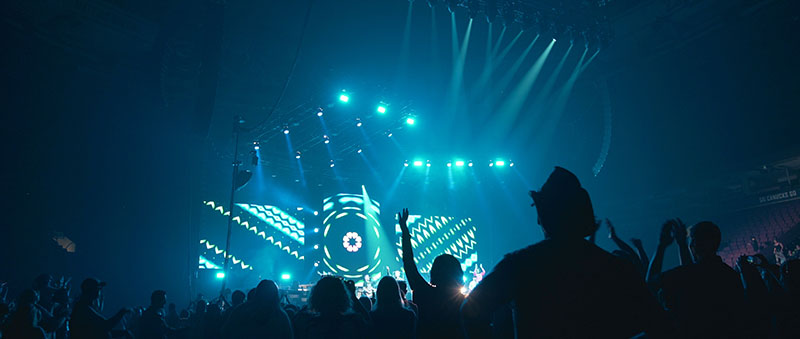 VANCOUVER, BC – For Corey Hart's 2019 "Never Surrender" arena tour in Canada, Solotech provided the "Sunglasses at Night" singer with a CODA Audio AiRAY system.
More details from CODA Audio (www.codaaudio.com):
Corey Hart is a Canadian music legend. A singer-songwriter, whose 80s heyday yielded major global hits, Hart has sold more than 16 million records worldwide and earlier this year was inducted into the Canadian Music Hall of Fame. Corey Hart recently undertook his first full arena tour of Canada since 1986, having twice taken long sabbaticals from the road during his 35 year career. The hotly anticipated 'Never Surrender' tour demonstrated that he has lost nothing of his ageless star quality and reviews of the shows praised his skill, showmanship and the quality of his powerful eight-piece band.
Supplying audio for the shows was world-leading production specialist Solotech and its choice of CODA Audio's compact AiRAY system to deliver the Corey Hart message to his adoring fans proved a great success. Front of House engineer Gary Stokes (k.d. lang, Adam Lambert) enjoyed his first experience with the system and was in no doubt about its exceptional qualities:
"Usually the biggest challenge with an arena system is trying to make it sound consistent in every seat and that's probably what we spend most of our time trying to do. Of all the different systems I've used – and I've probably used most of the ones on the market – I would say that this system has proven to be radically effective, in the sense that you can make it sound the same everywhere pretty easily."
The System deployed on the 'Never Surrender' tour comprised main hangs of 16 x AiRAY per side, side hangs of 4 x AiRAY with 8 x ViRAY per side, a sub array of 16 x SCPF Subs and 8 x ViRAY as front fill.
Stokes continues: "It was very obvious that this system is different from other systems. You put it up, delay it correctly and it's almost as if it's one big speaker going back and forth in the horizontal, from one zone to another. Even if it's a different model of speaker within the CODA line, it's been much more easy to achieve seamless transition between zones than it has with any other sound system I've used."
Having been impressed with the high quality of the sound and the ease with which a mix is directly translated from the console to the audience – not to mention the clarity and accuracy of the low end – Stokes reflects on the advantages of the system as a complete package:
"It just seems to be very well-engineered to work together. The different speakers all exhibit a very, very similar sonic signature and they all go a lot louder than most other speakers do for the same size and weight."
The size and weight of the CODA Audio system saves significant truck space as well as making it easy to handle and rig, something not lost on an experienced professional like Gary Stokes. He concludes:
"It makes a very effective tool, not just to keep the sound system from being a visual impediment to the show but also for trucking from place to place and rolling in and out of venues. Everything is a little easier when it's lighter and smaller. Altogether it's a very intelligent package – everything from the dollies to the rigging to the cabling to the sound quality – its all top-notch."
Leave a Comment: