Bonnaroo and d&b Deliver to 80,000 Fans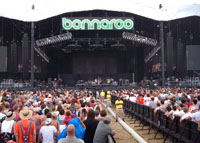 MANCHESTER, TN — This year's Bonnaroo Festival featured d&b audiotechnik's new J-Series system for the three-day festival in Tennessee.
Eighth Day Sound rigged the main stage with J-Series, two columns per side to cover the extreme wide spread of the audience area. Flown J-SUBs were augmented by B2s "in infra mode," explained EDS's Owen Orzack, "to extend the low end range, as opposed to just increasing the grunt." Monitors were M2s with C4/B2 side fills and drum monitors C7-SUBs and M2s. Q10s for front fills. Delay clusters were dV-Dosc.
EDS also serviced audio requirements for The Jazz, Press, Comedy and Cinema tents, all with d&b systems. Yet just twelve EDS technicians covered the whole site, including the main stage system.
On Friday night, fans were treated to headliners Tool; on Saturday Police topped the bill. Bonnaroo signed off 2007 on Sunday with a three-hour performance by Widespread Panic. Chris Rabold who mixes FoH for festival Widespread Panic said, "Eighth Day Sound (EDS) already supply all my touring needs, and so coming to a festival serviced by them was always going to be a visit with old friends. Then to top things off, they installed my favorite P.A. for the main stage, d&b audiotechnik's new J-Series."
Tool travels with EDS and d&b audiotechnik's new J-Series. FoH engineer Al 'Nobby' Hopkinson said, "I had a discussion with Colin Beveridge at d&b USA before we came regarding the deep low-end ability of flown subs. I've enjoyed experimenting with the J Sub-woofers myself while we've been touring; they do move some air. I just needed it proved to me that they could do the same in a flown situation, which he did."
Although it was not possible to speak directly to Mike Keating, FoH for the Police, EDS's Owen Orzack was able to report, "I know he had a good experience."
A critical consideration for all three engineers was to provide pleasurable dynamic variation over the course of each performance. "Imaging was just astounding," said Rabold. "The thing with my band is there's a lot going on, a lot of energy and a lot of movement. In terms of the musicians I need the ability to find room for all of them. I can tell you this; J is not a system where I have to jam people up the middle to get them there."
According to Billboard magazine, Bonnaroo is the top-grossing North American festival this year, taking in $14.7 million and selling more than 80,000 tickets for all three days

ACTION ITEMS:

For further information, please visit www.dbaudio.com.
Leave a Comment: