Beyerdynamic IMS 900 Personal Monitoring System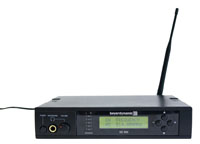 Beyerdynamic, a manufacturer of microphones, headphones and wireless microphone systems, has recently added the IMS 900 personal monitoring system to its product line of professional touring, broadcast and permanent installation.
The IMS 900's 16 preprogrammed UHF frequencies are designed to provide easy setup and quick sound check. The IMS system is made up of two components, the SE 900 stereo transmitter and the TE 900 stereo pocket receiver.
The SE 900 transmitter is designed to accommodate up to eight channels per frequency range without interference. It is housed in a 9.5" metal case with a clear LC-display indicating group/channel and includes LED's for audio levels, combo inputs and headphone output with volume control. The system comes equipped with a lock function.
The pocket receiver is equipped with a mono/stereo switch, volume and balance control as well as two RF signal antennas designed to prevent signal drop outs. For added sound protection, the TE 900 comes equipped with a switchable limiter that protects against loud noise bursts. Earphones are included with all transmitters.

ACTION ITEM:
For more information, please visit www.beyerdynamic-usa.com.
Leave a Comment: