VUE Establishes Deeper Roots in China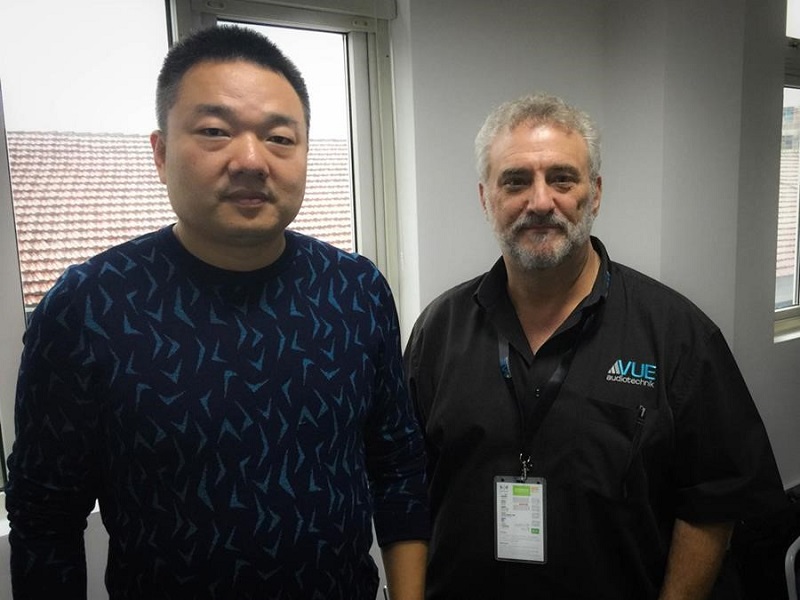 SHANGHAI, China – VUE Audiotechnik founder and CEO, Ken Berger (pictured here, right) will attend Prolight + Sound Guangzhou, set for May 10-13, 2018, to spread the word about the establishment of VUE China, based in Shanghai. VUE China's new president, Mr. Gu, will also be at the show. As an independent distribution company, VUE China will provide technical sales and support operation for Mainland China, Macau and Hong Kong.
More details from VUE (www.vueaudio.com):
At the upcoming Pro Light + Sound show in Guangzhou, VUE Audiotechnik will announce the next evolution of VUE China, a Shanghai-based independent distribution company with an enhanced technical sales and support operation for the Mainland China, Macau and Hong Kong markets. On hand for the announcement will be VUE founder and CEO, Ken Berger, and Mr. Gu, president of the new VUE China.
The newly formed, VUE China will assume responsibility for all sales, technical support and marketing from the prior VUE-owned VUE China organization. While independently owned and operated,  VUE China will remain closely linked to VUE corporate and will play a key role in the Company's long-range global growth plans.
Reporting to Berger, William Xu, formerly VUE sales manager, will take on the expanded role of corporate representative, and function as the main liaison between VUE headquarters and the expanded Shanghai-based VUE China support team.
According to Berger, the expansion is perfectly timed given the recent upswing in VUE's worldwide profile and product line adoption. "This is the ideal alignment of some incredible talent, passion for the VUE brand, and breakaway adoption of VUE technology," lauded Berger. "Through significant investment, the new VUE China will deliver deeper resources, expanded technical support and sales, and unprecedented market coverage to put VUE on an entirely different growth trajectory in one of the most critical pro audio markets on the planet. I'm thrilled to have Mr. Gu and the Shanghai team as long-term partners in vaulting VUE to new levels of presence, support and technical leadership in China."
With an extensive background in pro audio sales, an already-established Shanghai-based distribution and support infrastructure, and nationwide network of 100+ reps, Gu is sure to add immediate momentum to VUE's Chinese market growth. And with deep financial backing, Gu plans to add additional talent to the Shanghai-based team in the coming months. 
"VUE is a young brand but growing very fast against others in the industry," said Gu. "I'm honored to have such a strong, long-term connection with VUE headquarters, and we are already establishing top-tier levels of exposure and service to match VUE's outstanding technical innovation and product performance. My team is excited to bring an even brighter future for VUE in the Chinese pro audio market, and to making China a key component of the brand's global growth."
Gu demonstrated this commitment to market leadership with a charter sponsorship of the third session of the China Performance Industry Association Awards on March 25, 2018, in Shanghai. Attended by several hundred of the City's choreography elite, the session focused on best practices in lighting, staging, and audio; VUE's CEO, Ken Berger, was a featured presenter at the event. 
And to secure a footing in the Chinese touring market, VUE China deployed a VUE al-12 system at the April 30th world debut of Grammy Fest where headline act Pharrell Williams played to a sold-out crowd of more than 20,000 at the Chang-yang Music Theme Park in Beijing.
VUE China will launch its Mainland presence, and showcase the entire VUE product line, at in Hall 5.2, booth D52 at the ProLight + Sound Show in Guangzhou from May 10 – May 13, 2018.
Leave a Comment: