VSI Installs Community Gear in Welsh Rugby Stadium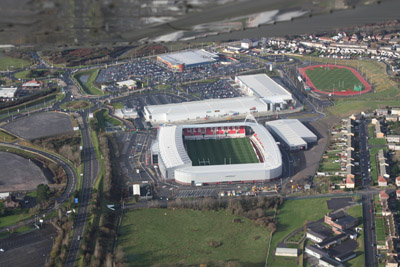 LLANELLI, U.K. — Vaughan Sound Installations (VSI), in conjunction with Whitehead Building Services, installed Community's R.5 stadium speakers, with control via a TOA VX system manager, plus power amplifiers and power supplies for the public address system at the new stadium here, Parc y Scarlets, which replaced 130-year-old Stradey Park.
The initial audio brief was for a standard voice alarm and public address system. But early on, it became apparent that the requirement was for a more flexible system that would be suitable for pre-match entertainment and the requirements of a modern sports stadium.
VSI's Richard Vaughan worked with Community UK's Stuart Cunningham to come up with the performance models that would meet with the approval of the architect, client and others.
The installation includes 39 R series loudspeakers, fixed to the underside of the grandstand roof structure. The main amplification racks are located in the stadium's IT room. Work on the stadium started in 2007 and was completed on time for handover at the end of 2008.
The 14,500 capacity venue hosted the first Scarlet's game on November 28 in a Magners League clash with Munster, closely followed by the official opening against the Barbarians on January 31, where a full range of pre-match entertainment and speeches were relayed through the system.
For more information, please visit www.paigroup.com.
Leave a Comment: