NBC Coverage of Beijing Olympic Games to Kick Off with DiGiCo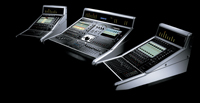 BEIJING – DiGiCo UK has been selected to provide several DS-00 digital consoles to NBC during the network's coverage of the 2008 Beijing Olympics from Beijing, China, beginning Aug. 8. The announcement was made by Dave Mazza, senior vice president Engineering, NBC Olympics, and James Gordon, DiGiCo managing director. The DiGiCo consoles will support NBC's coverage of basketball, boxing and indoor volleyball.
Bob Dixon, director, Sound Design & Communications, NBC Olympics, chose the DiGiCo consoles for their small footprint, expandability, sonic quality and cost. According to Dixon, the three DS-00 consoles will each be outfitted with expanders to handle a total of 40 mic/line inputs, 32 analog line outputs and 64 AES inputs and 64 AES outputs.
"We've had to change quite a bit this year technically," explains Dixon. "Whereas in previous years, NBC was using a hybrid of both SD and HD, often with stereo or up-mixed audio. But with the 2008 Games, it's the first time we're broadcasting all Network shows in high-definition with six discreet channels of audio. We're covering about seven venues on our own, taking some of the feeds from the host broadcaster, but then adding our own cameras and mics to give it our own perspective "As for digital consoles, when looking for a digital console that was between a very large format and a smaller console… there are not as many choices as you'd think. DiGiCo was the perfect solution. And they were extremely proactive in working with us to accommodate our needs for the TV market."
"In previous years, NBC Sports used consoles that were 11 mono inputs, three stereo inputs and eight output busses. Starting in Athens in 2004 and continuing in 2006, NBC went to using two of the consoles grouped together. With DiGiCo, NBC is adding more tape machines, more cameras and the 5.1 audio which creates big change in demand."
"The moment Taidus Vallandi [DiGiCo Technical Sales] and I met with Bob Dixon," says Gordon, "it was clear his feedback and experience would be invaluable in helping DiGiCo to expand further into digital broadcast. Once we explained the possibilities he grasped it and instantly took the DS-00 to its upper limits. For us, it is rewarding to see our product deliver the results both Bob and NBC demand for the Olympics."

NBC "America's Olympic Network" owns the exclusive U.S. media rights to the Olympic Games through 2012, which includes Beijing in 2008, Vancouver in 2010 and London in 2012. From August 8-24, 2008 NBC Universal will present 3,600 hours of coverage, highlighted by NBC in primetime with live swimming, gymnastics and beach volleyball. In August 2004, 203 million viewers watched as the networks of NBC Universal — NBC, MSNBC, CNBC, USA, Bravo, Telemundo and NBC's HD affiliates — offered a then record 1,210 hours of Olympic coverage from Athens.

ACTION ITEM:
For more information, please visit www.digico.org.
Leave a Comment: