EM Acoustics' HALO-A Crowns Norway's Skudefestivalen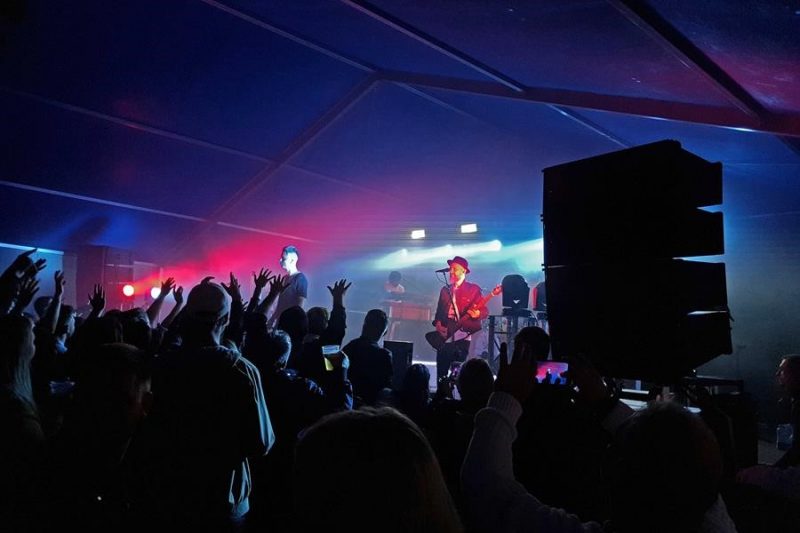 SKUDENESHAVN, Norway – An EM Acoustics HALO-A large-format line array was supplied by Livepro for the main stage at the 25th annual Skudefestivalen .
More details from EM Acoustics (www.emacoustics.co.uk):
Celebrating its 25th anniversary next year, Skudefestivalen is one of Norway's largest coastal culture festivals. This year marked the first European outing for EM Acoustics' newly launched HALO-A large-format line array system, where it made a big impression on visiting sound engineers for the festival's main stage performances from many of Norway's top acts, including Jan Ove Ottesen, Heine Totland, Plumbo, Just 4 You, Keipstein and Slogmåkane.
The HALO-A line array was supplied by Haugesund-based AV rental specialists, Livepro, with support from EM Acoustics' Norwegian distributor, Norstage. Livepro system engineer, Geir Larsen, has become the first adopter of HALO-A in Europe, and for good reason. "This is a huge improvement over the systems we've used in previous years," he said. "I'm really impressed with the way it sounds, even in a tent which is not the friendliest environment for a concert."
Larsen elected to deploy left and right ground stacks of four HALO-A two-way line array elements supported by three MSE-218 subwoofers each side, powered by four DQ-20 advanced system amplifiers. With its dual 12" LF drivers and four 1.4" exit compression drivers feeding a patent-pending HF manifold in a bi-amplified format, HALO-A is one of the most efficient products on the market, achieving 149dB peak SPL over an 80° horizontal coverage pattern which is maintained down to 250Hz.
"I can't believe how loud it is," remarks Larsen. "The power and SPL are just breath-taking. Even at high levels, it sounds incredibly natural and the vocal presence is amazing. Many other systems would rip your head off at those levels, but not HALO-A. It still sounds terrific."
Larsen praises the remarkable projection and rear rejection the HALO-A cabinet's design delivers, noting how quiet it was behind the rig. "We had no feedback issues at all, although we turned it up as loud as we dared. Sound coverage and throw were excellent and the HF drops off very little at long range compared to other systems."
Norstage's Lasse Erikson agrees. "Geir certainly had a big smile on his face as he was using it, and comments from other sound engineers – including Janove's FOH mixer Johan Berntsen – were very positive. They all remarked how easy it was to get it to sound good and the amount of SPL they could generate. The difference between HALO-A and the systems Livepro has used here for the last five years is huge, even though on paper they were very similar. The HF clarity and the power was astonishing. HALO-A requires very little EQ on the inputs, which has the effect of opening up the mix – you end up with the same open feeling that you get from HALO-C but at much higher SPLs."
Larsen sums up the mood at Skudefestivalen: "When we rigged HALO-A for the first time, we were impressed with the design and build quality. It was easy to rig, and from the first note we were sold on HALO-A. After the sound check we were in love!"
Leave a Comment: