Britannia Row and Clair Global Supply Harry Styles Tour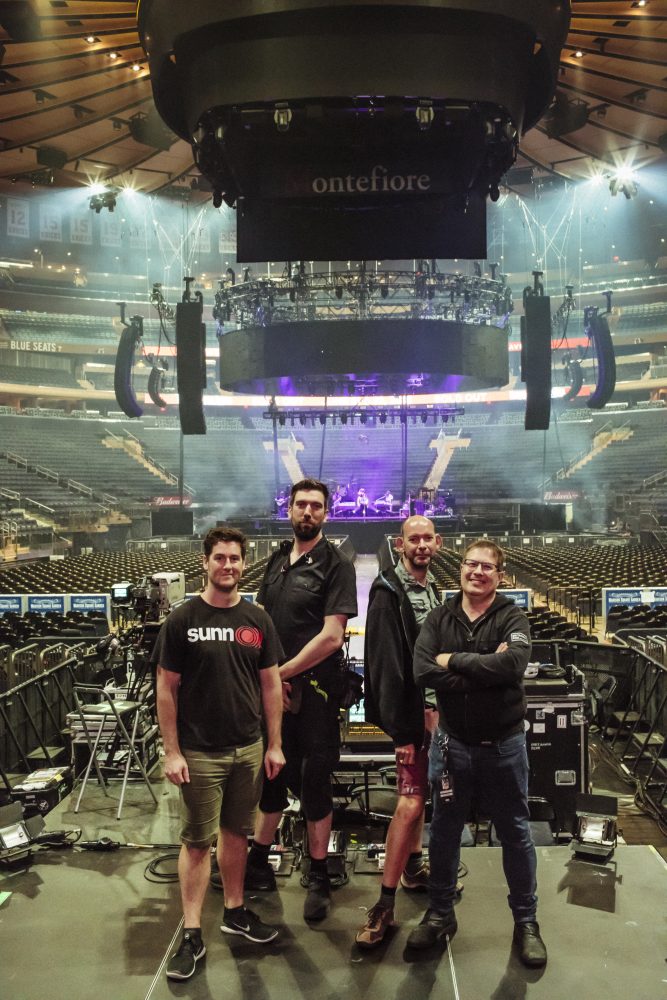 LONDON – Britannia Row and Clair global have been employed to supply audio support for Harry Styles' current tour in promotion of his first solo album.
More details from Britannia Row (www.britanniarow.com):
Harry Styles has now been out promoting his first solo album for a year. Somewhere in there he found time to take on his first movie role in Christopher Nolan's 'Dunkirk'. With such a packed schedule consistency of technology has proved a crucial element in maintaining high production values.
"It is quite hard work," said front of house engineer Karl 'Snake' Newton. "The schedule is packed. Looking back from where we are now in the tour, I can say that Brit Row, as principal supplier, has been a very comfortable experience. And I've been pleased to see how the tie-up with Clair Global last year has only added to that experience. They (Clair) have definitely worked hard to dispel any legacy perception of an inward looking, protectionist vendor. I can see they are much more open. Last September when we were doing pre-production for arenas in LA they went to the trouble of letting me have a play with their CO8 system.  I was already committed to the brown boxes, L-Acoustic K1 and K2 are great systems and I like how they respond; they really suit the mix and the band. But Clair knew that and did it anyway and that was a useful experience for me."
Despite starting in theaters and smaller venues last year, Brit Row has been able to keep key crew technicians with Newton throughout. "I really value that consistency from Brit Row, for example, Rod Clarkson looks after the stage and has been there since we started."
Clarkson agrees, "It works out well. I see myself as more of an 'audio housekeeper' letting Snake and Chopper (Charles 'Chopper' Bradley on monitors) focus and just get on with their roles. They are more than capable to cover many of the organizational things I do, but I try and provide a solid foundation to the audio side of a gig, providing confidence and happiness to engineers and then in turn to the artist so they can take the stage each night knowing we have them covered, whatever might happen."
For Newton, balance is not just manifest in what comes out of his Avid 6SL console. "Part of the success of the show is the way Harry has put his band together. This is not just a typical bunch of session musicians. He started off with one of his main song writers Mitch Rowland, the guitarist in the band. Then in February of last year they began to audition musicians. It's a proper band in that sense and you see it every day backstage. They are all together, Harry too. It's not Harry and the backing band."
Clarkson believes that lack of a hierarchy alluded to by Newton is also key to the Brit Row formula. "I believe the quality of a company comes with strength in depth of its workforce. So many of the current and past regular crew have skills that cover a wide range of roles in the industry, not just audio. The base of knowledge this gives the crew on each gig is invaluable. I learnt my trade on the job through other more experienced crew, and all these years later I'm still learning. In turn, I'm constantly passing on knowledge and experience back to others, which extend to talking on subjects in the Brit Row training courses when time allows. When I am engineering a gig for Brit Row they never fail to support me, just as they do for the artist. I repay that ethic back when I'm working for them whatever role I might be in that day. It's a joy to work for Brit Row. Loyalty and dedication are contagious."
Newton holds Styles in equally high esteem. "He is a very nice guy and a very nice boss to work with. If he arrives late because of a TV appearance or something he always apologizes. That carries through to production, wherever we are in the world, with Brit Row and Clair behind us this is a very harmonious camp."
Leave a Comment: