Boxing Match Brings More Punch with Outline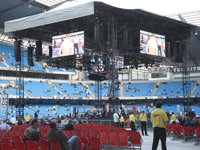 MANCHESTER, England – The match for the world boxing championship in front of an audience of 55,000 was amplified by "Butterfly", the line array by Outline of Brescia (Italy). The contestants were Mexico's Juan Lazcano and England's Ricky Hatton (the latter won, thus retaining his IBO light-welterweight title).
The venue hosting the prestigious event was the City of Manchester Stadium, a.k.a. COMS, the largest soccer pitch in England. For sound reinforcement at the COMS, the Britannia Row technicians, System Engineer Davide Lombardi and FOH Engineer Derrick Zieba set up eight clusters with 12 Butterfly Hi-Packs each, for a total of 96 modules; the bottom end was courtesy of eight Subtech 218, flown in four clusters of two subs each. The PWM power amps were also Outline – T9 (2 x 4800W), a single rack unit and 12 kilos each.

As well as the MC's voice and the contributions from Sky digital TV (music and publicity), there was also a performance by classical singer Russell Watson.

"The Outline system performed perfectly in the stadium situation, there was enough power to overcome the noise from the huge crowd of enthusiastic Ricky Hatton fans without problems," commented FOH engineer Derrick Zieba. "The Outline Butterfly's projection enabled us to turn off the in-house coverage on the end stands and just use the Outline hangs from the centre stand. The boxes proved easy to rig and their small format ensured Sky TV clear shots of the ring. These small powerful boxes provided the best solution to ensure perfect sound for this unusually large boxing match audience."
It is also worth noting that for the audio no more than seven tons could be flown. The lightness of the Outline arrays was, therefore, once more a winning factor.

ACTION ITEM:
For more information, please visit www.outline.it
Leave a Comment: