Wharfedale Pro EVP-NEO Series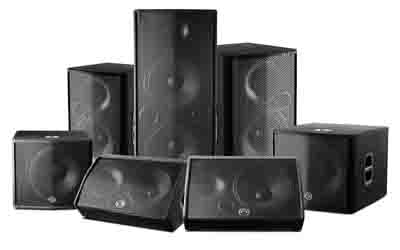 Wharfedale Pro's next generation of the EVP line of loudspeakers, the lighter-weight EVP-NEO series, builds on the sound quality of the EXP-X. Seven models are available in the range: the EVP-12M NEO and EVP-15M NEO are low profile stage monitors with the EVP-12NEO, EVP-15NEO and EVP-215NEO completing the full lineup. The EVP-18SUB and EVP-15SUB subwoofers, meanwhile, provide low end reinforcement.
The cabinets are now more compact and use heavily braced MDF panels to balance rigidity with weight reduction. The handles are made of aluminium. A formed powder coated grille protects the transducers and provides better resistance to dents, also giving the units a unique appearance. All models in the series are available with road tough carpet covered or painted enclosures.
A new ultra flat HF unit on a 70×70 circular waveguide improves the high frequency response while the woofers in the full range models now use neodymium magnets for greater power and efficiency. New crossover networks are used throughout the range with transparent thermal HF protection.
A dual angle pole mount allows for flat or 10° mounting of the full range speakers, directing more HF at the audience and less at the ceiling, reducing early reflections. The 10° angle is ideal for audiences up to 25m deep.
A combination Speakon/Jack parallel input/output is used on all models and is conveniently located on a recessed panel. The stage monitors have a third parallel input/output located on the opposite end allowing for neat and tidy parallel wiring of monitors along the front of your stage.
The EVP-NEO range is priced starting at $249 US MAP.
For more information, please visit www.americanmusicandsound.com.
Leave a Comment: