Waves Vocal Rider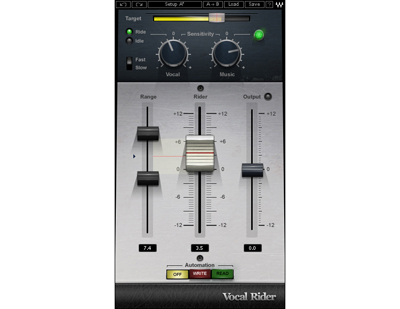 Waves Audio is now shipping Vocal Rider, the first of Waves' series of new Mixing tools. Vocal Rider automatically rides the levels of vocal tracks. Instead of manually riding a console fader, or drawing in every level change on a DAW track, Vocal Rider does it automatically.
First, the user sets the target range of the vocal level in relation to the rest of the mix. Vocal Rider then compensates for deviations from the target, raising or lowering the vocal volume instantly. Unlike compression, Vocal Rider adds no additional coloring to the track.
Vocal Rider offers up to 24-bit 96kHz resolution and supports TDM, RTAS, Audio Suite, VST, AU. It is Windows 7 and Mac OS X compatible. Controls include Target, Vocal Sensitivity, Vocal Activity LED, Attack, Music Sensitivity, Music Sensitivity LED, Range Min/Max, Effective Range, Idle Arrow, Rider Fader, Automation Mode, Output and Clip LED.
Waves Vocal Rider has an MSRP of $400.00 Native/$800.00 TDM. Waves Mercury V7 owners covered by Waves Update Plan receive Vocal Rider at no additional charge. Waves Vocal Rider is now available from authorized Waves dealers and online.
For more information, please visit www.waves.com.
Leave a Comment: