Lectrosonics SMV Series Transmitters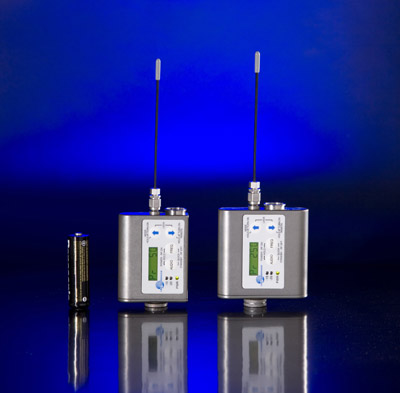 Lectrosonics has added SMV and SMQV transmitters to its Super Miniature product line. The units feature Lectrosonics' Digital Hybrid Wireless technology from their 400 Series product group. Variable RF power is a key attribute of the new SMV Series transmitters. The Lectrosonics SMV transmitter features selectable 50 mW and 100 mW settings while the SMQV offers selections for 50 mW, 100 mW, and 250 mW. Both transmitters are also splash and sweat-proof due to their machined-aluminum housings.
The new SMV Series transmitters also have a variable high-pass filter that allows for a customized audio response for speech or full-range program material. A circular isolator in the RF output circuit of the SMV Series units also keeps the likelihood of intermodulation products occurring at the transmitters to a minimum.
A compatibility mode setting lets the SMV Series transmitters be used with a variety of receiver types, including Lectrosonics' 100 and 200 Series and receivers from two other manufacturers, and there is an optional RM remote control.
Lectrosonics new SMV Series transmitters are available in nine different frequency blocks covering 470 – 691 MHz. Specifications include a frequency response of 32 Hz to 20 kHz +/- 1 dB, a signal to noise ratio of 111 dB (A weighted) and selectable RF output of 50 mW and 100 mW for the SMV and 50 mW, 100 mW, and 250 mW for the SMQV.
Lectrosonics' new SMV Series transmitters will be available in November 2009 with an MSRP of $1,725 for the SMV and $1,832 for the SMQV.
For more information, please visit www.lectrosonics.com.
Leave a Comment: