Carvin Amps and Audio UX1200BGT Wireless System for Guitarists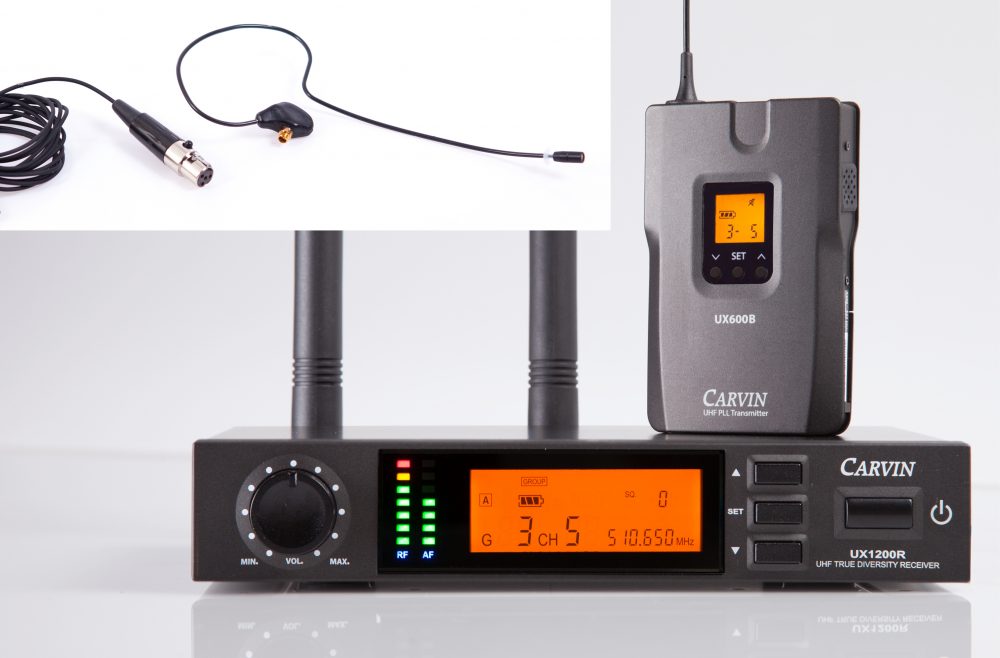 Carvin Amps and Audio introduces the UX1200BGT Wireless System for Guitarists.
More details from Carvin Amps and Audio (www.carvinaudio.com):
Offering vocal and theater performers ultimate freedom on stage and audio performance, Carvin Amps and Audio's new UX1200BP1 Wireless Headset Microphone Systems are now available. The UX1200BP1 System with the PERFORMER1 over-ear mic is designed for speaking and theatrical engagements where high intelligibility is required while maintaining a tight, natural sound with crisp highs and defined low end. The PERFORMER1 is capable of reproducing a high vocal SPL input while maintaining a clean undistorted output. The over-ear design makes for quick, hassle-free use for the speaker or performer. The PERFORMER1 is available in black, tan, and youth versions.
Designed with theater in mind with high intelligibility of vocals
Micro-flex wire design allows for discreet positioning of PERFORMER1 Headset Mic
Superior feedback rejection over a lavalier microphone
FCC Approved transmitting frequency spectrum of 506MHz – 542MHz
True diversity with 2 external RF receiving antennas, which constantly search the RF environment for the strongest signal to reduce dropout
Smart Features include: Battery Status Indicator, Channel Groups, RF Environmental Scan, Mute, Lock, and Squelch, Attenuate and Gain adjust -18dB to +12dB
Includes 1 UX1200R Wireless Receiver, 1 UX600B Belt Pack Transmitter, 1 PERFORMER1 Headset Mic, and 1 UX-DR Dual Rackmount Kit
MAP is $695.
Order UX1200BP1B with Black Headset Mic now at https://carvinaudio.com/ux1200bp1b
Order UX1200BP1T with Tan Headset Mic now at https://carvinaudio.com/ux1200bp1t
Order UX1200BPKD with Youth Size Mic now at https://carvinaudio.com/ux1200bpkd
International online ordering is now available in over 50 countries! https://carvinaudio.com/international-online
Leave a Comment: