The Sounds of Summer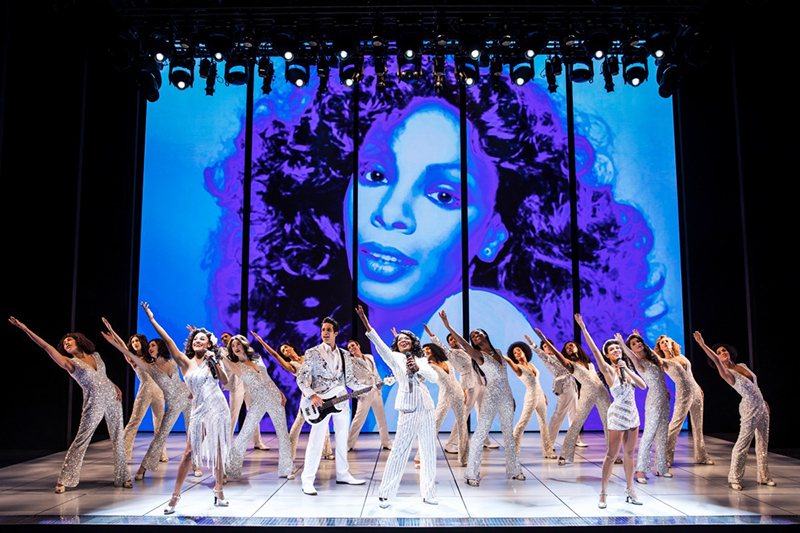 Sound Design for Summer: The Donna Summer Musical
Broadway's latest jukebox musical hit, Summer: The Donna Summer Musical, undertakes the ambitious task of telling the fascinating life of "disco queen" Donna Summer through her music — in less than two hours. Along with the chronological approach, which includes a major revelatory flashback in the center of the narrative arc, Donna herself is represented at three ages by three different actors who sometimes share the stage. There is teenage Duckling Donna (Storm Lever), young adult Disco Donna (Tony Award nominee Ariana DeBose), and older Diva Donna (Tony Award nominee LaChanze). The scene changes come quickly and fluidly, making it a challenge for sound designer Gareth Owen.
"There's no respite from a sound design point of view," concurs Owen. "It's constant. There's no moment where you could just sort of sit back and go, 'I probably don't need to do much for this.' It's not a show you can coast through, particularly with Des McAnuff as a director — he's not a guy you can coast with, either. He requires the utmost attention, but the really great thing about him as a director is that he's quite willing to let you experiment. He's quite willing to cut it if he doesn't like it, but he's also quite willing to give you the rope to hang yourself before doing so."
Before Owen could actually dive into his work, he faced the same situation as any cast member: He auditioned for the role. Owen had worked on A Bronx Tale with music supervisor Ron Melrose, who was eager to continue their collaboration, as were Dodgers Theatrical. Melrose joined the team of Summer, whose director Des McAnuff traditionally works with sound designer Steve Canyon Kennedy, who was unavailable for this particular show. (They are working again on a new show, Ain't Too Proud.)
"Des is notoriously difficult when it comes to sound," says Owen. "He's only really ever worked with Steve, so Dodgers Theatrical basically decided that they were going to make me audition for Des. But the way they were going to make the audition was by doing a two-week workshop of Summer. It was a full sound system, a sound team, and the cast and band. There was no lighting, no costumes, no set to distract the director's attention. It was just all about sound and music, and that was really hard work. I'm pretty sure Des was trying to see if he could break me, and at the end of it he was really happy, and so everyone else was really happy too!"
Owen landed the gig. "It was pretty cool to work with a legend like Des," he declares.
‡‡         Capturing that Vintage Sound
The veteran sound designer quickly learned that the legendary director has a "visceral dislike of [headset] boom microphones," which presented a challenge for a big musical like Summer. Owen notes that with a show this loud, vocal effects are key along with a close mic sound. "Having to do that from microphones up on the forehead was by far my biggest challenge," he says.
The nearly two dozen cast members are miked with DPA 4061 body mics, Sennheiser EM3732 receivers and Sennheiser 5212 bodypack transmitters, while the three Donnas also use the new Shure Axient handhelds for "concert" performances. Owen says they started off using the new Shure KSM8 dynamic microphone heads, which he used for Bat Out Of Hell in London. "I've really enjoyed using them on Bat Out Of Hell because the handheld has a very big rock vocal sound," explains Owen. "We used the KSM8 heads for all the handhelds on Summer, and we got about halfway through tech and I couldn't get the vocal sound I wanted. That's where my relationship with Peter Fitzgerald at Sound Associates came in."
Apologetically, Owen went to Fitzgerald and acknowledged that while he knew he asked them to buy the four KSM8 heads he was utilizing, he wanted to return to the KSM9 condenser heads he had used in the workshop. "He was really good about it, and swapped those out," recalls Owen. "Initially, I was beginning to wonder whether the new Axient handhelds weren't very good, which is of course pretty unlikely. Swapping them out for KSM9 heads on the handhelds was just a great choice, which really does go to show there really isn't a fit-all solution to every show. A microphone head that works brilliantly on Bat Out Of Hell doesn't work on Summer. Lessons were learned there."
While the Lunt-Fontanne Theater has a sizable orchestra pit, it could not be used, because of three massive motorized traps that bring up the three Donnas through the floor. The solution was to place the house band in a second floor dressing room. Owen describes it as very nice and comfortable with big open glass windows and air conditioning. He ran all the cables up the stairwell to that room. "I guess in this day and age it doesn't really matter where you put the band," he muses, "especially when, in the case of Summer, it's almost entirely electronic."
Despite the more electronic nature of the music, Owen and the band — which include a non-playing conductor, electronic drums, electronic percussion, bass, guitar, and two keyboards — worked hard to create the same sounds as Summer had in her recordings, including emulating real instruments. "We took a look at how Giorgio Moroder, Donna's original composer, would have worked with the technology if he had what we've got today available," explains Owen. "None of the sounds that you hear are tracked or recorded. It's all played live. None of the sounds themselves are sampled or modeled in any way. They are true synth sounds, and some of them may sound a little bit like strings or a little bit like trumpets, but nothing like the original Summer stuff."
‡‡         The Direct Approach
All of the members of the band are DI'd; no one is live-miked. The guitarist uses a Fractal AX8 guitar modeling pedal board. Naturally, bleed through and feedback are not a problem. "It does mean that it really doesn't matter where the band is," asserts Owen. "If you're doing a big book musical like Carousel, of course you want the orchestra in the pit. You want the full benefit of that power of the orchestra acoustically in the room. If the band is completely electronic, it actually doesn't matter where you've got them. If it wasn't for the [time] delay, you could put them in California."
In contrasting the difficulty of mixing different songs throughout the show, Owen says material like "MacArthur Park" was easier because they wanted to create a rock concert sound, which comes quickly and easily to him as he previously worked on rock and pop tours for the likes of Ronnie Wood, Geri Halliwell and Elton John. The trickiest song for him to tackle was the opening number, "The Queen Is Back."
"What the ensemble is singing is very, very wordy, and the tempo is quite quick, and it's also quite loud," he says. "There's also stuff where the cast are pretending to play trumpets and saxophones. I found that getting the vocal clarity from microphones up at the head in what was supposed to be a concert environment, without prerecords and something that's very wordy and quite quick, took me the longest to get right."
He adds that they finally got down "The Queen Is Back" late in previews. It was the one song that they repeatedly revisited during rehearsals, previews, and sound checks, "to look at the orchestrations again, rehearse the singing, change the vocal arrangements, and change how we were mixing it," he says. "I'm quite a strong believer in people making their mind up about the sound of the show in about 30 seconds. And if [during] the opening number out the gate, you can't understand the words and hear what the cast is saying, then people have pretty much made up their minds that the sound isn't very good from the get-go." The challenge in such case is to win them back, and Owen always avoids that obstacle at the outset.
The sound designer recalls having difficulties with vocal volume at the show's out-of-town tryout at the La Jolla Playhouse in San Diego. During the latter half of the second act, the show transitioned from LaChanze performing "this massive 'Friends Unknown' into Ariana doing 'Hot Stuff,' with the full-on band thing, and we just couldn't get her loud enough," recalls Owen.
The issue was simply that the microphone was too far away from Ariana's mouth. The "Hot Stuff" number was very loud, and the singer was working hard because she was doing so many frenetic dance moves. Once they moved her onto the handheld mic, things got better. It was choreographer Sergio Trujillo who came to the rescue there.
"To his credit, Sergio sat down with me and talked about it," continues Owen. "He knew it wasn't working for me, and he was doing all this choreography. And he changed his choreography. In fairness to him, he compromised his choreography to put her on a handheld because he knew it was the right thing to do for the show and because he knew I needed him to do it. A lot of respect for that. That was a pivotal moment in solving quite a big issue in the show, and it goes to demonstrate the value of collaboration between creatives."
‡‡         The P.A. System
For the main array, Owen used the d&b J-series, with V-SUBS upstairs and J-SUBs downstairs with a pair of J-Infras "for a couple of bits where they want real serious low end at the very bottom of the spectrum," he notes. "They add another octave below a standard sound system, so we use that, for example, when the airplane flies over. We also use it for bits at the end of the show in the introductions to 'Hot Stuff' where we want it to sound like there's disco going on in another room. We have those just pumping away, and it really just moves the ground without actually making a lot noise. And then the delays and surround are all d&b E8 and E6s."
In order to achieve the club sound he wanted on Broadway, Owen changed some of the subwoofers out during tech. He had planned to use d&b B22s downstairs as fills because he wanted a very specific club sound, "a very specific, thumpy, thumpy sound," and while he achieved that, he did not get as wide a bass range as he desired. "It was all very one note and a very singular sound, so we swapped the B22s that we had in the orchestra out for d&b J-SUBS," he says. "As a result of that, it was slightly less thumpy, thumpy, but much smoother across the low end range. That was a good lesson to not necessarily design the whole low end of your system around the idea of disco when actually this whole score isn't completely disco."
He wanted to immerse the audience in the surround sound of the P.A. while also achieving consistent and even coverage to the back of the Lunt-Fontanne Theater, which is one of the deepest on Broadway. "It is notoriously difficult to do," remarks Owen. "I believe we have successfully achieved that."
‡‡         Down to the Mix
Their "fully loaded" Avid S6L mixing console has 192 input channels, but is not completely full on the output side. Owen says there are approximately 80 channels of output, and there is no external processing. All of the system processing is done inside the d&b amplifiers — a mixture of D20s and D80s. "The actual desk is actually built around the Avid S6 studio desk," adds Owen. "We use McDSP plug-ins, Sonnox Reverb and the Brainworx Neve console emulation, so all of the band inputs go through emulated Neve channels to get that classic, old school Neve warmth. We're also using Empirical Labs Distressor plug-ins as well."
Owen certainly got the big sound that he wanted for Summer. "At the end of the day, if the client's happy, them I'm happy," he remarks. "If the person's paying the wages is happy, then I'm happy. If the director's happy, the music department is happy, the husband of Donna Summer is happy, the producer's happy, that's what I'm aiming for. Obviously, I want the audience to be happy as well. That's a good thing too."
Summer: The Donna Summer Musical
VENUE
Lunt-Fontanne Theatre, New York City
CREATIVE TEAM (partial)
Director: Des McAnuff
Sound Designer: Gareth Owen
Lighting Designer: Howell Binkley
Scenic Designer: Robert Brill
Music Director: Victoria Theodore
Projection Designer: Sean Nieuwenhuis
Music Supervisor/Arranger: Ron Melrose
Costume Designer: Paul Tazewell
Choreographer: Sergio Trujillo
FOH GEAR
FOH Console: Avid S6L
Plug-ins: McDSP, Sonnox Reverb, Brainworx Neve console emulation, Empirical Labs Distressors
Main P.A.: d&b audiotechnik J-Series line arrays
Subs: d&b audiotechnik V-SUBs, J-SUBs, J-Infras
Delay/Surround Speakers: d&b audiotechnik E8s, E6s
Amplifiers: d&b audiotechnik D20s, D80s
Vocal Mics: (3) Shure Axient handhelds with KSM9 capsules (Donnas); (24) Sennheiser 5212 body packs with DPA 4061 mics and Sennheiser EM3732 receivers (cast).
Leave a Comment: