Broadway's Carousel Takes an Immersive Twist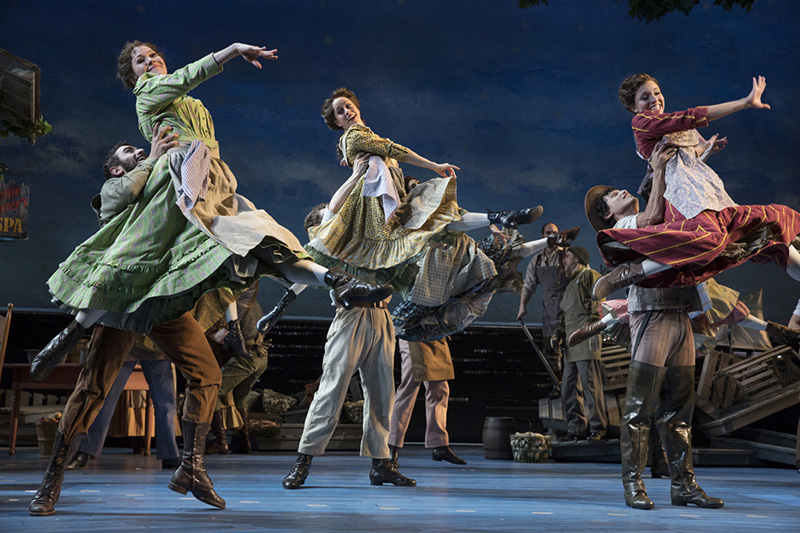 The 2018 revival of the Rogers and Hammerstein classic musical, Carousel, recently completed its run at the 1,417-seat Imperial Theatre in New York City. Its sound design earned the show and its sound designer — and Tony winner — Scott Lehrer, with associate Alex Neumann, a Tony nomination this year.
An immediate hit when it first played in 1945, Carousel had to compete hard in the wake of Oklahoma!, the first and very successful collaboration between Richard Rogers and Oscar Hammerstein. Hence, it's packed with memorable songs, from "If I Loved You" through "June Is Bustin' Out All Over", to the popular — yet demanding — strains of "You'll Never Walk Alone."
‡‡         Clean and Classic
Lehrer asserts that traditional revivals necessitate a transparent sound system so that the audience can remain unaware of the reinforcement. To achieve this, he made extensive use of Out Board's TiMax delay-matrix spatialization, and explains, "It's part of my toolbox and people hear it and they hear my work as sounding better because of it."
For the audience to hear the full breadth of the 34 actors on the stage on Sennheiser SK3732 wireless mics, as well as the 26-piece orchestra of solely acoustic instruments, Lehrer created a wide spread of time zones across the stage using TiMax2 SoundHub, to pull as much vocal and orchestral differentiation from the big choral numbers as possible.
He reveals, "When there's a group of people singing, there can be four people singing lead vocals and we can actually time them across the stage from left to right. Also, when the voices are coming from a wider stereo field time-wise rather than volume-wise, it makes it a lot easier to hear four people singing. We're not piling them up in one position in the center of the stage."
‡‡         Behind the Mix
Sound Associates (NY) provided the audio equipment. A1 Carin Ford, mixed the show on a Yamaha Rivage PM10. Her previous familiarity with Yamaha was mixing on a PM5D for Finian's Rainbow, another of Scott Lehrer's designs. "A good Broadway mixer gets around digital consoles fairly quickly," notes Lehrer, "and Carin ultimately found the PM10 pretty ergonomic and intuitive to get around."
"For traditional revivals, I try to have a fairly transparent sound system, meaning that the audience isn't aware of the reinforcement; so we typically use high quality Sennheiser wireless mics and receivers, and on the speaker side d&b audiotechnik," Lehrer said.
Ford mixes the TiMax2 SoundHub spatially distributed 40 assorted mic sources from the Yamaha Rivage onward to a system of flown d&b Y8 line arrays and d&b V7 point source cabinets, with surround content handled by various E Series boxes.
Lehrer said the nature of Carousel is a classic Broadway musical that doesn't require a lot of crazy programming and bells and whistles, "The needs for this show aren't technically very large," says Lehrer. "With a new orchestration by Jonathan Tunick, who wanted to keep the traditional musical values of the show, we worked a lot on the way the orchestrations should sound, which was partially the reason we chose the Yamaha PM10 digital console," states Lehrer.
"I have used a Yamaha CL console for smaller productions, but there are things about the PM10 I love that make me want to use it again like the Premium plug-ins that allow me to do what I can't do on other manufacturers' consoles. I love plug-ins and use them on all channels. Every radio mic comes in digitally using two Premium plug-ins, an LA2 compressor, and 2-band dynamic equalizer, and Pultec equalizers on some channels. The show is using upwards of 40 channels with Premium plugs in, and also using the onboard TC VCC reverbs. The PM10's SILK feature is used on the orchestra channels to liven things up and makes rich instruments sound even richer when using the Blue SILK, and smoother on high-end using the Red SILK." Also, the console's DCAs are used for many scenes that change a lot during the show — very typical of Broadway shows.
The other point Lehrer makes about the PM10 is working with TWINLane and getting all the digital signals around via Dante. "It's a new way of working; we're using TWINLane as the highway and then sending through to Dante and in some cases, MADI, which works well for us."
‡‡         All Together Now
Having a top-notch team makes a huge difference, as does the gear. Lehrer also credits his associate designer, Alex Neumann, for keeping all the technical aspects running smoothly. "I am super happy about how the show sounds," Lehrer says, "It's that combination of the right console, the right microphones and the right speakers."
Carousel may have completed its 2018 revival run, but there's no rest for Lehrer. He is well into his next sound design project — a new version of Harper Lee's classic 1960 novel, adapted for stage by Aaron Sorkin, which is in previews now and officially opens on Dec. 13, 2018 at New York's Shubert Theatre.
Carousel Photo by Julieta Cervantes
Leave a Comment: