Biotech Week Boston 2018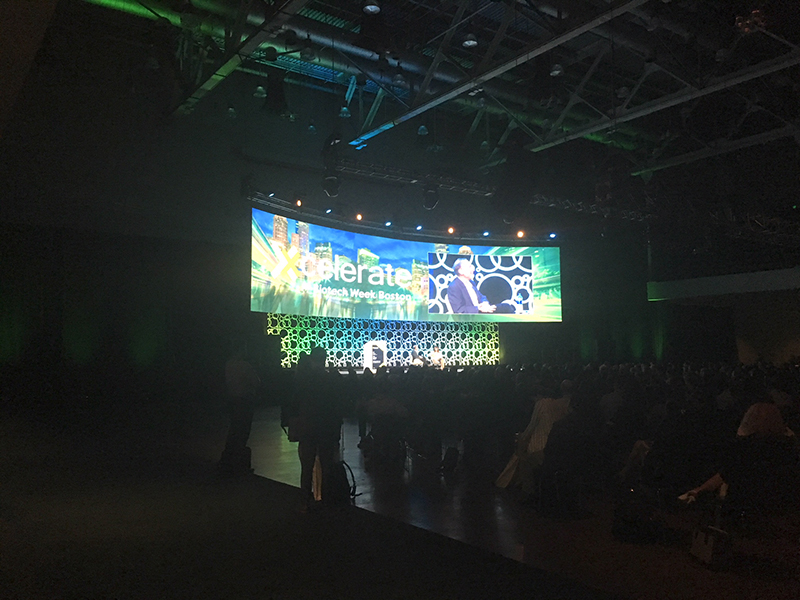 Sound Co
Metro Multimedia
Venue
Hynes Convention Center,
Boston, MA
Crew
FOH Engineer: John Silverman
Systems Engineer: Nick Cornwell/John Barghout
Production Manager: James Carolan
Technical Director: Neil McDonald
System Techs: Jake Schultz, Paul Quealy, Sam Willgoose, Dante Conti, Paul Harper
Gear
FOH
Console: Yamaha M7CL
Speakers: 4 JBL STX 835 ground stacked on 4 STX828 subs for mains. 4 JBL PRX 612 for front fills. 5 JBL VerTec VT4888 flown per side for side fills.
Amps: 1 Lab.gruppen FP6000Q (mains). 2 Crown XTI 6002 (subs). 5 Crown I-Techs of varying power per side (delays).
Processing: dbx Drive Rack 260 for Lab.gruppen, Crown/JBL presets in all Crown amplifiers
Power Distro: Lab motion 6 L2130 X6 Edison circuit power distro
Rigging: Columbus McKinnon 1-ton motors
Breakout/Snake Assemblies: Whirlwind
MON
Speakers: 2 JBL PRX612
Mics: 6 Shure ULXD, 2 Shure MX412
Event Details
This annual conference provides attendees with top science and business leaders of the biotech realm for a blend of discussions and awards presentations. Lab scientists, researchers, investors and execs also had a chance to rock out and party. Metro Multimedia provided an audio assist. The conference ran from Sept. 4-7, 2018.
Leave a Comment: