QSC KS212C Cardioid Subwoofer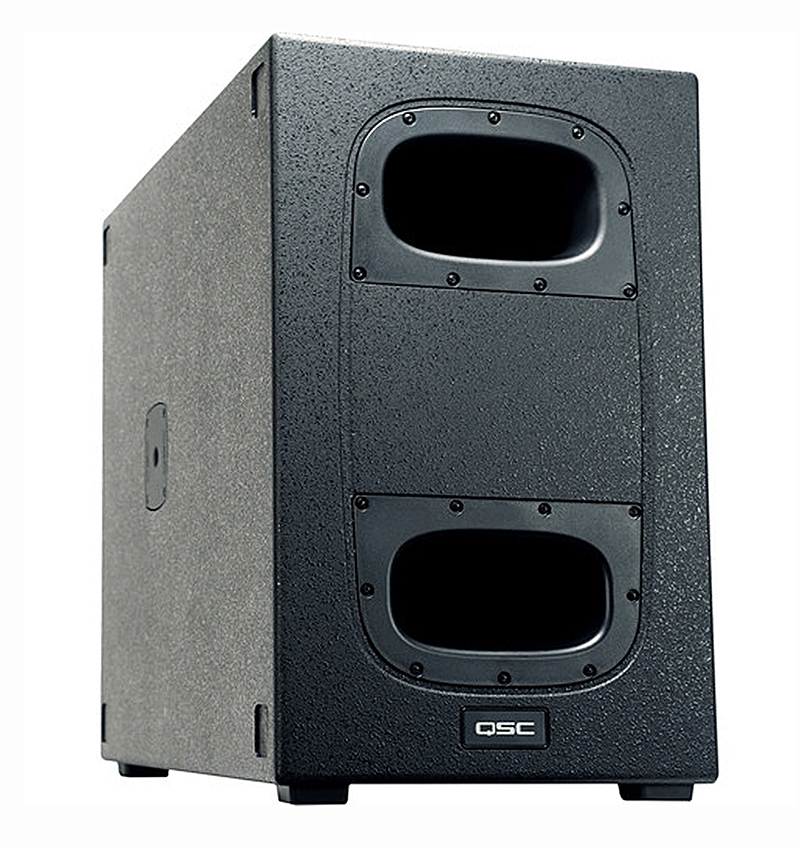 In most sound systems, low frequencies radiate from the loudspeaker in all directions, often causing unwanted LF energy buildup in areas like the stage. In large concert applications resourceful configuration of multiple subwoofers, coupled with creative DSP control, signal delay processing and time alignment can create a directional low-frequency array, similar to the cardioid pattern in a microphone. The result is a tighter, more powerful bass out front with minimal spill onstage.
Now QSC has implemented this cardioid concept in a compact, easy-to-use subwoofer targeted toward entertainment and other portable applications. Designed to complement the K.2 and K powered speakers, the KS212C puts two 12-inch long-excursion drivers in a dual sixth-order bandpass enclosure. A 3,600-watt Class-D amp module drives the speakers, while built-in DSP creates the cardioid pattern. Weighing in at 88.5 pounds, the KS212C is only slightly larger and heavier than the popular KSub. Yet according to QSC, the KS212C's directional output can produce up to 15 dB more output at the front of the box versus the back.
‡‡         What's in the Box
The 15mm birch plywood cabinet has recessed top/bottom handles for easy maneuverability. Two oval ports and a non-obtrusive QSC badge (with a blue power LED) grace the front panel. Attached to the cabinet are four robust wheels, a nice touch. At first, I thought the wheels were a little stiff to move, but realized the stiffness was intentional, as they did not rattle during use. My subs also included QSC's optional heavy-duty covers that protect the cabinets during transport and storage.
The back side had two similar oval ports for the rear-facing speaker, along with the amplifier module, with a locking IEC power inlet, I/O connectors, small quiet fan, level control knob and a DSP display with menu controls. M20 threaded pole-mount receptacles on the cabinet's top and side let users orient the sub upright or in a low-profile horizontal position. QSC includes a 36-inch, fixed-length pole with the KS212C. Additionally, robust rubber feet grace the bottom and side of the box. Along with helping to keep the sub from sliding around, two subs could be stacked on their sides, their feet mating with alignment cups in the second box. (QSC only recommends stacking no more than two subs, as increasing the number in a stack will reduce the cardioid performance.)
Left/right inputs are combo XLR/TRS connectors. The L/R signal passes through to the XLR-M output connectors but is summed together in the sub. I used this configuration on smaller gigs where two subs would be overkill. A single input gain control sets the level from both inputs — a nice touch, as I prefer a physical level control knob versus digging through a menu to set the gain. LEDs on the rear panel indicate power and limiter. The menu-driven DSP has settings for a crossover point and delay along with a utility menu for adjusting LCD contrast and configuring which power LEDs (front only, rear only or both) illuminate. Up to five user-configurable scenes can be saved and recalled, but I didn't see much need for this function.
The Crossover menu selects a lowpass filter crossover point of 80 or 100 Hz. 80 Hz is optimized for the new K.2 while 100 Hz is optimized for legacy K, KLA and KW speakers. Because the fullrange signal is sent through the XLR loop, for best results, select "External Sub" on any of the QSC K speakers when using them with the KS212C.
Delay, displayed in milliseconds, feet and meters is available for "time aligning" the sub to the top boxes if they are spaced apart. However, when top speakers are pole mounted over the KS212C, they are physically time-aligned and no delay is required.
Note that the KS212C always operates in cardioid mode, and no other user adjustments are necessary. It just works.
‡‡         Listening Tests (and Annoying the Neighbors)
QSC sent a pair of KS212Cs to try out with my existing K.2-powered speakers. These were packed in heavy recyclable cartons and the wheels are pre-attached — no assembly required. I set one KS212C up in my shop, attached the pole and mounted a K10.2. Connections were easy and intuitive. After powering up the system and selecting the 80 Hz crossover point, I played an assortment of recorded tunes, including that Bruno Mars favorite. Even in the confines of my shop space, I could hear the difference between being in front of the sub vs. behind it. For comparison, I configured the same "setup" using a K10.2 over the (non-cardioid) KSub. The low-end seemed tighter, punchier and more defined on the KS212C setup.
‡‡         Off to Gig-land
My first setup was a 17-piece big-band jazz group, playing outdoors on a concrete pad. I used K8.2s on tripod stands with a single KS212C. Because the rhythm section was close to the side with the sub, I expected issues with the kick drum (no front hole for the mic) and the acoustic upright bass. I was pleasantly surprised at how little LF stage spill occurred. Low-end was tight, clean and loud out front. The bandleader said he thought there wasn't enough bottom end in the mix — until he walked out in front of the speakers. His immediate reaction was, "Wow!"
My second time out with the KS212Cs was a polka-night in a similar outdoor venue. I used two KS212Cs and topped them with K10.2s. The polka band had a MIDI-controlled synth module that played tuba and bass guitar sounds. The bottom-end was clean and tight, even with the overly processed MIDI bass tracks. It was fun to really feel them rolling out that barrel.
Every year, I do a summer solstice festival at a local winery. The venue has a large, open-sided pavilion with a wooden peaked roof and concrete floor. A portable platform stage is set up in front of a huge stone wall fireplace. In past years I had all kinds of low-frequency stage spill as the LF energy would build up inside the large fireplace and under the portable stage. I used both KS212Cs topped with K10.2s. The seven acts for the festival ranged from singer/songwriters and blues rock bands to a 10-piece Motown funk horn band. With the cardioid subs, I had clean, tight bottom end and NO feedback issues. You could feel the thump in your chest out front when the bands were hitting hard, but when you walked behind the speakers, there was no LF mush reflecting off the stone wall.
‡‡         The Verdict
In every case, the QSC KS212C cardioid subs were effective in controlling low-end spill issues and they cleaned up what I heard out front. The sound was tight and punchy without the muddiness caused by stage LF spill being picked up from open mics. They were easy to set up and paired well with my K.2 speakers. I received many compliments from the venue's management, bands and even audience members. These will definitely become my go-to subs.
As a side note, QSC speaker systems draw very little AC power. At the solstice event, I ran the entire P.A. (two KS212C cardioid subs, two K10.2 tops, four K8 monitors and two K12.2s covering side bar areas outside the pavilion) from a single 20-amp circuit. And I had it cranking hard all weekend at the solstice festival, with no power issues.
The build quality in the KS212C is excellent, and I appreciate QSC's attention to things that set them apart from others, such as pre-mounted wheels, locking AC connectors and custom covers. If I had to suggest any improvements, I would prefer an adjustable pole over the fixed one for ease of setup. And although I do like the locking IEC cable, having "PowerCon-type" AC connections with an AC loop-out would allow me to power my K10.2 from the sub without having to provide a tri-tap AC cord.
At a Glance
Plug-and-Play Cardioid Sub
QSC's KS212C pairs two 12-inch drivers with a 3,600-watt Class-D amp module to drive the speakers, while built-in DSP creates the cardioid pattern. It's a single-box cardioid LF solution that offers fast, easy setup and offers solid directional performance.
QSC KS212C
PROS
Punchy, clean, tight bottom-end
Pairs well with K.2 and K series speakers
Effective cardioid directionality
CONS
Adjustable pole would be nice
Wheels were stiff
STATS
Configuration: Dual-12 bandpass enclosure
Power: Two 1,800W Class-D amplifiers
Frequency Response: 44 Hz to 104 Hz (-6 dB)
Max SPL: 132 dB peak (@ 1m)
Dimensions (HxWxD): 26x15x28"
Weight: 90 pounds
Street Price: $1,499
Manufacturer: QSC
More Info: www.qsc.com
Steve Savanyu operates Buford T. Hedgehog Productions in Hudson/Macedonia, OH.
Leave a Comment: