Lorde's 'Melodrama' World Tour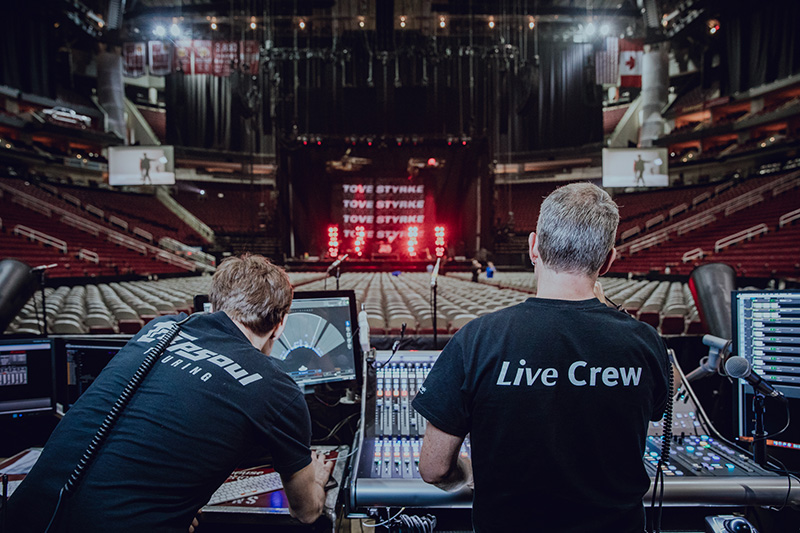 After kicking off last September at the U.K.'s O2 Apollo Manchester, Melodrama — the world tour by New Zealand-based pop sensation Lorde in support of her June 2017 album release — continues on a string of packed theaters and arenas. And after completing successful tour legs in Europe and Oceania, the Lorde entourage is now steaming across North America. The artist last came through in 2016, but what's different this time is that the tour is carrying an L-Acoustics L-ISA audio rig — an immersive audio system that can transform a large venue into an intimate listening experience, but beyond that, offers the creative FOH engineer a wide palette in which to explore intuitive placement and movement of input channels in 3D.
The Basics
Pronounced "el-eeza," the L-ISA (Immersive Sound Art) system takes audio inputs (typically direct outs) from a conventional mix console and routes them to a hardware L-ISA Processor that, under L-ISA Controller Mac/Win software control, provides a single-screen visualization of all sound objects in the 3D mixing space, with easy access to spatial parameters, such as pan, width, distance and elevation for each sound object.
The playback side uses five arrays over the stage (with or without subwoofers), and optional "extension" speakers, which can widen the coverage to the side walls. This comprises a "frontal" system, although further options can also include overhead or surround speakers. Capable of operating in real-time, L-Acoustics' Soundvision acoustical and mechanical simulation program calculates SPL coverage, SPL mapping and delay coverage for complex sound system/venue stereo or multichannel configurations.
How It Came About
The beginnings to a creative and technical partnership began last year, between Lorde's production team, sound company Firehouse Productions and L-Acoustics, when the speaker manufacturer was looking for a project to showcase the power of L-ISA. "Our production manager, Richard Young, went to L-Acoustics' L-ISA Lab in London and met with L-Acoustics founder Christian Heil and L-ISA Lab director Sherif El Barbari, who pitched it to him," recalls longtime Lorde FOH engineer Philip J. Harvey.
"Richard — one of the shrewdest production managers I've ever worked with — said it was amazing. He asked me to bring some multi-track files to the L-Acoustics headquarters near Paris and check it out. It was impressive, and I left having to completely rethink how I had been mixing for the last 23 years. All these little tricks that I had been using with the left and right to fill up the space had gone out the window, because I suddenly had much more space to work with, and coordinates and object-based mixing. I thought it was an amazing opportunity, and couldn't wait to do it."
The System
Lorde is using the "frontal" system. "The P.A. is all in front of the audience," explains Scott Sugden, L-Acoustics' head of applications, touring. "There is nothing beside or behind the audience or overhead. Those are all within the realm of possibilities of L-ISA, but we are just not using those on this show. The system on Lorde has five arrays directly above the stage; we call these the 'scene,' — i.e., representing the scene on stage. These are kept pretty stable — within a few inches from day to day. Now the 'extensions' — the speakers way out over the seats — are a bit more mobile, depending on where we can find rigging that far out. Between the five scene arrays and the four extension arrays, we can keep almost all of the audience within the frontal immersive system."
On this tour, the frontal system has nine speakers — a center K2 hang, inner K2 hangs on both sides of that, flanked by Kara hangs (where, normally, the left/right systems hangs would be) and extension hangs of Kara on either side of that, along with mono rear and front, above the subject K2.
Another thing that's different is the use of subwoofer placement. "We've seen people do subs in 900 different ways, but ultimately the best solution is to put subs in one place," Sugden notes. "In the case of Lorde, they are flown right above the scene/frontal speakers and we get more even and more efficient sub coverage. We have only 16 KS-28 [dual-18] subwoofers on this arena pop tour, and it's plenty."
A lot of flown speakers equates to a lot of rigging. "Firehouse always loves a challenge," adds Chris Russo, the sound company's director of touring. "Upstaging Inc. was the lighting and video supplier as well as the rigging vendor," he continues, "and coordinating the rigging was a real job. We sent two guys from the shop to Upstaging to do some rigging prep. The Lorde tour was more of everything. Usually, you hang a left/right P.A. plus the sides, you get your angles and lasers sighted-in on four hangs, and you're done. With 360, you add two more. With this show, those guys are sighting-in 11 hangs, and that's not even including the (flown) subs — and that's at least two-and-a-half times as many motors as in a typical rock show."
Inside the Mix
At the FOH position, Harvey is using a Solid State Logic L500 Plus console. Originally, he was working with a lot of stems. "But I ended up using direct outs — post fader, post [console] processing from the SSL L500 Plus, with everything going into the L-ISA Processor. Every instrument and source shows up as a separate little circle on the L-ISA Controller screen, with a map of all the speaker locations, so you just pick what sound you want to come out from what speaker. For panning, depth and width, you basically take a mouse and drag sources across the screen."
Working within the wide spatial L-ISA environment also changes one's approach to signal processing, according to Harvey. "I'm using a Waves MultiRack setup and, outside of convolution reverbs, all the plug-ins I'm using are inserts. As I have such a wide canvas to work with, I definitely find myself EQ'ing a lot less and using less compression than in a left/right situation. I've been using the extension speakers mostly for delays and reverb effects. Anything with a lot of transients, like drums or rhythmic instruments, mostly have to be contained within the K2 speakers. For example, if you have drumset overheads or snare panned really wide, and you're seated on the extreme left side of the hall, you may experience flamming, with the snare arriving as two distinct sounds. Of course, that was one of the first things I wanted to do — make the drumset sound really wide and immersive, but I had to reel that in somewhat because, depending on your position on the floor, it can come back and bite you."
Other Issues
Aside from spatiality and placement considerations, Harvey discovered the L-ISA technology offered other perks as well. In addition to increased clarity, show levels offered a few surprises in terms of perceived loudness. "Mostly, I was running about 102 dB. Toward the end of the concert I was around 105 or 107 dB," Harvey explains. "Honestly, it definitely felt louder at a lower level. Sometimes I would think I was at 105 dB and look over at the meter and see that I was at 101 or 102 dB!"
The center-hung, flown LF cabinets offered another plus. "There were no subs on the floor. There were two hangs of eight KS28 [double-18] subwoofers, and they were five feet apart, just above the center K2 array," Harvey says. "The coverage was even — there was no power alley; no trough to speak of. This really blew me away. When I saw the sound prediction, I thought, 'Why hasn't anyone done this before?'"
With any multichannel system, from stereo to 5.1 to L-ISA, a major consideration is the perception of audience members who are seated outside — or way outside — the sweet spot. But L-ISA takes on that issue as well. "For those who are off to the extreme sides, the L-ISA Processor will downmix the immersive environment, from a multiple output environment to mono, stereo or LCR downmix," explains Sugden. "In the case of this tour, we have a mono sidehang that downmixes all that spatial information so no one there misses any part of the mix — although with less spatial information. It's not as wide an image, but not as flat as a typical rock 'n' roll show would be."
Another common phenomenon that L-ISA addresses is wide variances of the sound in most facilities. "As you walk the venue with a typical L/R system, the sound tonality changes, which is the nature of the comb filtering being created from left to right," Sugden says. "With L-ISA, things stay stable; you might get a bit of a perspective shift from time to time — where things seem a bit closer or farther away — but the overall feel is like being in a cabaret show to watch a favorite jazz act rather than a pop concert in an arena. L-ISA creates a sense of intimacy that's quite enjoyable."
The Final Word
We asked Harvey about his overall impressions of the L-ISA technology.
"This has been an amazing opportunity. I'm really honored that David Brooks [of L-Acoustics] approached me and said that you and Lorde are the appropriate artist to debut their L-ISA system on a large scale. When I met [L-Acoustics founder] Christian Heil, he explained that the technological advances in lights and video are amazing, but the audio side has been limited to left/right hangs. But now we can move the speakers farther out to accommodate larger video walls, and now we can overwhelm the fans with the musical experience. This is definitely the evolution of the modern sound system, and I am honored and privileged to be a part of that. I'm super excited about this."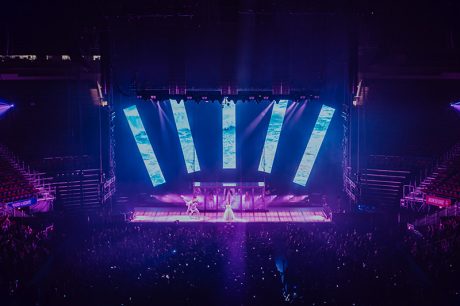 Inside the Large-Scale Immersive Environment
Following loud, aggressive opening sets from Mitski and Run The Jewels, Chicago's Allstate Arena went dark at 8:45pm on March 27, as Lorde's performance opened with an ominous, thunderously massive synth swell that set the precedent for what was the widest sounding concert image I've ever heard. Being in an older venue better known for its hockey games, I was anxious to hear how L-Acoustics' new L-ISA technology would perform in this less-than-pristine, circa 1980 acoustical box.
The artist remained front-and-center on an austere stage nearly the entire time — both physically and vocally, yet the sonic elements of her show were considerably more expansive in their breadth.
"Hard Feelings" from Lorde's latest album, Melodrama, was a good example. Although her vocals lined up with her presence on stage during the verses, the imaging of various vocal parts in the chorus was spread incredibly wide. And industrial-sounding bits of electronica danced back and forth in the mix on a much broader scale than a traditional mono/stereo P.A. could possibly replicate.
Thanks to this stretched canvas, each of the show's inputs was able to retain its own sonic identity, free of the mush that comes from too many sources crowding the same space. And Lorde's voice remained exceptionally clear and intelligible throughout the entire performance, from breathy whispers to howling falsettos.
Strolling from the FOH position nearly up to the front corner of stage right, it wasn't until I was quite close that the expansive imaging was condensed down to a typical mono source coming from the front-fills. Other than that, most of the room — even the far left and right sides of the bowl — received a fully spatialized mix as opposed to simply "coverage."
I was told by the production team that the sonic "wow" factor of what can be done with L-Acoustics' L-ISA technology was intentionally understated on this North American tour leg. Very few things were being done in the extreme, because that wasn't the creative vision for this show.
That said, the soundscape was panoramic and natural — much like our ears expect to hear things in real-life around us. I imagine that, in mid-show, if the audio reinforcement was snapped back into the standard L/R arrangement used by the opening acts, the entire audience would have immediately noticed how flat and lifeless the mix would have suddenly become.
I have a feeling that this is going to change everything. And I don't think that's simply Melodrama. — Thomas S. Friedman
Lorde Melodrama Tour
CREW
Sound Company: Firehouse Productions
Lighting/Video/Rigging Company: Upstaging Inc.
FOH Engineer: Philip J. Harvey
Production Manager: Richard Young
Monitor Engineer: Raymond Jeffrey
Systems Engineer: Michael Gazdziak
Monitor Tech: Brett Taylor
P.A. Techs: Adam Bannister, Damian Burns, Tyler Clapp, Chuck Well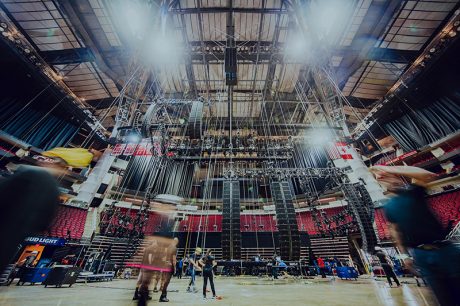 P.A. GEAR
Main Scene: (3) L-Acoustics K2 hangs of 16; (2) K2 side hangs of 16; (2) L-Acoustics Kara outer scene hangs of 21
Extensions: (4) Kara hangs of 15
Subwoofers: (16) L-Acoustics KS-28 dual-18 flown subs
Fills: (4) L-Acoustics ARC II
Front Fills: (8) L-Acoustics X8
FOH GEAR
FOH Console: SSL Live L500 Plus
Outboard: L-Acoustics L-ISA Controller; Waves MultiRack
Vocal Mic: DPA d:facto 4018 capsule
Wireless: Shure Axient Digital
Leave a Comment: