Nine Recent Theater/Performing Arts Center Upgrades
Today, despite competition from multi-screen cinemas, home theaters and all forms of sporting events, there is still considerable interest in watching humans in live onstage performance, whether in drama, musicals, concerts, dance, opera — the list is nearly endless. And while stadium shows are less common these days, venues in the 500- to 3,000-capacity range seem to be doing well, especially as music artists that once appeared only in arenas are now turning to smaller, more intimate venues.
Meanwhile, technology upgrades in theater and performing arts spaces continue at an accelerated pace, whether in converted environments, new construction and refurbishment of existing venues – from local venues to internationally known performance spaces such as the Star PAC in Singapore (pictured above). With that in mind, we present nine recent installation projects.
Emerson Colonial Theatre, Boston, MA
The Colonial Theatre, which opened in 1900 with a production of Ben-Hur, is the oldest continuously operated theater in Boston. Located on the Emerson College campus, it was also one of the most magnificent, having retained most of its original period details. Over the decades, the venue debuted classic Broadway shows as Anything Goes, Porgy and Bess, Oklahoma!, Born Yesterday, Follies, A Little Night Music, Grand Hotel, La Cage aux Folles and Seussical — among others.
Although the venue closed in 2015 and its future looked uncertain, it wasn't dormant for long. By early 2017, the Ambassador Theatre Group (ATG), which owns and operates nearly 50 venues worldwide, signed a 40-year lease with Emerson College to operate theater. ATG also invested millions of dollars in a major renovation project. In July 2018, the Emerson Colonial Theatre officially re-opened with the pre-Broadway world premiere of Moulin Rouge! The Musical.
A key part of the venue's revitalization was its new sound system. Clifton Park, NY-based Specialized Audio-Visual, Inc. (SAVI) was selected as the integrator to handle the audio side of the project by ATG, who also own the Kings Theatre in Brooklyn. "The Kings Theatre has a d&b audiotechnik rig installed and were fans of d&b. Lately, SAVI has done a lot of work with d&b," says SAVI field project manager Chris Dietrich, "and we were all thinking in the same direction right off the bat."
The main P.A. consists of 14 d&b V-Series dual-10-inch, 3-way line array cabinets per side and a monoblock of eight cardioid V-SUBs flown in the center and four V-SUBs on the floor — two on either side of the stage, for some extra thump down on the lower level.
In a 1,680-seat venue with three seating levels, some additional fills were required. "We added some delay rigs to add some lift in some areas," Dietrich notes, "especially in the back of the orchestra and in the rear mezzanine, where the ceiling is pretty tight. On the lower level, we added a row of E8s doing under-mezz delay and some E6s doing under-balc delay and a pair of Y7Ps doing balcony edge fill."
System flexibility was also an important factor, according to Dietrich. "The whole thing is reconfigurable to fly as a center array above the proscenium if something like a theatrical tour comes in. They can put their touring theatrical towers down left and right, and the center array provides coverage for the front row of the orchestra all the way up to the balcony."
The console installed for in-house projects is a Yamaha QL5 with some Rio stageboxes. The entire system is based on a Dante network, not only between the console and Rios, but also to get drive signals to the d&b DS-10s Dante-to-AES interfaces and then AES out to the amps. "We ended up having an all-digital signal path up to the amps," Dietrich says. "It's amazing — you can put your head right next to the horn on the speakers and don't even hear amplifier hiss. Quite a change from the old days."
Dietrich notes that, so far, the "reaction to the new system has been fabulous. The first act coming in here was Michael McDonald, and Ken "Pooch" Van Druten — who was mixing him — was thrilled with the sound. The system itself is well-matched to the room, and the room itself sounds really nice; it doesn't fight you at all. It's a pleasant space to put an amplified show into."
Emerson Colonial Theatre
Capacity: 1,680
Key Components: d&b audiotechnik V-Series line array; Yamaha QL5 console
Integrator: SAVI
Bremen Theatre, Bremen, Germany
The neoclassical style Theater am Goetheplatz is the main theater in Bremen, located in northwest Germany. Commonly known as The Bremen Theatre and dating back to 1913, this listed building today presents a varied program of musicals, opera, drama, readings and more. With seating for around 800, the theater is an important cultural hub and is well-known throughout the country for its role in premiering new works. Introductions to plays, audience discussions after performances and a series of talks that directly engage with the public are also features of this busy and progressive venue.
This varied program of events demands exceptional audio quality for every performance, and this year, the theater's management decided to upgrade its sound system. After consulting with Coda Audio Deutschland, the Bremen Theatre chose to install a system based around Coda Audio's TiRAY line-arrays.
The installation is comprised of 24 TiRAY (12/side) complemented by six SCV-F subwoofers and five HOPS5 used as front fills. Powering is via four Linus M-Rack (Linus14D amplifiers in 3U case). Hooked up to two DiGiCo consoles for advanced zoning and signal distribution, the audio is transported to the Linus14D via Dante. TiRAY is a compact, super-light system that delivers a greater punch than many more sizeable equivalents. The HOPS5 has a similarly impressive output to size ratio, with high-fidelity sonics and plenty of kick. In a medium-size setting such as the Bremen Theatre, TiRAY is visually discreet, yet comfortably powerful enough to cope with the demands of any production.
"The theater is famous for staging high-class productions, and its new Coda Audio TiRAY system is the perfect fit," says Sebastian Bahr of Coda Audio Deutschland. "Everyone who has heard the new system in action immediately remarked on the huge improvement in audio quality, drawing attention to the 'natural-ity' of the sound," he adds. "With 12 pieces of TiRAY per side, we achieved great acoustic width and depth resulting in wide, even coverage across all three tiers of the audience."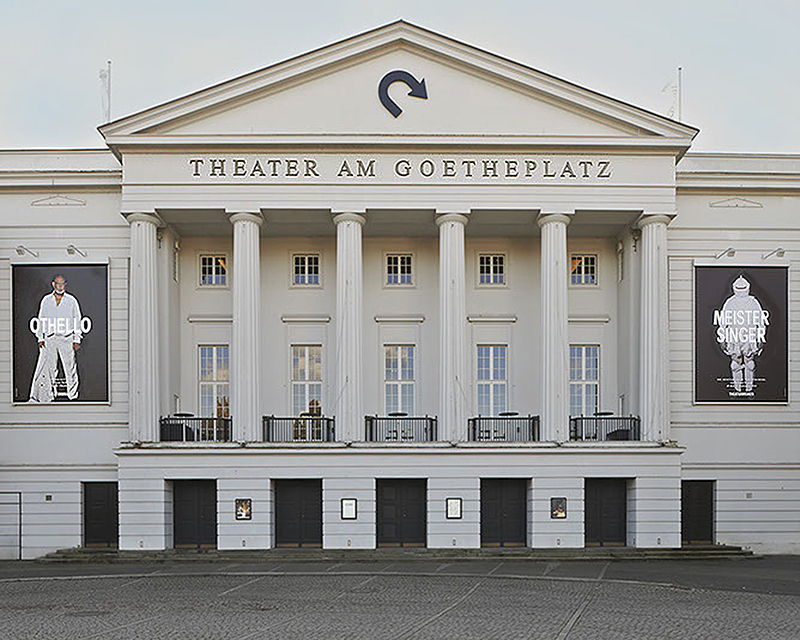 Bremen Theatre
Capacity: Approximately 800
Key Components: Coda TiRAY line arrays
Integrator: Coda Audio Deutschland
Baycourt Addison Theatre, Tauranga, New Zealand
When administrators at the Baycourt Community and Arts Centre in Tauranga, New Zealand decided to replace the sound system at the Addison Theatre, they initiated a rigorous selection process. Following a formal shootout of four leading brands, the install-focused IS-Series from Adamson Systems Engineering was chosen as the ideal solution.
"The brief from the client stipulated a number of criteria, such as suitability for both musical theater and touring bands, excellent clarity while retaining a warm sound, and even coverage throughout the entire venue," begins Mike Hughes of Intec Systems Ltd., an Auckland-based firm integrator of commercial audio, lighting and video systems. "From our previous experience with Adamson and the IS-Series products, we knew those criteria would be perfectly met and exceeded."
The theater features tiered seating for 582 patrons and an expansive stage measuring 46 by 36 feet (WxD). In its 35-year history, it has hosted a diverse range of local, national and international performers from myriad disciplines in the arts.
The venue's evaluation process — which Hughes calls "comprehensive and impressive" — began with 13 proposals, which were then narrowed down to four leading brands. From there, all four supplied one side of the proposed P.A. system and the arrays were flown in the venue simultaneously, demonstrated for a panel of judges, and ranked on a number of criteria.
"We were very pleased with the performance of the Adamson system that day, and within a short time, we were informed that Adamson was the leader both in terms of coverage and audio quality," Hughes continues. "We love the sonic results, and the dedicated installation product offers excellent value compared to other brands at this level."
Sourced via Direct Imports, Adamson's exclusive distributor in New Zealand, the system is comprised of left/right arrays of eight IS7 two-way, full-range cabinets per side alongside three flown IS118 subwoofers per side in a front-back-front cardioid configuration.
The IS7 arrays needed to be above the proscenium's chaser lights to ensure unhindered sightlines from every seat, while allowing the rotatable wing panels to work unhindered and minimizing the energy hitting the backs of the acoustic reflectors. The sub arrays are flown alongside the IS7s but slightly higher to avoid the rotating wing wall.
Intec made extensive use of Adamson's Blueprint AV simulation software during the design process. "The tender requested EASE simulations; however, Blueprint is an excellent and more flexible tool for adjusting angles and monitoring results," notes Hughes.
The solution impressed Baycourt's administrators, patrons and visiting productions for the same reasons it won the initial shootout.
"The sound is smooth and pristine throughout the entire venue, without the peaks and differences in tone we'd experienced previously," says Dale Henderson, the center's technical manager. "It's a pleasure having a system that provides sufficient bass throughout the Addison Theatre without disrupting the adjacent performance and public spaces. We're happy with our investment knowing we can provide this level of experience to our patrons going forward."
Baycourt Addison Theatre
Capacity: 582
Key Components: Adamson Systems IS-Series
Integrator: Intec Systems Ltd.
Carolina Opry, Myrtle Beach, SC
Tourists heading into Myrtle Beach can't miss the majestic Carolina Opry, located along the major routes paralleling the resort city's wide stretch of ocean beachfront known as the Grand Strand. Its origin dates back to 1986, when a country music singer/songwriter migrated from Nashville to bring a new sound to the beachfront, as Calvin Gilmore opened a modest 1,000-seat theater in Surfside Beach. Soon, the shows were constantly selling out. So he started a second show in North Myrtle Beach. Those sold out, too.
By 1993, Gilmore merged the two shows into one when he built the 2,200-seat Carolina Opry. The grand lobby features 40-foot ceilings, crystal chandeliers, grand piano, historical memorabilia and staircases curving upward to the balcony.
As the facility headed into its 25th year of operation, with as many as a dozen shows a week throughout the year, Opry audio manager Mike Cook had been talking with the owners about the need for a new sound system. The existing system dated back to when it first opened. "It was a point-source system that was originally designed for coliseum sound and was probably the right solution at the time," says Cook. Over the years, "the room has gone through some seating design changes, and there were coverage holes. Plus, the system was showing its age."
As with any venue, ownership questioned the value of a new system. "If I put in a new sound system, will it put more people in the seats?" Cook's asks. "Probably not, but it will give our customers a better experience." Those memories will bring people back. In considering a new system, the number one issue was vocal clarity, as most shows are musical theater catering to an older audience. "At the same time, we needed to have the necessary output as we run the shows at 96-98 dB, with select shows such as Time Warp over 100 dB."
Having owned a sound company, Cook was familiar with RCF. "I owned a HDL20 rig, and I would have to bring it in when we were doing national acts such as Kansas, Bill Gaither, America and others." Those shows required more energy than the Opry's usual family-oriented theatrical productions.
Once RCF introduced the HDL30 line array system, "it was a no brainer," says Cook. "RDNet control (RCF's proprietary monitoring and control software) lets me run the system from the booth with the ability to grab and do what we want on the fly as needed." This comes in handy as shows range from the magic and illusion show Pure Magic to the dance and laser Thunder and Light to the contemporary Time Warp.
"We planned to install the system after the first of the year when we were in-between productions. Then, two to three weeks into our Christmas show, when we're doing a 12 to13 shows a week, ownership wanted the new system installed," Cook recalls. "I told them I need a week to properly wire, install and tune. We didn't have that time. So we did the pre-wire during the week. With the ease of the RCF rigging and hardware, we had the system up and producing sound in half a day. It was amazing how quickly it went up."
The system is comprised of left/right hangs of eight RCF HDL30-A (dual-10, two-way active line array cabinets) with a center cluster of four cabinets used for front fill. Adding needed energy to fill the fan-shaped room are six RCF SUB9006-AS dual-18 active subs. Cook goes on to compliment the support from RCF. "RCF personnel came down to help commission the system and trained us on RDNet, showing us some ins and outs to make our life easier."
With the new system, "the definition of the instruments and the vocals is impressive," says Cook. As for the venue's owners, the response was that the system is almost too good. "'It might be too clean — I can hear the mistakes,'" was the comment, but that, Cook adds, was followed by "'It's a hell of a P.A.' That's what I wanted."
The Carolina Opry
Capacity: 2,200
Key Components: RCF HDL30 line arrays
Integrator: In-house, plus RCF USA
Evolutionary Arts Hackney (EartH), London, U.K.
The first European live music venue installation of an L-Acoustics L-ISA Immersive Hyperreal Sound technology system is in Evolutionary Arts Hackney (EartH), an exciting new cultural venue that opened in September, 2018 in Dalston in the heart of East London.
The same team behind Village Underground, the Shoreditch venue founded by Auro Foxcroft and known for its experimental and innovative performance and art, were the ones who worked to open EartH, and in the process restore an Art Deco cinema that had been laying derelict for close to 40 years.
Built on the belief that art brings change, progress and transformation, EartH spans numerous art forms and a multitude of genres — live music, performance art, talks and debates, comedy and film. EartH is partly funded through the social investment community in support of the project's ambitious arts and social impact work.
This multi-functional venue made up of three main areas: The Theatre, which provides a huge sense of scale; a separate Concert Hall; and a new restaurant/social space. Designed to offer audiences enhanced clarity, more natural sound and a wider sound panorama, the L-ISA setup comprises a frontal system of five hangs; each with seven Kara flown equidistantly across the front of the stage, with a central sub system of four KS28 flown in end-fire configuration in front and above the central Kara hang. Positioned along the stage lip, ten X8 provide front fill. The surround system is provided by 12 Syva, four/side, evenly spaced and mounted along the venue's left, right and rear walls. An overhead system employs eight X8 hung from the auditorium ceiling.
EartH's concert hall also benefits from traditional left/right flown arrays of four Kara topped with an SB18 on each side and four central ground stacked KS28 subwoofers, with four ARCS Wide as delays.
"Auro clearly demonstrated a passion for quality production from our first encounter. Pair that with the diverse programming he has planned, and L-ISA seems a perfect match to raise the experiential value at EartH," says Paul McMullan, L-Acoustics' regional sales manager. "The EartH sound installation, unique in the U.K., will also serve as a showcase for L-Acoustics to demonstrate the innovative new L-ISA technology to the industry."
"We're excited to be working with L-Acoustics on this groundbreaking installation of the L-ISA technology," adds Village Underground founder Auro Foxcroft. "The philosophy behind EartH has a focus on presenting some of the best artistic talent and experiences that can make us think twice and leave us inspired. L-ISA brings an incredible audio dimension to support these performances with its signature Hyperreal Sound. It opens a whole new side to live performance, and we can't wait to work with artists to develop their L-ISA shows. It really is evolutionary."
Evolutionary Arts Hackney (EartH)
Capacity: Theater, 700; Concert Hall, 1,500
Key Components: L-Acoustics L-ISA
Integrator: L-Acoustics
Alexander Theatre, Melbourne, Australia
As the technology centerpiece of a renovation project, a Meyer Sound Constellation acoustic system was installed in the 561-seat Alexander Theatre at Monash University in Melbourne, Australia. Originally built for dramatic spoken word presentation, the Alexander Theatre can now host the full spectrum of acoustic music performances and — with a complementary Leopard line array — all genres of amplified performances. The Constellation system is the first in a dedicated performing arts venue in Australia.
Paul Grabowsky, executive director of the university's Academy of Performing Arts, who is also a noted pianist and composer, began the move to renovate and repurpose the 50-year-old auditorium. University administrators engaged the international consulting firm Arup to evaluate possible solutions.
"We were given two options," says Grabowsky. "One was to create an acoustical environment suitable for music through physical means by use of materials and slightly reconfiguring the space. But no matter what was done it could never be great acoustically because of the existing constraints of the building structure."
The other solution presented was an active acoustic system. "Initially, I was skeptical," admits Grabowsky. "When you talk about intervening in a space with electro-acoustic devices, your mind immediately goes to, 'Well, why would you want to do that? It's not genuine.' But the potential was intriguing so I decided to give it a listen."
A seminal moment came with a visit to SoundBox, the San Francisco Symphony's acclaimed alternative venue that employs a Constellation solution. "Other than us, the room was empty," Grabowsky recalls. "The quartet set up and played at one end of the room, which is quite a large space. I was amazed that it didn't matter where I was in the room, or which direction I was facing. The clarity of the music remained true, but more importantly, the quality of the music did not suggest any kind of electronic intervention. It simply sounded clear, crisp and warm, as if you were in a very good concert hall."
The Constellation system install in the Alexander Theatre comprises three elements: sensing of the ambient acoustics, high-resolution digital processing using the patented VRAS acoustical algorithm and distribution of early reflections and reverberant signals using more than 150 speakers. For ambient sensing, 16 compact cardioid mics are placed on stage with another 16 in the auditorium and eight omni boundary mics in the orchestra pit. The processing is accomplished by a Meyer D-Mitri digital audio platform with 18 modules for input and output, core processing, and creation of the acoustic presets. The loudspeaker complement includes 133 full-range Meyer systems (MM-4XP, UPM-1XP, UP-4XP, and UPJunior-XP) along with 19 compact UMS-1XPSM and MM-10XP subs.
As all Constellation speakers are self-powered and receive dedicated, discrete input signals from D-Mitri, the hardware component also provides a dynamic, immersive sound environment with Meyer Sound's SpaceMap 3D panning software. Using SpaceMap with the Constellation infrastructure allows dynamic movement of multiple sounds in three dimensions throughout the auditorium.
To support amplified concerts, the theater offers a direct reinforcement system anchored by 12 Leopard compact line arrays, six 900-LFC subs and eight MM-4XP miniature speakers for front fill. The house console is a DiGiCo SD9.
"The possibility of using the spatiality of the system enables one to add a new dimension to a musical composition that has been talked about for perhaps a half a century, but has never been realized to this extent," states Grabowsky. "When I talked with John Meyer, he referred to Constellation as an instrument, not just equipment, and that's a profound indicator of this system's potential. It allows a degree of spatial flexibility beyond any other system I have experienced."
Monash University's Alexander Theatre
Capacity: 561
Key Components: Meyer Sound Constellation system
Integrator: Marshall Day Entertech
Harvest House Church, Boone, NC
Established in 1977, Harvest House Church of Boone, NC is dedicated to experiencing God through the performing arts. In 2008, church management transformed the facility into a performing arts venue that includes a recording studio, dance studio, art studio and venue. Recently, North Carolina-based Selah Media Productions (SMP) upgraded Harvest House's sound system with an all-PreSonus system.
The 70- by 65-foot auditorium has the stage facing into the length of the room. The space previously had been acoustically treated by SMP several years ago, so this time, the focus was on audio gear. "This project was an extensive AV retrofit," says SMP president Buck Roberts, noting the "substantial improvement in sound and control capabilities, as the space will now be used as a performing arts center as well as for worship services."
The new loudspeaker setup includes six PreSonus CDL12 constant directivity loudspeakers, with three enclosures each flown for the left and right sides of the stage area. The CDL12 combines the advantages of point source and line array technology into a unique design, radiating a highly focused pattern with consistent SPL throughout the frequency response range, both on- and off-axis. LF is handled by four PreSonus ULT18 active subwoofers, with two per side, positioned on the floor. Six PreSonus EarMix 16M AVB-networked personal monitor mixers are deployed for stage monitoring, along with two PreSonus AIR10 active speakers used as needed for floor monitors. An NSB 8.8 AVB-networked stage box provides additional I/O.
At FOH, the PreSonus StudioLive 32 40-input digital console/recorder handles mixing responsibilities. This is augmented by a StudioLive 32R rackmount mixer configured for use in stage box mode. A PreSonus SW5E AVB switch handles the system's network configuration, thus interconnecting the StudioLive 32 digital mixer, the StudioLive 32R rackmount mixer (configured for stage box use), plus the EarMix 16M monitor mixers.
"The CDL12s offer groundbreaking technology and the scalability of the system is exceptional. The wide horizontal dispersion of the boxes eliminated the need for front fills, and the 60 degrees of vertical throw easily reaches the back of the room," Roberts explains. "The CDL12's eight 2-inch drivers, aligned in a segmented circular-arc high-frequency array centered in front of a 12-inch woofer is phenomenal. You can keep increasing volume without the high end ever getting harsh."
Roberts says the new sound system is a huge success. "The feedback from the staff has been overwhelmingly positive," he notes. Technical director Brett Queen added that the "audio is crystal clear, and every seat sounds the same." And so far, musicians love the monitoring system and its ability to give each performer stereo in-ear mixes. Similarly, the venue manager reports this new setup gives them the ability to boost the number of events that get booked.
"The CDL loudspeakers, StudioLive 32 console, StudioLive 32R rackmount mixer, the NSB 8.8 stage box, and EarMix 16M monitor mixers are all on a dedicated Wi-Fi router for remote system control utilizing various PreSonus apps, such as WorxControl for the CDL's," Roberts added. "Because of this, we have the ability to configure the system for any type of event that may take place in the space. Equally noteworthy, the console is easy to use and configure—and it sounds great. With PreSonus' AVB networking, it's easy to patch channels and makes the system perfect for this venue. The CDL loudspeakers and PreSonus Series III ecosystem is our new 'go-to' product group for system integration. In terms of value and functionality, nothing else comes close."
Harvest House Church
Capacity: Approximately 400
Key Components: PreSonus CDL12 speakers, StudioLive 32 Series III console, StudioLive 32R mixer, NSB 8.8 stage box
Integrator: Selah Media Productions
Calvin Performing Arts Theater, Escondido, CA
Situated on the 25-acre campus of the Calvin Christian School, the new 10,000 square-foot Calvin Performing Arts Theater was designed to support large-scale play productions, live music and worship services. Fallbrook, CA's Quiet Voice Audio (QVA) was selected to handle system design and installation, while San Diego Stage and Lighting provided acoustic consultation and treatment.
QVA CEO Jon Bart was impressed with the performance of the VUE Audiotechnik compact al-4 line arrays, which the company had previously installed in the challenging acoustic environment at St. Gregory Church in San Diego. "The al-4 delivers transparent, 3-dimensional audio with a defined dispersion pattern. Perhaps even more importantly — particularly with multi-purpose venues like the Calvin theater — the al-4s are very linear in response when used at lower SPLs during plays and spoken word, yet perform equally as well at higher SPLs as well," says Bart. "The results were simply excellent."
QVA's final design includes 10-element VUE al-4 arrays at the left and right of the main stage. A pair of VUE al-4SB Flyable Subwoofers are integrated into the top of each array in an end-fire configuration for maximum impact. All power and processing for the arrays and subs are via four VUEDrive V4 Systems Engines. A single VUE h-12W high-definition full-range system with onboard VUEDrive electronics provides center fill.
Following the successful completion of several plays, live music performances and campus-wide public addresses, feedback from students, parents and faculty have been equally high. "It's literally been one compliment after another," concludes Bart.
Calvin Performing Arts Theater
Capacity: 700
Key Components: VUE al-4 line arrays; Soundcraft Si Performer 2 console
Integrator: Quiet Voice Audio, San Diego Stage and Lighting
The Star Performing Arts Center, Singapore
The Star Performing Arts Center (Star PAC) is a renowned 5,000-seat auditorium/theater (with function halls and a broadcast center) in Singapore. Recently, the venue sought to replace a legacy wireless intercom that could only integrate to its Riedel Artist system via analog four-wire connections. After evaluating several systems, the staff at Star PAC selected Riedel's new Bolero wireless intercoms.
Besides offering straightforward integration, Bolero's flexible programming capabilities, using Artist Director software can be programmed quickly and easily via a drag-and-drop interface. In addition, Bolero's modern codec and efficient use of bandwidth means The system also supports up to 10 beltpacks per AES67-networked antenna, for wide coverage with excellent sound quality.
Eight Bolero antennas ensure coverage for the entire building, including the main auditorium and a smaller multi-purpose hall. Antennas are connected to three stacked AES67 switches (which perform as a single switch) that link to the Artist mainframes. In addition, a fiber-to-Cat-6 extender lets The Star PAC team deploy a ninth antenna to cover distant meeting rooms, The Star Loft, and the outdoor Star Terrace amphitheater, when required.
"With the Bolero-Artist integration, we can change the Bolero beltpacks' programming easily and on the fly," said The Star PAC's head of audio Reuben Ong. "The learning curve has been minimal and the built-in bottle opener on the Bolero beltpack is a big hit."
The Star Performing Arts Center
Capacity: 5,000
Key Components: Riedel Bolero Wireless Intercoms
Integrator: Riedel Communications APAC
Leave a Comment: