Inside Six Recent Theater/Performing Arts Center Projects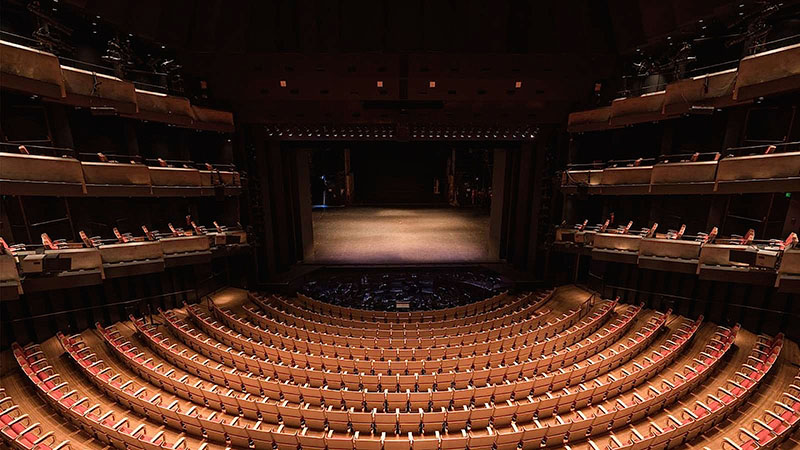 The upgrading and facility enhancement of theater and performing arts spaces continue on an upward spiral, whether in converted environments, new construction and refurbishment of existing venues. With that in mind, we present these recent installation projects. Each takes a different approach, proving there are numerous solutions to any audio challenge — large or small — for any performing space, either new or historic.
Joan Sutherland Theatre, Sydney Opera House, Sydney, Australia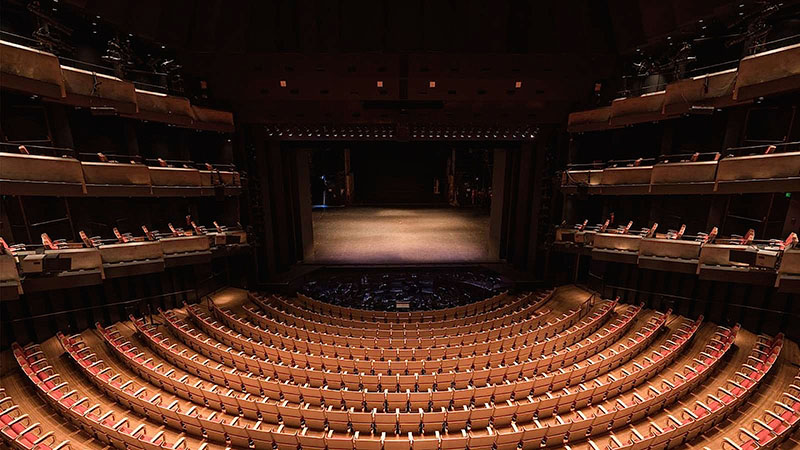 With just over 1,500 seats, the Joan Sutherland Theatre (JST) is the second largest venue in the Sydney Opera House complex. Home to year-round performances from the resident companies Opera Australia and The Australian Ballet, the theater also stages musicals, talks, comedy and contemporary music.
The JST venue recently completed the first phase of a $71 million renewal project (during a May through December 2017 closure), with additional tweaks wrapping up in mid-2018. Projects included upgraded lighting, a new flying system and grid deck, improved orchestra pit, a state-of-the-art acoustic enhancement system for orchestral players and a new audio console in time for the JST's New Year's Eve 2017 reopening gala.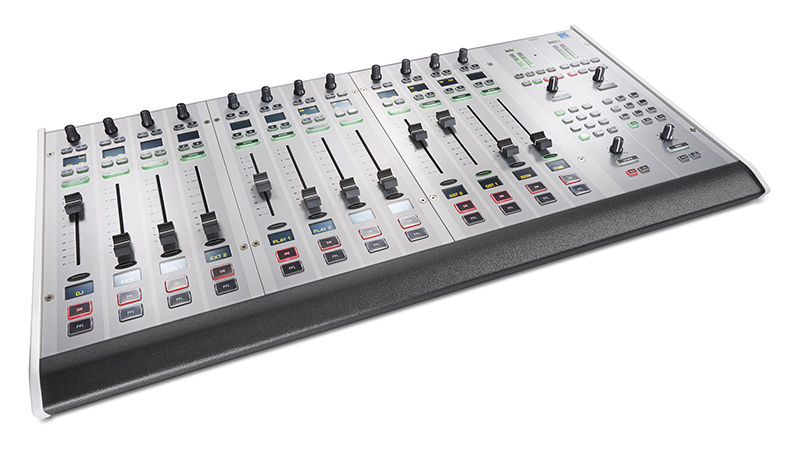 Suppliers Professional Audio & Television delivered, configured and commissioned a Lawo Nova73 router/DSP core and a Lawo Crystal console including compact engine for the Joan Sutherland Theatre via lead integrator The Downer Group.
The Lawo Nova73 Core was configured as an mc² Mix Engine. Used as the Central Audio Router for the theater, the Nova73 combines MADI, Ravenna and Dante signals, along with traditional analog and AES by way of a Lawo Dallis I/O Frame. Lawo's mxGUI is used as the primary control interface for the router, letting users load snapshots for different room configurations while also offering user manual adjustments of signal flows and parameters. The system is completed with a VistoolMK2-equipped Lawo Crystal console, to provide a simplified tactile (or customizable on-screen) mixing surface. This allows for basic use of the JST for situations such as rehearsals or simple presentations.
"The Lawo Nova core has been solid since its install in January and has already seen significant use. We are very satisfied with the Lawo technology," says the opera house's renewal technology manager David Dalton.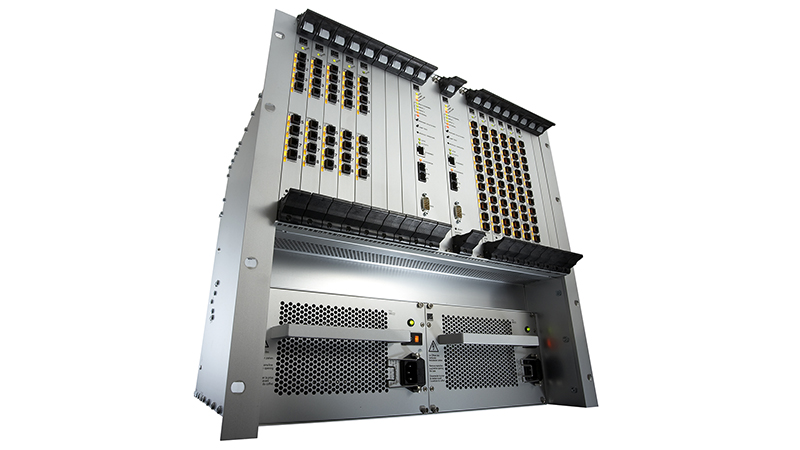 Joan Sutherland Theatre
Capacity: 1,507
Key Components: Lawo Crystal console, Nova73 mix engine
Integrator: The Downer Group
Supplier: Professional Audio & Television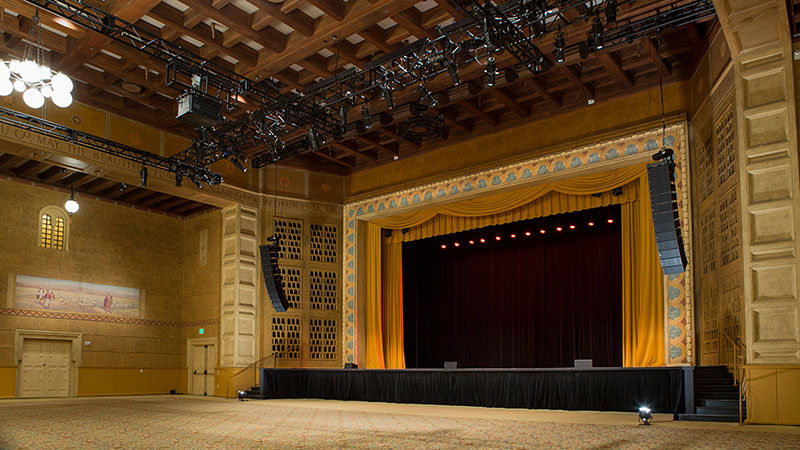 Kridel Grand Ballroom, Portland, OR
The Portland Art Museum celebrated its centennial in 1992, expanding its campus with the purchase of an adjacent 1925 Masonic temple, now known as the Mark Building. Today, the renovated addition houses museum offices, a massive library, gallery space, two ballrooms and a theater. The largest venue within the complex is the 1,000-capacity Kridel Grand Ballroom.
The space recently upgraded with a Meyer Sound LINA very compact line array system. "I'm a sound engineer, so I listen to the audible performance," says Michael "Woody" Woods, principal audio engineer for the Oregon museum. "But we also had to be mindful of the gorgeous visual aesthetics of this room and the fact that it's operated by an art museum. Fortunately, LINA has a slender profile, and it looks as good as it sounds, so we've had zero complaints on either score."
The ballroom's 9,000 square feet of floor space can be configured as needed to accommodate receptions, banquets, concerts and conferences. "We do everything here, from big weddings to non-profit galas, corporate events and academic conferences," says Greg Muhr, the museum's director of event sales and operations. "Many of these events feature live music, and since we're also looking to start a concert series, we did not want to compromise on quality with this new system."
After evaluating several similar systems, Woods and Muhr concurred on the choice of LINA. Designed and supplied by Eugene, OR-based George Relles Sound, the system incorporates 12 LINA speakers per side with bass bolstered by a pair of 1100-LFC low frequency control units. Three Meyer UPJunior speakers provide front fill, and a Galileo Galaxy network platform supplies processing and drive.
With corporate, charity and university events as staples of the venue, the system's ability to handle spoken word was of paramount consideration in the competitive evaluations. "Our bread-and-butter here is the podium mic and wireless lavs," says Woods, "and on that, the LINA system had it nailed. We auditioned another make of line array, and I had to work really hard it make it sound good. With LINA, it was clear as a bell right out of the chute."
One of the first performances using the new LINA system was by jazz-Latin-pop band Pink Martini. "It sounded awesome, and it was very uniform from front to back," says the band's long-time FOH engineer, Pete Plympton, who was pleased with how well the diminutive line arrays filled the room. "It's a very natural sounding PA, and it's as good as it gets."
"Everybody from nationally known artists to local production companies who has mixed on the system has been happy with it," says Muhr.
On the front-end, the Kridel Ballroom employs a Midas M32 console along with Earthworks podium mics, DPA lavaliers and Countryman E6 headset mics. The Shure ULX-D digital wireless system includes bodypacks as well as handhelds equipped with Beta 87 and Beta 58 capsules.
Kridel Grand Ballroom
Capacity: 900 (theater); 1,000 (standing)
Key Components: Meyer Sound MINA
Integrator: George Relles Sound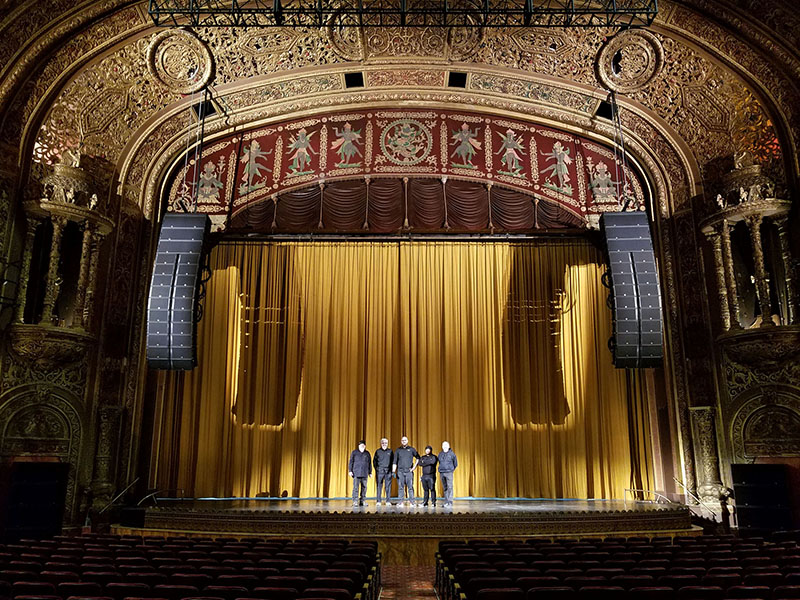 United Palace Theatre, New York, NY
Once upon a time, movie theaters were truly palaces, and few could equal Loew's five lavish "Wonder Theatres" built in and near New York City between 1929 and 1930. Efforts are underway to restore several of these octogenarians, yet Loew's 175th Street Theatre — today known as United Palace — has remained in almost constant use since day one and now has a new L-Acoustics sound system.
Located at West 175th Street and Broadway in upper Manhattan, the facility stays busy hosting church services, theatrical productions and music concerts.
Boston's Audio Spectrum, Inc. installed the system in the theater, comprised of 20 L-Acoustics K2 array elements and six K1-SB subs divided into two flown arrays, eight SB28 ground subs, four X8 coaxials used as front-row fills and a dozen LA8 amplified controllers to power them all.
Jed DeFilippis has been the technical director and production manager at United Palace for a little over 18 months. "After I got here, I suggested they buy their own rider-friendly P.A. and rigging, which they could rent to promoters, making it easier on the event producers, who wouldn't have to rent outside systems, and on the building, which wouldn't have the wear and tear of bringing in rental systems. Robert Way, our COO, was eager to put together the ROI research, and we started considering upgrade options."
As the former technical director for Caesar's Entertainment in Las Vegas, DeFilippis first encountered L-Acoustics when he heard the V-DOSC system used in the Paris Theatre for Barry Manilow, ultimately transitioning it over to the Rio Theatre for Penn & Teller. "That system was powerful, durable and sounded great," he says.
As it turned out, Audio Spectrum — one of the companies that brought rental systems into United Palace — is an L-Acoustics vendor. "Rafael Jaimes at Audio Spectrum knows the Palace well and felt K2 would be the perfect system for this room, and it is," notes DeFilippis. "The perception of the Palace is changing, being increasingly regarded as a great concert venue, and by bringing in a rider-friendly P.A. like K2, we're helping promote that perception." Indeed, the neighborhood, once regarded as rough-and-tumble, has been gentrifying, paving the way for a renaissance with the Palace as a gem in its crown.
But the K2 system solved another issue for the venue. Its massive balcony, divided into an upper and lower loge and a main balcony, hovers over a huge swath of the orchestra-level seating in the 3,352-seat theater. The rear sections of both levels were difficult for sound to reach.
K2, along with L-Acoustics' PanFlex system — a horizontal-steering technology that combines mechanically adjustable fins with DSP algorithms effective from 300 Hz — quickly resolved that issue. Narrowing or widening the horizontal directivity of the adjustable fins can serve many purposes, including, in this case, adapting the throw to fit long and short distance coverage/SPL requirements, while also avoiding reflective surfaces.
"Now, we get the sound to the back wall of both levels, clearly and evenly," says DeFilippis. "And L-Acoustics' engineer came in and did the tuning in a matter of hours after it was installed. Amazing."
Jaimes, a principal at Audio Spectrum, says the K2 arrays are well suited to United Palace's specific needs: "We used L-Acoustics' Soundvision modeling program, and its predictions were very accurate — we knew we'd be able to cover the rear seats of the orchestra and balcony areas completely and consistently."
The installation took well under a week and was ready for the system's first show. "The K2 has a ton of horsepower and can reach way back, but it's also very straightforward to install," Jaimes says. "But at the end of the day, it's about the sound, and the K2 always sounds great."
United Palace Theatre
Capacity: 3,352
Key Components: L-Acoustics K-2
Integrator: Audio Spectrum, Inc.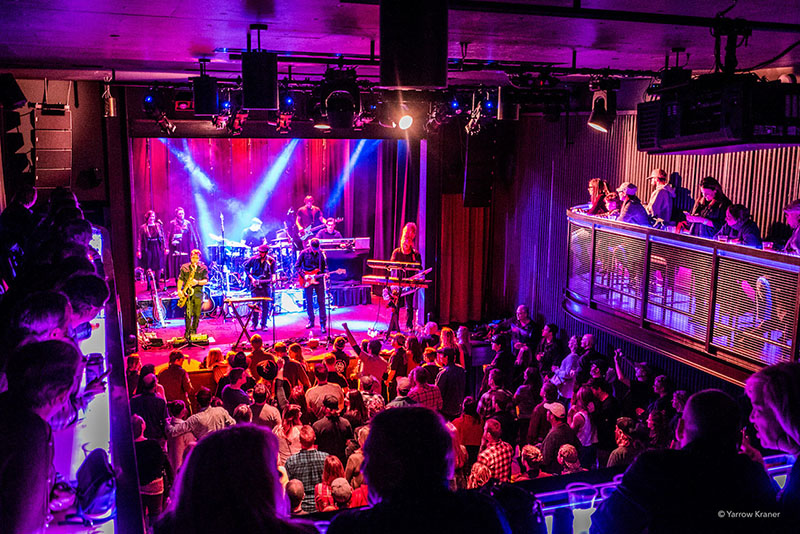 Rialto Theatre, Bozeman, MT
The historic 400-capacity (SRO) Rialto Theatre in Bozeman, MT has been totally remodeled to include a new Nexo GEO M10 line array system. Charles Salter Associates designed the building acoustics with sound system installation by Jeremiah Slovarp, the technical director at Bozeman's Jereco Studios.
"The theater is mechanically floated/acoustically decoupled from the outside world and the inside of the building," says Slovarp. "The Burn Bar and Light Box conference center are also mechanically floated/acoustically decoupled from the theater below." The Burn Bar is a hip bar overlooking Main Street and the Light Box is a conference center used for meetings and events. The theater can also swing from SRO to tables and chairs for theatricals, seated concerts, corporate presentations and movie screenings.
The Nexo system includes a six-per-side GEO M10 line array system rigged with GMT-LBUMPM10 flyware. The setup also includes four Nexo LS18s, four Nexo ID24 speakers for front lip/center fill, eight ID24 speakers four per side surround left and right, and two NX 4×4 amplifiers. The Burn Bar and Light Box conference center above the theater feature four ID24 speakers, two (black boxes) in the Burn Bar and two (white boxes) in the Light Box.
"Originally, we were considering the GEO M8, but during the design process, the M10 was released," says Slovarp. "Charles Salter liked the idea of Nexo, and then worked with Yamaha to optimize the system using Nexo NS1 software for the room along with the acoustics master plan. The Nexo ID24's in the center of the theater function as gentle front fill options during intimate concerts. Combined with the surrounds left and right, the ID24's make a wonderful listening experience for both films and theatrical sound design options. The client is very excited to have an amazing-sounding system, and even with the system at full volume, you can barely notice something is going on downstairs in the Burn Bar and Light Box areas."
Rialto technical director Chris Cundy says that Jereco Studios was timely and professional on the installation work. "Jeremiah's attention to detail throughout the install, as well as the excellent service of his staff, was appreciated. The system went in without issue and on time. The Rialto is just now completing its first month of shows, and we've had a great variety of acts thus far, with the Nexo system performing well in all applications. It has plenty of power and it's filling the room evenly. In the Black Box Theater, we've hosted rock bands, jazz, solo acoustic, DJ's, movies with 5.1 surround content, and a musical, all in this first month. It's already clear to us that the Nexo M10 system was a great choice."
Rialto Theatre
Capacity: 390 (standing); also cocktail configurations
Key Components: Nexo GEO M10
Designer: Charles Salter Associates
Integrator: Jereco Studios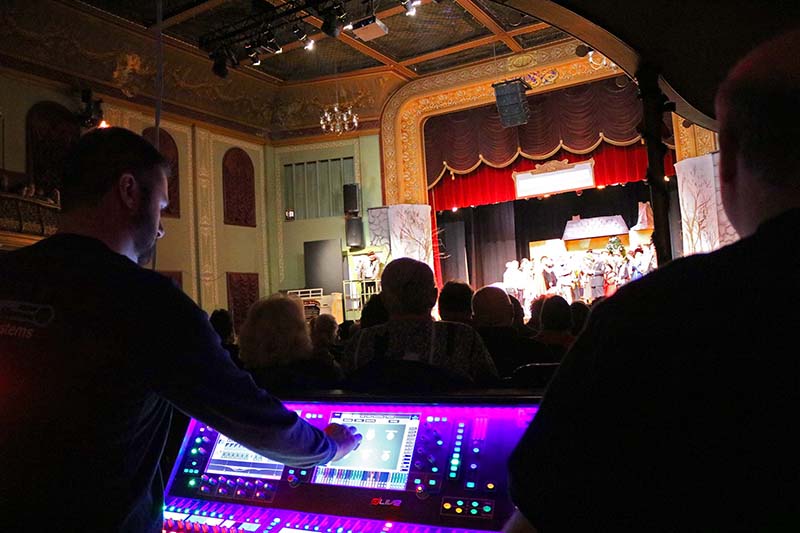 Thomaston Opera House, Thomaston, CT
As part of a major audio upgrade, the historic Thomaston Opera House in Thomaston, CT, recently added an Allen & Heath dLive S Class digital mixing system with an S5000 Surface, DM48 MixRack and DX32 Expander. The Opera House is home to the Landmark Community Theatre, which performed Spamalot, Hairspray, Grease, The Diary Of Anne Frank, Mamma Mia! and It's A Wonderful Life during its 2017 season.
The Opera House's new audio system was designed and installed by DNR Laboratories of Watertown, CT. DNR's Ian Jones (a.k.a., "Dr. Jones"), who also acts as an independent FOH engineer, recommended the dLive and mixes many performances at the Opera House. "The dLive is the perfect console for a theater of this type," says Jones. "For Hairspray, we had around 50 mics and I could put any of them anywhere on the desk. And all of this can be changed for each scene easily and quickly, so I don't have to bounce back and forth from bank to bank or layer to layer."
Jones uses the dLive's internal DEEP EQs and compressors to shape individual vocal mics. "Then, I bus all of those down to a single subgroup," he says. "And I EQ the subgroup to get rid of any feedback." Jones adds, "I love the new dLive firmware revision that provides 64 multi-band compressors and dynamic EQs that I can use for mics or basically anything."
Beyond basic shaping and adjusting, Jones uses dLive effects to enhance instruments and voices. "I use the pitch shifter to fatten things up," he says. "All of a sudden, my section of four strings sounds like 12, or a single backing vocal sounds like a chorus." Transients are brought under control and fine-tuned via the built-in Transient Controller. "Especially when you're doing a rock show type of performance, you need a lot of punch and clarity," he notes. "So I create a drum subgroup and use the Transient Controller to boost the attack. Then I adjust the sustain and input and output gains to taste."
"Functionality and tools like this are the most important things to me," Jones adds. "With the dLive, I don't have to beat the console into submission to do my job. And I have yet to find something that I want to do in a theater environment that I can't do on the dLive. It's what glues the entire system together."
Thomaston Opera House

Capacity: 500
Key Components: Allen & Heath dLive S Class console
Integrator: DNR Laboratories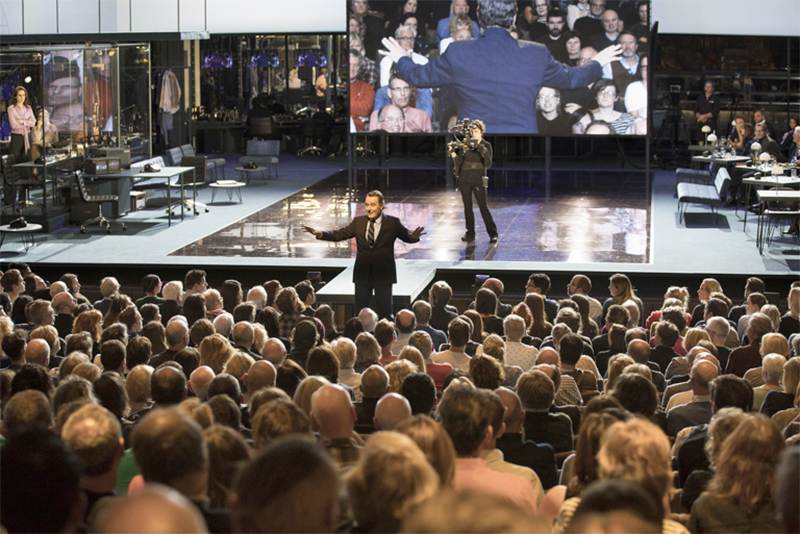 National Theatre/Lyttelton Theatre, London, U.K.
Riedel's MediorNet, Artist and Bolero communications systems are playing major behind-the-scenes technical roles at the National Theatre in London. Recently, the company announced the theater is using the same Riedel products as functioning stage props in its highly anticipated stage adaptation of the 1976 television news satire, Network, in its Lyttelton Theatre, one of three venues within the complex.
Network is the story of Howard Beale, an out-of-control news anchor played by Bryan Cranston (of Breaking Bad and Malcolm in the Middle fame). The movie was widely regarded as ahead of its time in 1976, when it won four Academy Awards. The stage adaptation at the National Theatre, directed by Ivo van Hove, is true to its roots and remains surprisingly relevant even 40 years after the movie's premiere.
"As the production was set in current times, the producers needed to create an authentic studio and newsroom setting," says Ben Tompsett, rentals manager U.K., Riedel Communications. "With the National Theatre's recent purchase of Artist digital intercoms and Bolero wireless, the gear is not only providing a state-of-the-art production infrastructure backstage, it's also appearing onstage to create a truly modern and realistic look for the show."
Riedel's Bolero wireless and C3 wired beltpacks are clearly visible in nearly every scene of Network, worn by onstage camera operators and stage managers. MediorNet MicroN and MicroN MultiViewer units were rented specifically for the production and were used to provide video feeds for screens that were key components in the production.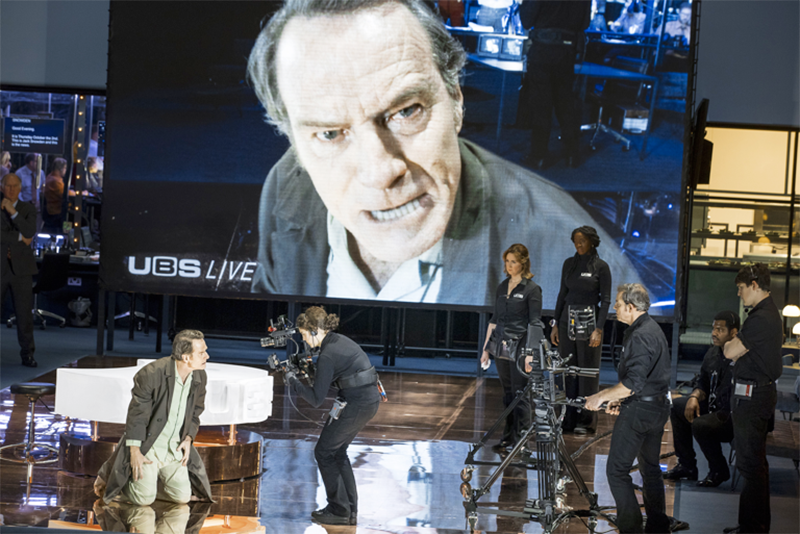 National Theatre/Lyttelton Theatre
Capacity: 890 (Lyttelton Theatre)
Key Components: Riedel MediorNet, Artist and Bolero
Integrator: Riedel Communications, U.K.
Leave a Comment: