Top Tours of 2017: Red Hot Chili Peppers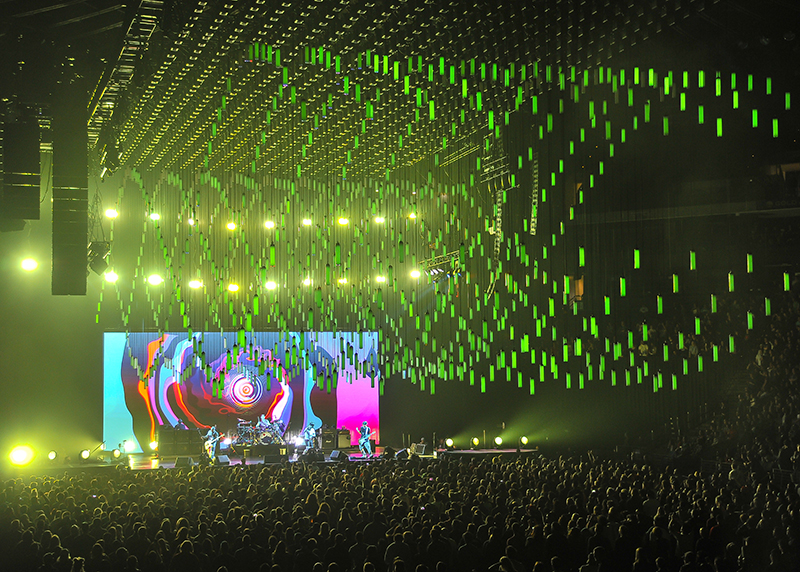 Tour:
2016/2017 The Getaway Tour
Sound Co:
Rat Sound
Crew
FOH Engineer: Sean "Sully" Sullivan
Monitor Engineer: Mark Vanderwall
Recording Engineer: Jason Gossman
Systems Engineer: James Lockyer
Monitor Tech: Carl Popek
System Techs: Brett Heet, Jamie Harris, Radek Lesa, Tristan Nelson Hauer
Gear
FOH
Console: Avid S6L consoles (1 for live mix, 1 for recording)
Speakers: Mains: L-Acoustics K1, K2, K1-SB (L-R hangs of 16 K1, 4 K2, 8 K1-SB per side); Side Hangs: 16 K2 per side; 270° Coverage: 15 Kara per side; Ground Subs: 18 KS28 (six stacks of three per stack); Front Fills: 6 Kara (one per sub-stack).
Amps: 30 L-Acoustics LA8, 6 LA12X
Processing: AAX DSP bundles, McDSP, Brainworx, Sonnox Suppressor DS, Oxford Reverb, Oxford Inflator, BGV, Revibe II, Plugin Alliance Venue AAX bundle, Waves H-Delay, H-Verb, Doubler, Abbey Road Real ADT, PSE, PS22, and C6, Pro Tools
Recording: Via HD MADI from the Avid S6L Stage 64 rack.

MON
Console: DiGiCo SD10
Speakers: Rat Sound SDW22, L-Wedge ARC;
Amps: Powersoft X4
IEMs: Shure PSM 1000
Mics: Audix OM7; Shure; Neumann; Radial SGI, JDX48, Heil PR30, Handi Pro Plus, Shure SM57, 98; Audio Technica AE3000
Tour Notes:
The Red Hot Chili Peppers' 2016/2017 The Getaway tour, in support of the band's 11th album by the same name, included a total 151 shows. The 2017 gigs were the first where Rat Sound founder Dave Rat, who has mixed the band's live gigs since 1991, opted to pass the FOH faders to new RHCP FOH engineer Sean "Sully" Sullivan, who had previously worked on shows for artists including Beck, Rihanna, Beastie Boys and Atoms for Peace.
For more info on this tour, please visit http://fohonline.com/news/16586
Leave a Comment: