Top Tours of 2017: Guns N' Roses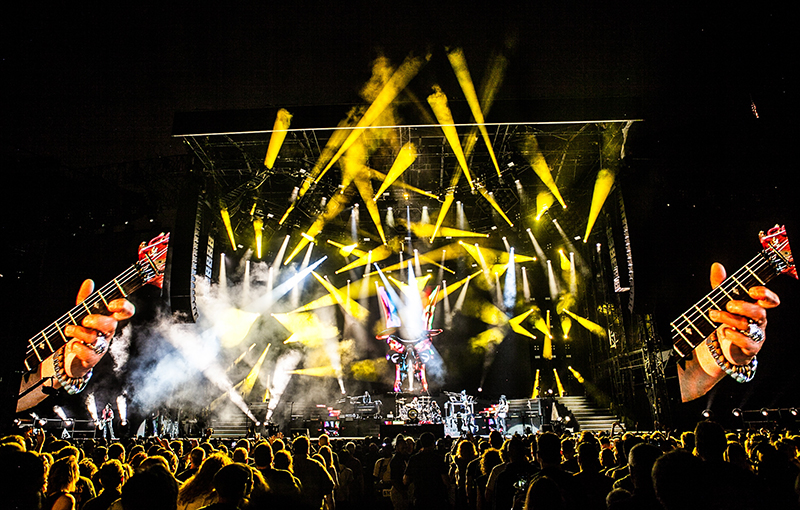 Tour:
"Not In This Lifetime…" Tour
Sound Co:
Clair Global
Crew
FOH Engineer: Caram Costanzo
Monitor Engineers: Jeremy Bolton (Axl), Steve Carter (band)
System Engineer: Simon Bauer
Crew Chief: Tyson Clark
Audio Techs: Taylor Holden, Emmett Tubritt, Jon Brook, Leon Fink
Production Manager: Dale "Opie" Skjerseth

Gear
FOH
Console: Avid S6L
Main Speakers: Clair Cohesion CO-12, CO-8
Subwoofers: Clair CP-218
Amps: Clair StakRaks w/Lab.gruppen amps
MON
Consoles: (2) Avid Venue Profiles
Speakers: Clair CM-22 wedges
Drum Sub: Clair CP-118
Amps: Lab.gruppen
IEMs: Shure PSM1000, Sennheiser 2000
Wireless Mics: Shure UR4D
Hardwired Mics: Shure 91, B56a, 181, SM57, SM58; Sennheiser 441, 904, 421; Heil PR30, PR28; AKG 451, 414; Audix D6; Blue Hummingbird; Telefunken M82; Stager SR-2N; Palmer DI; Radial J48 DI.
Tour Notes:
Guns N' Roses' "Not in This Lifetime…" tour, which marked the first time since Axl Rose, Slash and Duff McKagan toured together since the 1993 Use Your Illusion Tour, began in 2016 (on April 1), with a show at the 500-capacity Troubadour nightclub in West Hollywood. After some arena shows and festival gigs in the spring, the shows started packing the stadiums in the summer of 2016, with subsequent legs in Mexico and South America in late 2016, Australia and the Far East in early 2017, Europe and the Middle East in June and July, then back to North and South America from late July through November 2017. More shows are already slated for 2018 in North America, South America and Europe.
Leave a Comment: