Top Tours of 2017: Ed Sheeran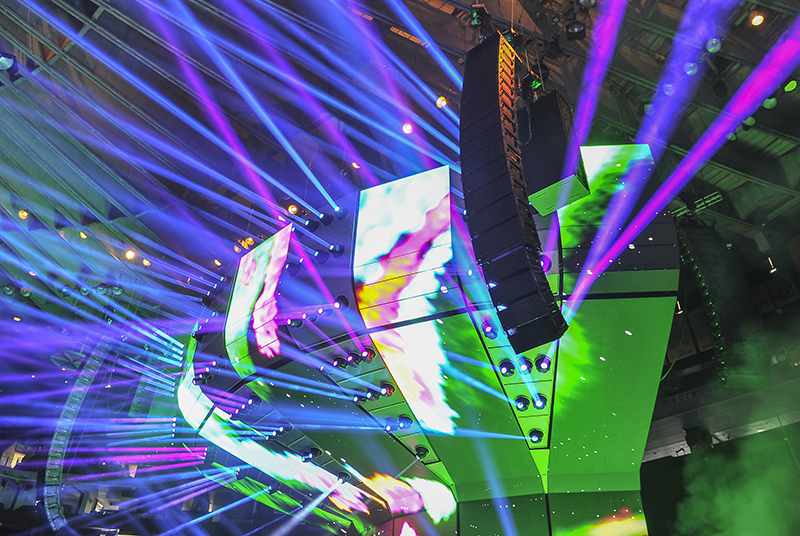 Tour:
÷ (Divide) Tour
Sound Cos:
Major Tom Ltd., Meyer Sound
Crew
FOH & MON Engineer: Chris Marsh
Production Manager: Chris Marsh
System Tech: Charlie Albin
Guitar Tech: Trevor Dawkins
Chewie Tech: David White
P.A. Techs: Brian Thorene, Richard Wonnacot
Gear
FOH
Console: DiGiCo SD7
Outboard: Maxx Bass BCL, (2) Bricasti M7, Eventide Eclipse,
Avalon 737, JoCoe 1u recorder
Speakers: (14) Meyer Sound LEO (main hangs) per side, (4) Lyon (underhung from the LEO) per side, (6) LFC1100 (flown) per side, (9) LFC1100 (ground) per side, (16) Milo (side hangs) per side, (8) Leopard (far hangs) per side, (4) UPA 1-P (outfills), (8) Lina (front fills).
MON
Console: DiGiCo SD7
Primary Vocal Mic: Sennheiser 9000 Series w/ 9235 condenser capsule
Secondary Mic: Sennheiser 9000 Series (for vocal loop-building), w/ 945 dynamic capsule
Tour Notes
Singer-songwriter Ed Sheeran's current world tour is in support of his latest album, ÷ (Divide), a title which follows in the footsteps of his previous releases, 2014's X (Multiply) and 2011's + (Plus). The albums were released, respectively, in March 2017, June 2014 and Sept. 2011. Accompanied by nothing more than an acoustic guitar and a custom loop pedal, he manages to keep arena-sized audiences entertained, selling out large venues months in advance. His backstage support also does not involve a huge crowd, with FOH Chris Marsh also serving as Sheeran's production manager and monitor engineer. Despite the paucity of its population, the ÷ (Divide) tour still ranks up there with 2017's top tours. After an initial run in Europe and the U.K. from March to early May, Sheeran and company trekked through the Americas through October, then traveled on to Asia for some shows in November. This coming March, the ÷ (Divide) tour continues in Australia and New Zealand before heading back to the U.K., Ireland and Europe in from May through August before hopping the pond one last time for a run of date in North America from August to November 2018.
More details at www.plsn.me/FOH-EdSheeran
Leave a Comment: