Mixing Los Lonely Boys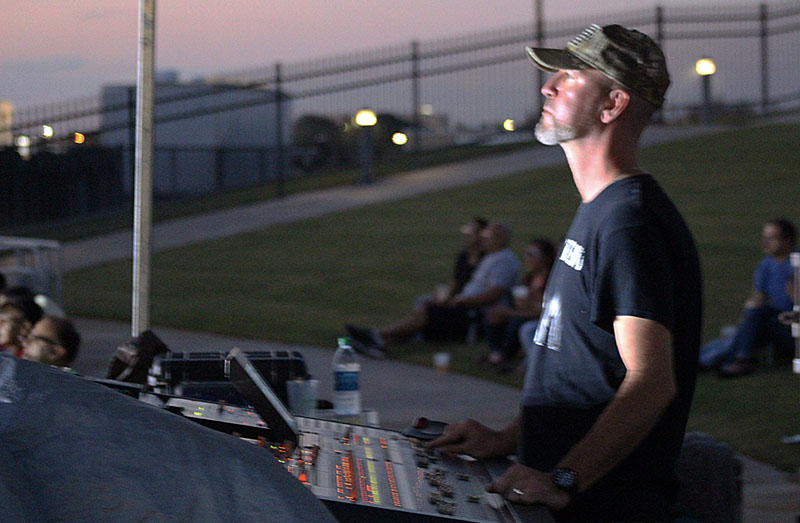 Appropriating the advertising slogan of a well-known insurance company, front of house engineer Chris Conley knows a thing or two, because he' s seen a thing or two. Conley caught his first break in the late '80s while working security at a music club in Detroit, where he was born and raised. One night, just hours before all-girl L.A. grunge-rockers L7 were due to play, the house engineer, Conley' s longtime friend, received a call.
"He comes up to me and says, 'My mom's being rushed to the ER. I don' t know what happened… she got in an accident, I've got to go.' I said, 'What do you want me to do?'" Conley recalls. "He said, 'You've got to finish mixing.' I said, 'But I don' t know how to mix, what are you talking about?'"
Happily, Conley had some experience recording with a 4-track tape machine. "He said, 'You have a trim, you have a gain structure, you have a fader. It' s the same thing; there' s just more channels.'"
Conley turned out to be a natural, developing his own mix style almost from the get-go. "I was like, 'We need more kick drum,' and I've been a low-end freak ever since."
‡‡ A New Career
Conley parlayed his new skills into a new career, initially mixing several nights a week at clubs around Detroit. Mixing at front of house or monitors, he further honed his skills at Saint Andrew's Hall in downtown Detroit. Built in 1907 and regularly hosting shows by the likes of Bob Dylan, Iggy Pop and Paul Simon at the dawn of the '80s, the venue is still in operation.
"Any band that was on their way up played there," Conley reports, including acts such as Alice in Chains, INXS and Tool. "That was an important step for me, because a good friend of mine basically taught me how to run sound from Saint Andrew's; that' s where I got my start."
He moved to Austin in the mid-90s, where he met the guitar tech for an up-and-coming local band, Los Lonely Boys. Years later, out of the blue, says Conley, he got a call — the band needed a monitor engineer. He put in two-weeks' notice at his job, and two days later, Conley was on the road.
Self-styled "Texican rock 'n' rollers," the band — three Garza brothers, Henry, Jojo and Ringo — attracted such a following, including Willie Nelson, that their debut single, "Heaven," hit the top spot on Billboard' s adult contemporary chart in 2003. It entered the top 40 on the Billboard Hot 100 the following year and earned them a Grammy Award for Best Pop Performance by a Duo or Group, while the album spent 76 weeks in the Billboard Top 200.
Now mixing FOH for the band, Conley has been with Los Lonely Boys for over a decade. Since long before his current gig, he's seen live sound technology evolve from all-analog to nearly all-digital. But having developed his mixing style back in the '80's, he still likes to keep things simple, he says.
"I grew up with analog, when you didn't have a lot of choices. You had a Lexicon and a Roland SDE-1000 — which is awesome, and I still have one. But I keep it simple. The band that I work for are all great musicians, and they have great tone and a drummer with a great drum kit who knows how to tune it. So there's part of my battle eliminated," he says.
That said, Conley certainly uses a few effects. 'I experiment, but nothing too crazy," he says. "I had the guitarist come up to me a few years ago. He asked, 'Are you putting delay on my guitar solos?' I said, "Not all of them, just parts where it's really nice and carries these beautiful notes that you're playing. I won't do it anymore." He said, 'No, it sounded awesome. Whatever you're doing keep doing it.'"
‡‡ Have Thumb Drive, Will Travel
The evolution of live sound technology has made the gig of the front of house engineer a little easier. For example, on tours and festival dates, it' s not unusual for Conley to be behind a different desk every night. "In this digital world that we live in, having a thumb drive — I have a collection — and being able to roll into a venue, pop it in and have a scene up in 10 seconds is the ultimate convenience."
Speaker technology has also evolved, with line array systems emerging in the early '90s and subsequently becoming ubiquitous. In recent years, line array technology has been further refined, leading to two recent stand-out shows for Conley and Los Lonely Boys.
The first of those shows was in Los Angeles, at the Pershing Square Downtown Stage, an annual month-long summer concert series produced by the City of Los Angeles Department of Recreation and Parks. Featured performances this year — in addition to Los Lonely Boys — included The Wallflowers, Toad the Wet Sprocket, 10,000 Maniacs, The B-52's, X and Meat Puppets.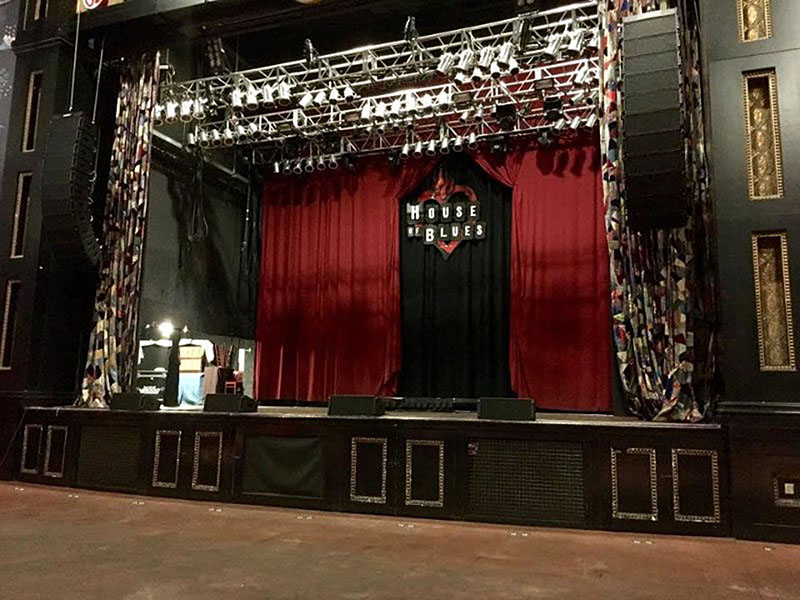 ‡‡ Enter the ShowMatch DeltaQ
This year, the stage featured a ShowMatch DeltaQ line array system from Bose Professional, provided by CenterStaging (Burbank, CA) and prepped and configured with Powersoft X8 amplifiers by Camarillo, CA-based Rat Sound prior to delivery. Twelve flown ShowMatch modules per side were supported by 16 Bose ShowMatch SMS118 single 18-inch subwoofers beneath the stage.
Conley admits he'd had some reservations when he first saw the Bose rig. "I looked at one of the stage guys and said, 'Bose makes a PA?' Seeing all those boxes, it was a curve ball thrown right at me; I didn't know what to think. But once I heard the system, I knew this was going to be a good night.
"It's an awesome system," Conley continues. "I was really blown away by it, by the overall coverage and the way the boxes reacted to different elements of the instruments, and how it responded to my EQ on the vocals. It was really beautiful."
Bose Professional engineers have incorporated technologies into the ShowMatch DeltaQ boxes that make corrective system DSP largely unnecessary. "I was tuning the rig, bumping frequencies and going, wow, I barely have to make any cuts. I didn't have to spend 20 minutes to try to tune the rig; it took all of seven minutes and it sounded killer," Conley says.
"I got it up and running with very minimal EQ adjustments and said, okay, let's do a rock show — see you guys in three hours. The band came back, and I had one of the best mixes I've ever had. It was 121 dB and as clear as you could imagine, in your face, but without any overtones or shriek."
The coverage was as impressive as the sound quality, he continues. 'There was nothing 'directional' about it; I could step off to the side and hear everything perfectly, and in the middle, it was slamming. Over to the other side, all the way to the back, everywhere I walked, I could hear everything very clearly."
And those 16 subs? How did the ShowMatch SMS11's perform for this low-end aficionado? "They were just so solid. When I'm going for low-end, I don't want hip-hop boom but punch. I want it to punch you in the chest. I got all of that and more."
Less than a week later, Los Lonely Boys rolled into Dallas for a show at the House of Blues, and Conley got a nice surprise — the venue had been updated with a new Bose ShowMatch rig. "The difference between those boxes and what was in there before is night and day," he says.
"Again, I didn't have to cut anything — maybe one or two dB down in the graph — and I had it slamming. It was a much better EQ world. And it sounded great," he reports.
"I mix on something different every night, different console, different boxes, and with minimal tweaking, this ShowMatch rig is probably the best sound I've had. I can't say in the entire time I've been mixing, because I've had some great shows, but it was killer. ShowMatch has blown away every rig I've mixed on this year, or last year."
For more information, go to http://pro.bose.com .
Leave a Comment: