Third Eye Blind 20th Anniversary Tour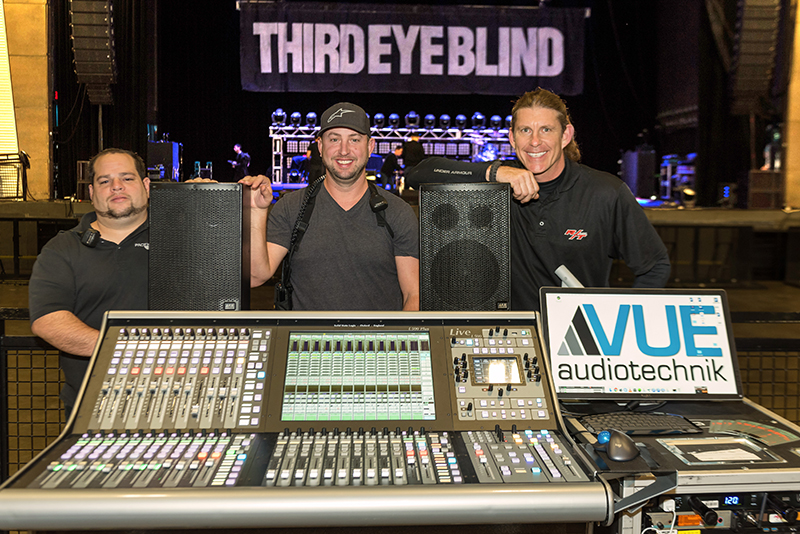 Following up on their 2017 "Summer Gods" tour in June and July with special guests Silversun Pickups, Third Eye Blind embarked on their October-and-November "Fall of the Summer Gods" tour, continuing their travels across the U.S. and Canada in celebration of the 20 years since the band released their first album, Third Eye Blind, in April 1997.
Both the summer and fall tour offered fans two decades of hits, including songs from their latest albums, Dopamine (June 2015) and We Are Drugs (July 2016). Third Eye Blind is also commemorating the 20-year milestone with a limited edition, 36-page tour book and first-ever live album. Only 1,500 copies of the set have been produced.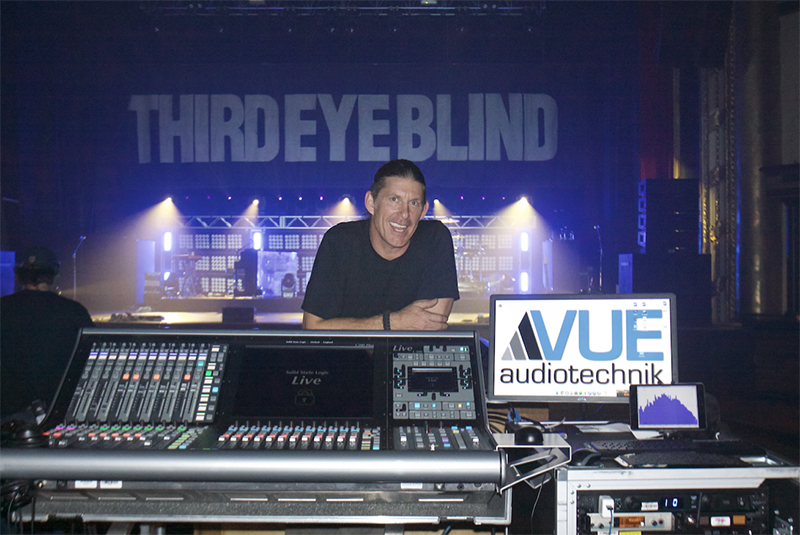 Pittsburgh-based RT Pro Audio provided a new P.A. system centering on Vue Audiotechnik components for the fall tour dates, which kicked off Oct. 5 with a sold-out show at the recently refurbished Strand theater at Lupo's Heartbreak Hotel in Providence, R.I.
Performing in a wide variety of venue types, with capacities ranging from 1,500 to 10,000 seats, the RT team worked hard to deliver versatility and scalability while offering the best possible fidelity and a consistent voice, regardless of venue.
It helped that the team at RT Pro Audio, self-described "gear heads," are focused on creative thinking. They stay apprised of the latest innovations in live sound technology and are always looking for ways to better serve their clients by thinking differently.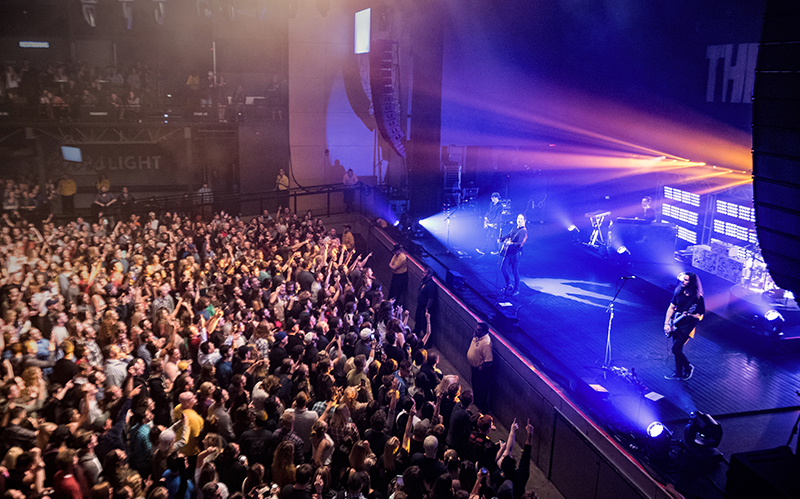 ‡‡ The Man at FOH
Recently, we had the opportunity to catch up with Third Eye Blind's FOH engineer (and RT Pro Audio owner) Rob "RT" Thomas, as well as tour manager Kyle Wood, following Third Eye Blind's performance at the Stage AE in Pittsburgh.
The unique venue, which accommodated one of the tour's more elaborate system deployments, has indoor and outdoor listening areas and a combined capacity of nearly 8,000. It was the perfect opportunity to chat with RT Thomas and Kyle Wood about the challenges posed by this tour and how technology is improving the fan experience while making a compelling business case for future ventures.
"I've been passionate about live sound most of my life, and it's been my primary source of income for about 30 years," started RT, as he reflected on the evolution of his own career and the industry as a whole. "I went to Full Sail for recording early on to broaden my skill set. I even had the chance to work on a few notable studio projects for artists like Cyndi Lauper, Salt-N-Pepa and Teddy Pendergrass.
"I really loved those experiences, but missed the challenges of the road, especially the live tech," RT adds. "I returned to my roots in the early 90's and have spent the last few decades doing what I love and building my business. I never have a bad day, and I've never looked back."
No stranger to road life, RT's resume includes outings with Insane Clown Posse, Vertical Horizon, Sister Hazel, Gym Class Heroes, Sia, Major Lazer and five years with Train. He's been working with Third Eye Blind since 2012.
While the nightly challenges of touring keep his highly tuned ears and brain gears in constant motion, RT also likes to stay up-to-date on the latest live sound offerings.
"I just love watching speaker and console technology get better and more powerful," he says. "I think back to my early days in Pennsylvania. One of my first P.A.s was an EAW system, which eventually grew into a full KF850 rig.
"A little later," RT continues, "I was working almost exclusively on VerTec systems. Today, I'm deploying Vue line arrays. It's pretty cool that the same guys who were behind those early EAW and JBL systems are the very guys who came together to start Vue. It feels like I've come full circle in a way."
Indeed, it's the advance of technology that RT credits directly with an important evolution in touring — especially with medium sized tours. From his perspective, P.A. performance and versatility are making it possible for tours of all sizes to carry their own systems, with better control the audience listening experience as a result.
"This tour is really the perfect example," RT says. "As an anniversary tour, the band is even more focused on delivering a high-quality listening experience. But we're also landing in venues of almost every type and size. One day it's 1,500 seats indoors, and the next day we're in a hybrid environment like this performing for nearly 10,000.
"Delivering consistency regardless of venue is a challenge in terms of both cost and logistics," he says. "Because of this, most small- and medium-sized tours rely mostly on a combination of house systems and local sound companies to augment where needed. For this tour, however, it was pretty clear early on that bringing our own P.A. was the only way to deliver the quality and consistency the band wanted."
With a packed tour schedule that — at the time — included 32 shows in slightly over six weeks, ease of deployment was an additional must-have.
"When we first started looking at systems, we identified three requirements right up front," RT notes. "First, it needed to have a lot of horsepower and be highly scalable so we could deploy different configurations to address different venues. Next, it needed to be very neutral, so that we could easily integrate it with house systems where required — especially in the low frequencies. And finally, it needed to sound really good. This is a 20th anniversary tour, after all, so these fans know what to expect. That's why they're fans."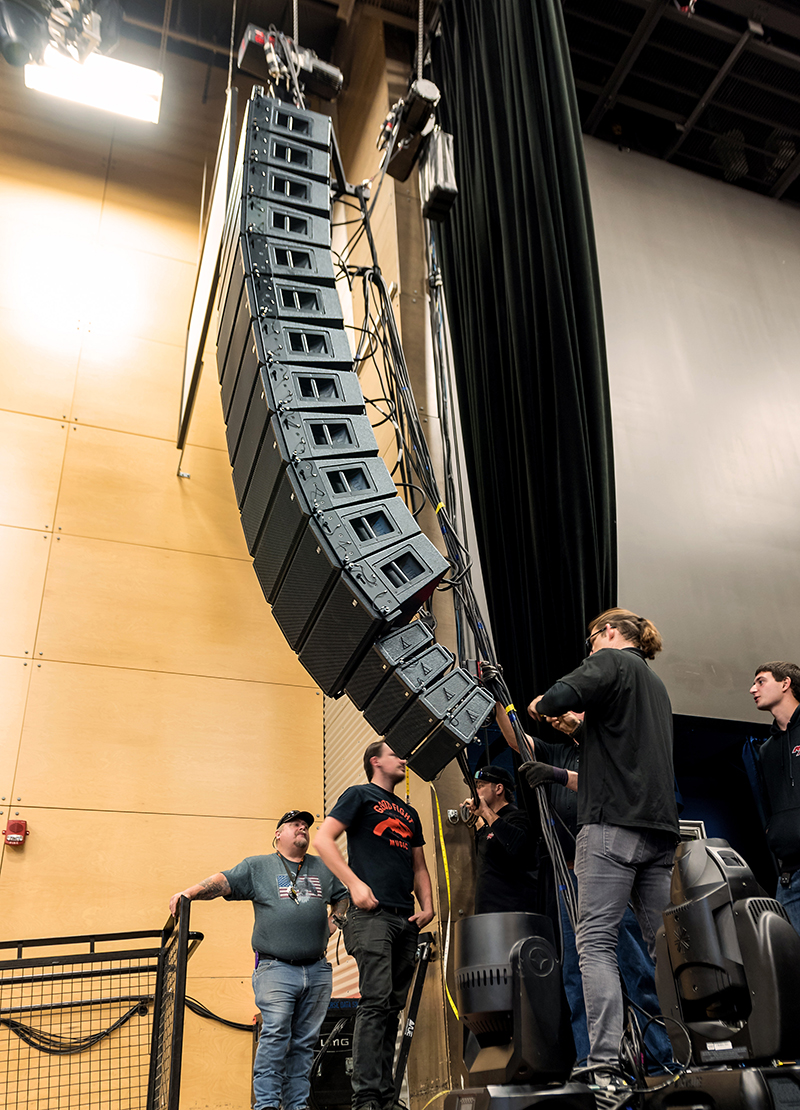 ‡‡ The System
RT ultimately selected a combination of Vue al-Class systems, including a total of 16 al-8 and 8 al-4 line array elements, along with all the necessary hardware to accommodate both stage-stack configurations, as well as flown hybrid arrays. Vue hs-221 ACM subwoofers deliver low frequency, while VueDrive Systems Engines provide power and processing enough for all possible configurations.
"I first experienced Vue while I was out on tour with Train," RT says. "Sound Image sent me a FOH package that included some of their a-8s for near-field monitors. I was skeptical at first, but the minute I heard them, I was blown away. When I found out they were doing line arrays, I was anxious to find out if the same experience would translate the big systems. Not long after that, I did an outdoor festival and had a chance to mix on the al-8 line array. I was amazed at how loud I could push it. The top-end was so clear and limitless."
For the Third Eye Blind fall tour, RT mixed and matched al-4 and al-8 elements as required for each unique venue. For the Oct. 5 show in Providence, RI — their first with the Vue system — they deployed a fairly compact configuration using six al-8 elements stacked atop a pair of hs-221 subs, with eight al-4 elements in four stacks of two providing lip fill across the front of the stage.
At the Stage AE in Pittsburgh, for the band's Oct. 18 tour stop, a much more elaborate system was required. Using the same Vue inventory, Thomas flew left and right hybrid arrays, each consisting of 12 al-8 elements, augmented with four al-4 subcompact elements for downfill.
Vue's Continuous Source Topology (CST) allowed different sized al-Class elements to be combined for reduced weight and improved coverage — all without the disruptions typical with mixed element arrays.
For low frequency, RT traveled with eight Vue ACM subwoofers. Four hs-221 and four hs-25 systems were used to augment house systems as needed — or handle the full weight of the show in full deployment.
"The Vue systems are really scalable and do a great job of delivering a very consistent voice," notes RT, "even when you combine different sized elements together. Plus, I have yet to push these boxes beyond their limit. I've mixed on many line arrays that simply won't go loud enough.
"Vue's lack of distortion makes the speakers much more versatile," RT adds. "I can actually paint the high end rather than having to back away from it. Even if where I'm augmenting a house system, the transparency of the Vue systems makes it much easier to blend them right in. I blame the beryllium," he quips, referring to the high-tech material used for the HF diaphragms.
"Getting a lot out of a small versatile inventory is the key to doing a tour this way," RT continued. "The whole Vue inventory — line arrays, subs and racks — takes up just 14 square feet of truck space. And that inventory has yet to fall short in any venue we've dropped it in."
According to tour manager Kyle Wood, the decision to bring their own P.A. is also having a positive impact financially for the tour.
"Adding the Vue systems has brought a high level of consistency to each show that the fans clearly appreciate," says Wood. "We've also avoided the cost and complexity of having to rent additional gear at each stop. We don't have to worry about sourcing compatible systems, or whether those systems will blend sonically with what we're trying to achieve. This has been especially true with the Vue subs. Those things just don't seem to have a limit. We've been able to use them in almost any venue to great effect."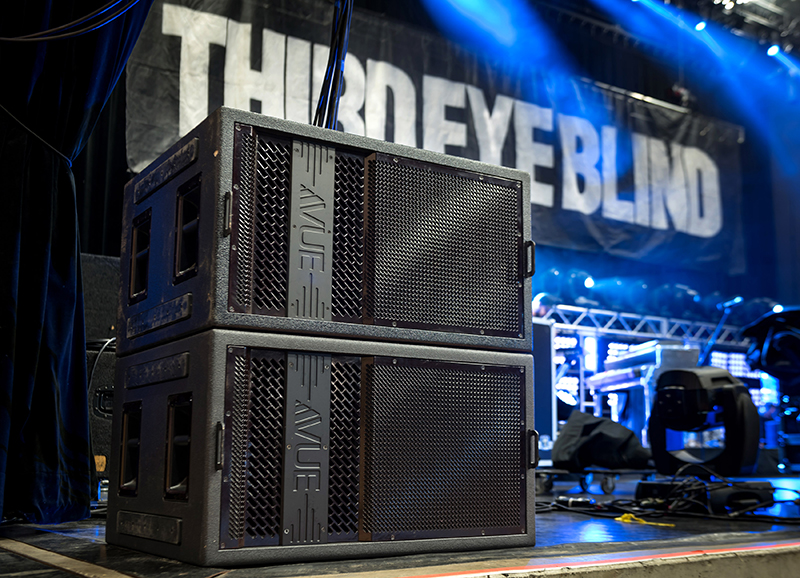 ‡‡ Into the Mix
For mixing duties, RT prefers the SSL Live consoles. For Third Eye Blind, an L500 Plus served at front of house, while an L300 kept the band fully informed from the monitor spot.
"We've been working almost exclusively with SSL consoles for about three years now," explained RT. "The interface is very intuitive. Regardless of what console you're coming from or what workflow you are accustomed to using, getting up to speed on the SSL is really easy.
"I also think the SSL consoles are one of the best in terms of imaging," RT added. "They simply sound amazing. Plus, they make it really easy to build really sophisticated workflows — basically whatever you can dream up — or slim it down to absolute simplicity just as easily. In many ways, they're the perfect match for the Vue system, which sonically, are like a clean slate."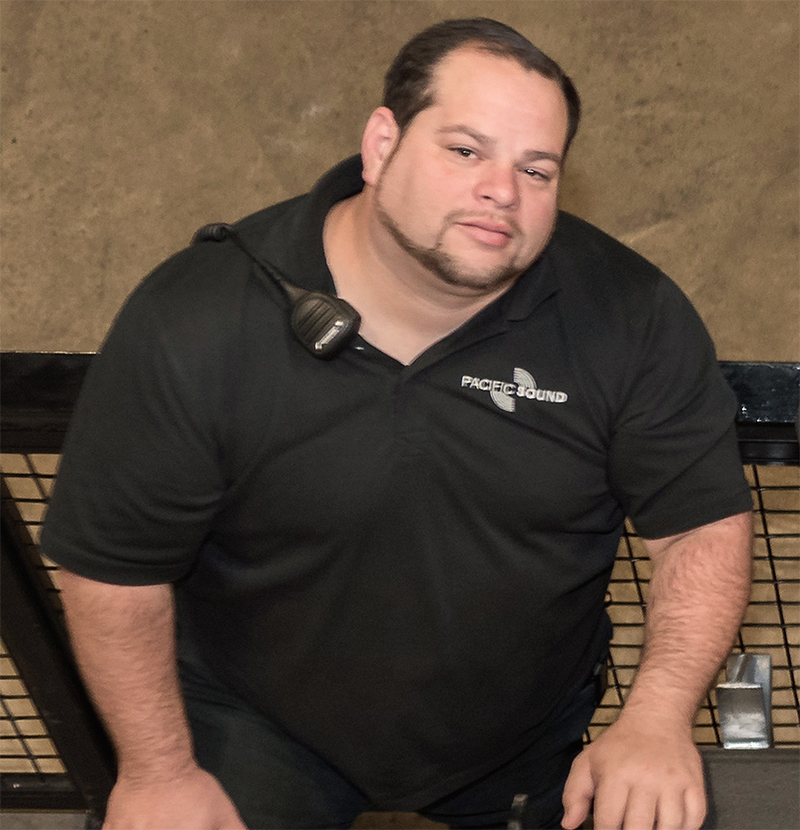 For monitors, Third Eye Blind prefers in-ears. For this tour, the RT Pro Audio team specified the Sennheiser ew 300 series wireless system.
Mic-wise, the selection varies — this is no single-supplier tour. On drums, a Shure Beta 91 was positioned inside the kick, with a Beta 52 outside. For the snare top, the setup included a Beyerdynamic M201 with a Sennheiser e609 below. Another e609 captured hi-hat. Toms were captured with Beyerdynamic TG D58C's, and Earthworks SR 25's handled overheads. At center stage, for vox, a Telefunken M80 was chosen. Other vocal mics included Shure Beta 58's. Guitars were mostly direct from the Kemper amps (acoustic guitar was via a Rupert Neve RNDI direct box). Other direct boxes (on keys and bass) included Radial Engineering J48's.
"The SSL L300 handled a total of nine stereo mixes, including five for the band, two tech mixes and one cue," says RT. "We really like the Sennheiser system and use it frequently. It's solid wireless that goes to work. Reliable, clean and cost-effective."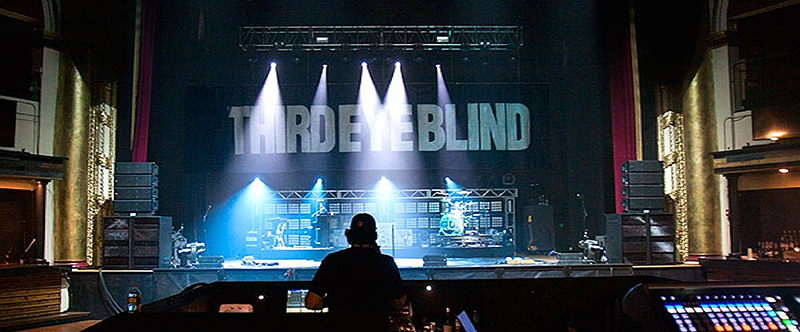 So what's next for Thomas and the RT Pro Audio team?
"We have Third Eye Blind shows booked into the New Year. After that, I'll be busy working with my team and clients throughout the Pittsburgh area. I'm also looking forward to teaching some music business classes through the winter semester at Point Park University," also based in Pittsburgh. "And, of course, I'm looking forward to a successful 2018 touring season. I'm never too far from the console."
Third Eye Blind 20th Anniversary Tour
CREW
Sound Company: RT Pro Audio
FOH Engineer: Rob Thomas
Monitor Engineer: Jayson Pietri
Tour Manager: Kyle Wood
P.A. SYSTEM
Mains: (12) Vue Audiotechnik al-8 line arrays/side
four al-4 subcompact elements
Subs: (8) Vue ACMs with (4) hs-221 and (4) hs-25 as needed
Down Fills: (4) Vue al-4 subcompacts/side
Lip Fills: (8)Vue al-4 elements
Amps: VueDrive Systems Engines
FOH GEAR
FOH Console: Solid State Logic L500 Plus
MON GEAR
Monitor Console: Solid State Logic L300
IEMs: Sennheiser ew 300 series
Microphones: Shure, Sennheiser, Telefunken, Beyerdynamic, Earthworks
Leave a Comment: