Sensaphonics Gold Circle Audiologists Return for Music Industry Audiology Seminars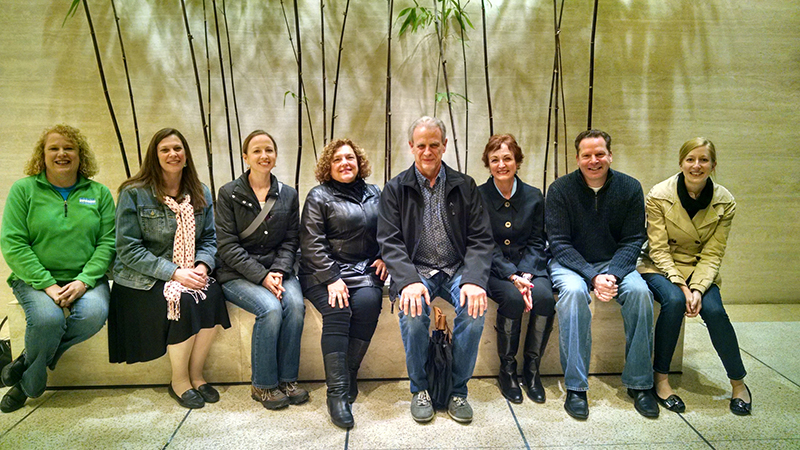 Six Gold Circle audiologists return to Sensaphonics for one-day Refresher Seminar while four new members join the team.
More details from Sensaphonics (www.sensaphonics.com):
CHICAGO, IL – Sensaphonics, the technology leader in personal monitoring, has just completed its first two music industry audiology seminars of 2015 – one for new members, the other a refresher course for Gold Circle audiologists. Unique in the industry, the Gold Circle program supplements traditional audiology teachings by addressing the specific needs of the music industry, specifically the need to preserve hearing through the proper use of in-ear monitors and hearing protection.
"Musicians are at high risk of hearing damage, and in-ear monitoring is the perfect opportunity for musicians to listen more safely while actually improving their stage experience," says Sensaphonics President Dr. Michael Santucci. "The Gold Circle program teaches audiologists how a little knowledge, the right equipment choices, and smarter behavior can help musicians save their hearing."
Six Gold Circle audiologists returned to Chicago for a one-day refresher course at Sensaphonics, expanding and renewing their knowledge of the latest technologies for music monitoring, including the 3D AARO system. These dedicated audiologists include Theresa Bartlett of Virginia Hearing Consultants in Norfolk; Melanie Holzberg of Plug Life in Asbury Park, NJ; Janelle Lane of Albany ENT & Allergy Services, Albany NY; Susan Newton of Audiogirl Consulting in Mission, KS; Allen Rohe of Tri-City Audiology in Mesa/Tempe/Chandler, Arizona; and Gayle Santucci of Chesterfield, MO.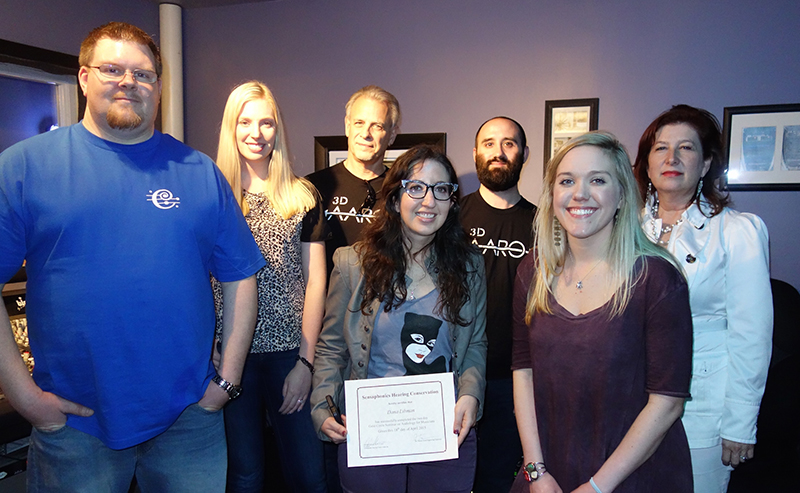 "The Gold Circle Refresher course keep our Gold Circle team up to speed on technology advances in personal monitoring," says Dr. Santucci. "Our next-generation Active Ambient technology is being used in new and exciting ways both within the music industry and in home listening environments."
In addition, four new Gold Circle audiologists were trained in a two-day seminar. Earning their Gold Circle certification were audiologists Tricia Sheehan-Scaglione and Dana Libman of the University of Miami (FL) Miller School of Medicine; Rebecca Taylor of Colorful Hearing in the Dallas suburb of Denton, TX; and Michael Robinette of Michigan Ear Institute, with three Detroit area locations.
The Gold Circle seminar is taught by Michael Santucci and audio engineering consultant, Joe "Sound Guy" Tessone. Topics include in-ear monitoring and hearing protection technology, concert sound system design, backstage etiquette, and marketing to musicians and music fans, all in the context promoting safe listening practices and evidence-based audiology. Attendees are also certified in taking proper ear impressions to Sensaphonics' music industry specifications.
The core Gold Circle seminar includes both classroom and field study, the latter being a hands-on lab session with a live band, held at Mystery Street Recording in Chicago. There, the basics of live sound systems are demonstrated, showing the dramatic difference that in-ear monitors can make to the band's listening levels and overall stage volume. The audiologists interact with band members, taking volume measurements with the Sensaphonics dB Check sound level analyzer and hearing the band's mix through the 3D AARO in-ear system with Active Ambient™ technology.
The Gold Circle Seminar is a professional development program that is fully accredited for Continuing Education Units (CEUs) by the American Academy of Audiology. For more information on upcoming events or to find a Gold Circle audiologist in your area, visit www.sensaphonics.com.
Leave a Comment: