LEA Professional Announces InfoComm Plans, Rep Network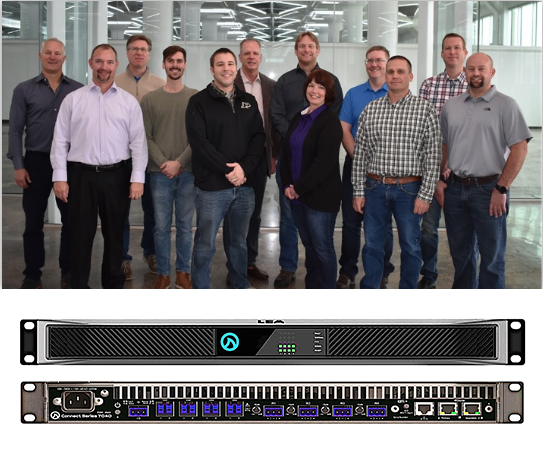 SOUTH BEND, IN — LEA Professional has announced that 12 leading companies in the professional AV industry have aligned with LEA Professional, as US sales rep partners to support the release of LEA's IoT/Cloud enabled amplifier throughout the country. After launching the company in January 2019 at The NAMM Show, LEA has made enormous progress in a short period of time with preparations underway for the debut install amplifier product, the LEA Connect Series. These new rep partnerships solidify LEA's presence in the industry and mark another step forward in bringing the first IoT/Cloud enabled amplifiers to the pro AV world.
"We're not interested in doing things the same way as every other pro audio company." Says LEA Professional founder and CEO, Blake Augsburger. "Which is why we are so thrilled to have partnered with such a great group of reps that are passionate about the pro audio industry and our products. We couldn't have aligned ourselves with better companies to help us take LEA to market and share our unique and innovative story."
Joining LEA as US sales representatives are: 
With their combined regional expertise, and decades of experience in pro AV, LEA has built a concrete infrastructure covering the entire country to support its Connect Series amplifiers, set to launch at the InfoComm AV trade show in Orlando, FL this June 2019.
The Connect Series
The Connect Series is a family of professional grade 2-channel and 4-channel amplifiers for use in installations. Featuring DSP, wired or Wi-Fi connectivity, webpage configuration and control, the LEA Connect Series will be the very first IoT/Cloud enabled professional-grade amplifiers and will provide end-users with best-in-class sonic performance, ease of use, and unmatched reliability. The Series underscores the company-wide commitment to the dealer/integrator community: easily and cost-effectively installed and maintained and with the capacity to support monthly recurring revenue (MRR) business models — engineered with the needs and expectations of contractors in mind.
"I could not be happier with the experience, passion, and local dealer relationships that our new rep partners are bringing to LEA," says Scott Robbins, LEA VP of sales and marketing. "The way we do business, including a smooth transactional experience, is as important as the unique product we are bringing to market."
So far, LEA's new rep partners share that sentiment. Pete Petty, principal with Mavric Pro, notes "With IoT tech, an easy UI, multiple connectivity options plus world-class support and a 6-year warranty, the LEA Connect Series is going to be a lot of fun to talk about with our dealers. "
LEA Professional will officially announce its first product, the Connect Series amplifiers, at InfoComm in Orlando at booth 5889.
About LEA Professional
Headquartered in South Bend, Indiana, LEA Professional was founded to provide dealer/integrators in the professional AV market with the highest-performing, best-connected amplifier technology possible. Privately held, LEA Professional is led by industry veterans with proven capabilities on the executive, engineering and channel aspects of professional AV. The company was founded in 2019 and is organized to be a major force in professional AV. For more info, visit leaprofessional.com.
Leave a Comment: