Chase Center – Major New San Francisco Venue Opens Sept 6th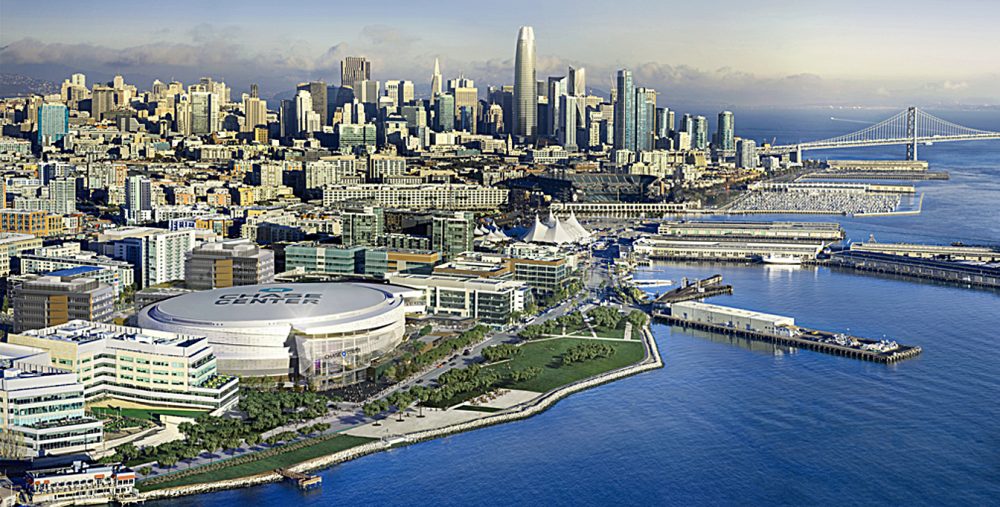 SAN FRANCISCO — A first-of-its-kind in San Francisco, Chase Center is a world-class sports and entertainment destination. It's also the new home of the NBA's Golden State Warriors. The team previously played 47 seasons across the bay, at the Oakland-Alameda County Arena (formerly known as the Oracle Arena). The naming rights to the new facility were purchased by JPMorgan Chase, for an amount estimated to be in the $300-million range.
Groundbreaking for the 100% team-financed, $1.4-billion Chase Center was on January 17, 2017, and after more than two years of construction, the new venue officially opens on Sept. 6, 2019 with Metallica, joined by the San Francisco Symphony in a special, inaugural performance that salutes the 20th anniversary of the band's Grammy Award-winning Symphony and Metallica (S&M) LP.
With 18,064 arena seats, the Chase Center will provide a state of the art fan experience for the Warriors, which begin their regular 2019-2020 season on October 24 against the Los Angeles Clippers at the new arena. However, the Chase Center is more than just a sports/concert venue, offering 3.2 acres of waterfront plaza and public space, 100,000 square feet of retail and 580,000 sq. feet of office and lab space.
"The Bay Area is a beacon for technology, innovation and education" said JPMorgan Chase chairman/CEO Jamie Dimon, "and we expect that Chase Center will become a beacon of great art, culture, sports and entertainment for this great community."
The new venue is expected to host approximately 200 events per year.
Leave a Comment: