Voice-Acoustic Updates Website with Interactive User and Rental Network Info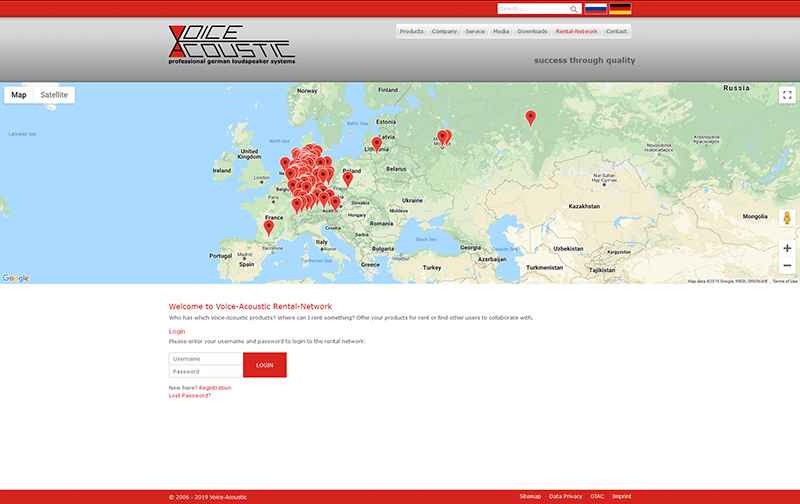 DÖRVERDEN, Germany – Voice-Acoustic announced that users can register their material stock and services on its website. On a Google Maps card, the company's position is publicly shown. When clicking on the map marker, the stock list and user data appear after login. A search mask can also be used to search by country, region, service offered or specific loudspeaker models.
More details from Voice-Acoustic (www.voice-acoustic.com):
The network is intended to promote cooperation among Voice-Acoustic users and help with temporary material or personnel bottlenecks. In addition, potential clients can use the search mask to find service suppliers such as rental companies, agencies, mobile DJs and bands, or to search for suppliers such as dealers and installation companies.
The service is already online at www.voice-acoustic.de/rental-network.html
Voice-Acoustic calls upon all users to register their material stock and services in the database. This can be done using a fillable PDF sheet or simply online on the website.
Win-Win
Voice-Acoustic founder and managing director Stefan Rast comments about the new network:
"The high quality of our products, the good service offers and the system philosophy of standardized control electronics serve only one purpose: the success of our customers. All users worldwide can combine their systems with each other. This creates synergies. The new network does not only serve to connect rental companies with each other. With this platform, we want to create added value for users who offer their services and generate jobs. Clients can search for DJs and bands, builder-owners can search for installation companies, enterprises for full service agencies for corporate events. Later we will also advertise the platform to potential clients. Such a service offer has not yet been made by any other manufacturer. I see it that way, if our customers are successful, our company is also doing well. We are already doing a lot for this and now even more. It cost us time and money to be able to offer this service online. So there's one more point to choose Voice-Acoustic products, win-win for everyone."
Leave a Comment: