Pink Tour Entourage Jet Crash-Lands in Denmark, No Injuries Reported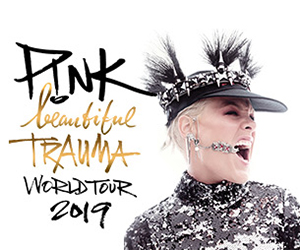 AARHUS, Denmark – A private jet with 10 passengers and crew carrying Pink's manager and others working on the artist's Beautiful Trauma tour crash-landed and burned on Aug. 6. All escaped without injury, according to reports.
The group was arriving in Denmark after a concert staged at Telenor Arena in Oslo, Norway the night before. Pictures of the Cessna 560XL jet after the incident showed the craft to be mangled and charred.
Reports noted that the passengers included a British national as well as four Americans and two Australians. The American artist herself was not on the flight.
Reports also noted that, shortly before its final descent into Aarhus Airport in Tirstrup, Denmark at 12:38 a.m., the jet had started to burn, and that the crash-landing took place in a grassy area near the runway.
Emergency crews had been alerted and extinguished the flames quickly after the incident. Pink's next show is set for CASA Arena in Horsens, Denmark on Aug. 7. There were no reports that the show would be delayed or canceled.
Leave a Comment: