Royer Labs AxeMount Dual Mic Mount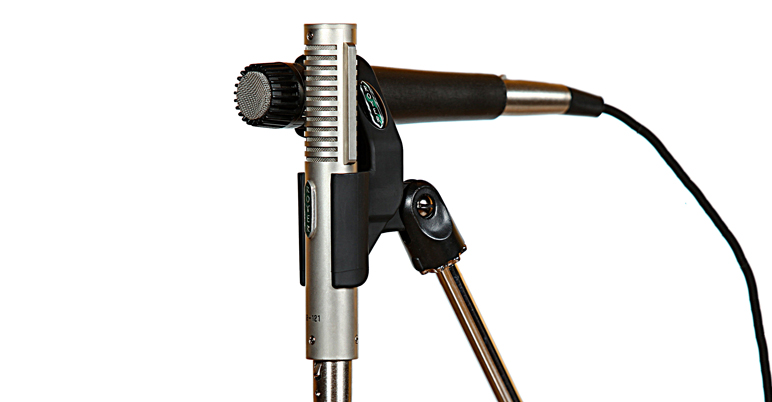 Royer Labs announces the AxeMount Dual Microphone Mount, the ideal solution for blending a Royer R-121 ribbon mic with a dynamic model. A popular method for capturing electric guitars, it's now easier with the AxeMount dual-mount mic clip. The AxeMount positions an R-121 directly next to a 57-style dynamic mic, with the setup phase-aligned and ready to go. Whether one requires small positional adjustments on a loudspeaker or the ability to easily switch both mics to a different cabinet, the new AxeMount clip makes the process as easy as moving a single mic stand. The AxeMount also accommodates Royer R-122, R-122 MKll and R-122V ribbon microphones.
The natural, full-bodied sound of the Royer R-121, blended to the user's preference with the fist-forward character of a 57-styled dynamic, facilitates fast, tailoring of miked guitar tones. In the past, this process required using two mic stands, two clips, and considerable patience to get the mics properly aligned and in-phase with each other. AxeMount eliminates these challenges and makes this classic miking technique easy to achieve.
"The AxeMount is one of those simple add-on tools that instantly makes you say, 'Why didn't we think of this before?'," says Royer VP John Jennings. "This clip is rugged, easy to use and — most importantly — takes the guesswork / experimentation out of the phase alignment equation when combining a 57-style dynamic mic with a Royer R-121 ribbon mic, which is the perfect combination for capturing all the energy and nuance of an electric guitar. The AxeMount facilitates a quick setup and it's inexpensive and easy to use, so I think everyone interested in using the R-121 / dynamic mic method will want to have a few of these around."
The AxeMount Dual Microphone Mount carries an MSRP of $49.99 and is available now.
For more info, visit www.royerlabs.com
Leave a Comment: