RØDE TF-5 Condenser Cardioid Microphones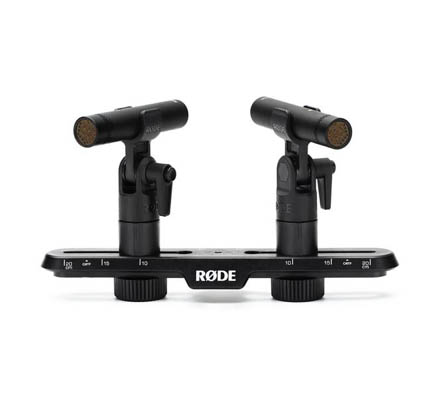 RØDE Microphones' new TF-5 small diaphragm condenser microphones were designed in collaboration with Grammy Award-winning sound engineer Tony Faulkner.
More details from RØDE (www.rode.com):
The TF-5 is unrivaled in terms of airiness and clarity, with a warmth that makes it uniquely versatile. The precision sonic matching and beautiful tone of the TF-5 makes it perfect for recording detailed and natural-sounding performances when used as a stereo pair, or for capturing the nuances of a soloist when used as a spot mic.
RØDE TF-5 key features:
Matched pair small diaphragm condenser cardioid microphones.
Imagined and designed in collaboration with Tony Faulkner and manufactured at RØDE's state-of-the-art facility in Sydney.
Brand new capsule, precision-engineered to sub-micron tolerances, delivers breathtaking sonic transparency.
Exceptionally low noise floor (14dbA), making the TF-5 suitable for the most critical recordings.
Includes high-quality RØDE stereo bar for easy rigging as a stereo pair.
"The TF-5 is the best small diaphragm condenser in the world, plain and simple," says RØDE Founder and Chairman Peter Freedman AM. "The degree of obsession that went into the design and development of this mic has set a new benchmark for our craft of high-end microphones.
"We are proud of what we have achieved alongside Tony Faulkner," he continues. "He is a true pioneer and innovator, and also a great friend of mine. Working on this microphone together has been a highlight of my career."
Tony Faulkner is one of the most respected sound engineers in the classical music field. He is incredibly prolific, with thousands of admired classical music recordings under his belt, and he has been nominated for numerous Grammy Awards, winning Best Instrumental Soloist Performance in 2005.
"The TF-5 is designed to be no-compromise," says Mr. Faulkner, "very very low noise, very broad bandwidth, very clean. Something which can be modified if you choose, but if you leave it, it sounds natural and clean and musical."
"The new capsule," he continues, "is so beautifully engineered. I've been to the factory and seen how they make them – the precision of engineering is remarkable. These are special microphones, very high quality, and I'm proud to be a part of them. Take two of them out of the box, rig them on a stand with the stereo bar, and enjoy how natural they sound."
Leave a Comment: