ProLight + Sound 2008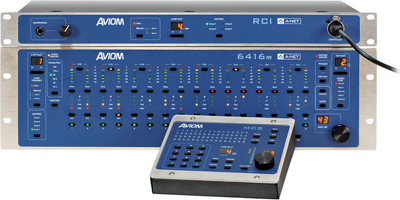 Here is our "virtual" show coverage of Europe's major music trade show.
By Bill Evans
The ProLight and Sound show in Munich, Germany, is one of the biggest music trade shows in the world and there is plenty of audio there. So why don't we at FOH attend? Well, truth is that if I am going to fly to Europe, I want it to be for more than another freaking trade show. Sue me. But we get lots of announcements of stuff that was intro'd at the show, so we have put together this bit of "virtual" show coverage. Just pretend we actually went…
Aviom 6416m Mic Input Module
Aviom has introduced the latest addition to its Pro64 Series of audio distribution products, the 6416m Mic Input Module. In tandem with this debut are its companion products, the RCI Remote Control Interface and the MCS Mic Control Surface. Aviom's new Pro64 series features a remote-controllable 6416m Mic Input Module, and the product delivers with 16 mic-level analog inputs to a Pro64 audio network system. Each channel on the 6416m has a continuously variable gain setting, multi-segment signal level LEDs and individual channel on/off switches. The 6416m supports all valid Pro64 sample rates, from 44.1/48 kHz± to 192 kHz±.
The 6416m can be remote controlled by adding the RCI Remote Control Interface and MCS Mic Control Surface. The 1U RCI provides a network access point and monitor station and accepts the MCS Mic Control Surface, which is used to select and edit any active mic preamp channel anywhere in the network. The Control Group function on the 6416m and RCI allows control of active mic channels to be divided among up to four different simultaneous users and control points.
The 3U-high 6416m Mic Input Module is compatible with all Aviom Pro64 digital audio network products and can be connected to analog or digital output modules, or to the 6416Y2 Yamaha console card in any combination. Aviom's Virtual Data Cable (VDC) connectivity for GPIO, MIDI and RS-232, also included on the rear panel of the 6416m Mic input Module, allow users to configure and transmit up to 14 channels of non-audio data throughout the A-Net Pro64 network without compromising audio bandwidth. www.aviom.com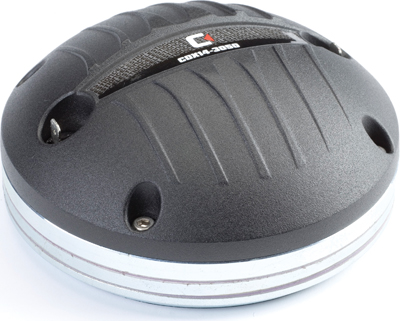 Celestion NTR08-2009D
Recognizing an opportunity to create a product tailored to an application growing in popularity, Celestion has introduced the NTR08-2009D, a 200-Wrms, mid-bass range unit, designed for line array applications. With a space-efficient octagonal profile, this loudspeaker features a neodymium ring magnet that delivers a high-force factor. Overall, the NTR08-2009D provides 95 dB sensitivity across a frequency response of 70 Hz to 3 kHz. In addition, the NTR08-2009D features a copper-sleeved pole to reduce inductive rise for improved HF performance. An "M-roll" surround provides progressive excursion control. NTR is a range of cast-aluminium chassis neodymium magnet drivers for professional sound reinforcement applications designed with "intelligent heat management" applied to both chassis and magnet assembly. www.celestion.com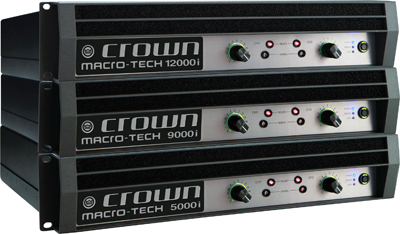 Crown Macro-Tech i series
Crown has launched the Macro-Tech i series. Comprised of three models  the MA-5000i, MA-9000i and MA12000i  the Macro-Tech i Series builds upon its predecessor by incorporating Crown's advanced, patented Class-I circuitry, which delivers greater power while simultaneously reducing overall amplifier weight by more than half. The new lineup is equipped with comprehensive status, fault and load monitoring via standard Ethernet networking and Harman Pro's HiQnet and System Architect software. In addition, a universal power factor corrected power supply is designed to ensure that the new models can be used anywhere in the world, delivering full-rated power regardless of where touring schedules may lead. www.crownaudio.com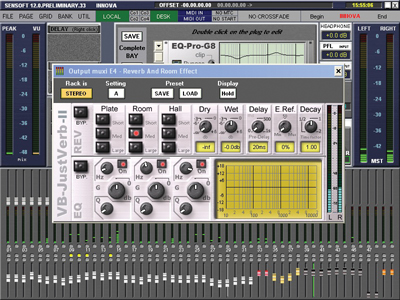 Innovason Sensoft Version 12.0 Software
Innovason has released Sensoft v12.0 software, which coincides with the release of the new internal effects module, the FM-8VB, as part of the PRO FX package. Sensoft 12.0 offers full management of the comprehensive range of effects that comprise the FM-8VB. Compatible with the full range of Innovason audio racks, FM-8VB is simple to implement and use. With four effects engines installed between each pair of I/Os, all of which are fully configurable to receive the algorithm of your choice, all the I/Os are accessible via the patch grids within Sensoft. From there, you simply have to declare your I/Os as insert points, or to feed your inputs via an aux on the console while using a temporal effect such as reverb, echo, etc. The other major feature of Sensoft 12.0 is that it increases the mix capacity of the Sy48 from 72 inputs/40 busses to 104 inputs/48 busses, all in the same compact, lightweight format. www.innovason.com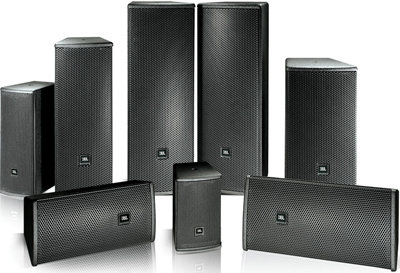 JBL Professional Introduces AE Compact Loudspeakers
JBL Professional has introduced eight new compact AE Series loudspeaker models. The new AE Compact loudspeaker series provides more options for system designers and integrators in a variety of applications. The new JBL Professional AE Compact loudspeaker series features eight models, providing system designers and integrators with more flexibility. The new loudspeakers consist of eight high-output, two-way loudspeaker models incorporating either single or dual woofers, including 5.25-inch, 6.5-inch, and 8-inch transducers. The high-frequency sections include a one-inch dome tweeter for two models (AC15 and AC25), while the remaining six models incorporate one-inch exit compression drivers.
The AC18 and AC28 models offer the system designer a choice of rotatable Progressive Transition waveguides with coverage patterns of 90 x 50 degrees or 120 x 60 degrees. Progressive Transition waveguides deliver uniform off-axis frequency response to every point within the intended coverage area. PT Waveguides combine pattern control with undistorted sound for natural music and intelligible speech. The AC25, AC26 and AC28 models incorporate JBL's Filtered Array Technology (FAT), which is designed to allow each of the low-frequency transducers to be independently controlled for magnitude and phase response, resulting in smoother power response and constant coverage.
Rounding out its VerTec Series line array family of powered and passive loudspeaker models for the professional tour/rental and performance-venue markets, JBL Professional introduces the JBL VerTec VT4889ADP Full Range High Directivity Line Array Element and the companion VT4880ADP Ultra Long Excursion Arrayable Subwoofer. Both models are integrated audio systems featuring field-proven JBL DrivePack technology. www.jblpro.com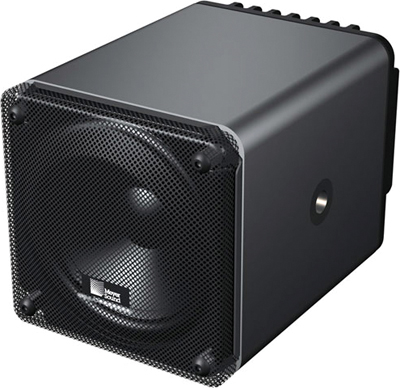 Meyer Sound MM-4XP
Meyer Sound has unveiled the self-powered MM-4XP miniature loudspeaker. Housed in a compact aluminum enclosure, the MM-4XP is especially suitable for installations involving space limitations and visibility concerns, such as fill and spot coverage, and hidden locations like chancel steps in a house of worship. It's flexible and easy-to-configure mounting options, as well as its ability to reproduce both speech and music, make it a choice for fixed applications, theatrical presentations (stage lip frontfill) and small portable systems for corporate AV solutions.
The MM-4XP meets the same performance standards established by its predecessor, the MM-4, and adds the advantages of self-powered systems with onboard amplification and signal processing. The MM-4XP's proprietary four-inch cone transducer, manufactured at Meyer Sound's Berkeley factory, delivers a maximum peak SPL of 113 dB, and has a wide operating frequency range of 120 Hz to 18 kHz with low distortion. Peak and rms limiters regulate loudspeaker temperatures and excursion, ensuring that the MM-4XP performs well even when driven into overload.
The MM-4XP's amplifier and signal-processing circuits are designed to store DC power and tolerate voltage drops, thereby accommodating light-gauge cables and long cable runs. The MM-4XP receives balanced audio and DC power from a SwitchCraft EN3 connector on its rear panel. The sealed, five-pin EN3 connector provides protection against harsh environmental conditions when the MM-4XP is installed outdoors. www.meyersound.com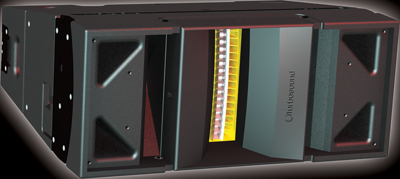 Turbosound Flex Array
Turbosound has introduced the Flex Array, a medium–scale professional sound reinforcement system that combines elements of Turbosound's patented point-source system with well-proven line-array technology, resulting in a versatile, one-box-fits-all loudspeaker product designed for a variety of venue types. By changing the orientation of the cabinet, one enclosure type is capable of being used in either line-array or point-source configurations. The ability to rotate the mid/high waveguide within the enclosure gives additional flexibility of use from only one type of box.
The Flex Array system has been designed from the ground up, resulting from a three-year development cycle closely related to the development of the Polyhorn, and uses Turbosound's patent-pending Dendritic horn, which produces a line source element with directional qualities together with clarity and definition. All neodymium drive units ensure that weight is kept to a minimum for easy trucking and handling. Flex Array is fully arrayable with flywear integrated into the box for rapid setup with no external parts, or can be used with external yokes and brackets for semi-permanent and fixed installations.
The bandpass low-frequency cabinet uses a neodymium 18-inch drive unit and can either be flown with mid/highs, or ground stacked. Digitally self-powered versions with integrated lightweight Class D amplifier modules are also available, making Flex Array products ideal for the corporate market as well as for live sound applications. www.turbosound.com
Leave a Comment: