Sounds of the Underworld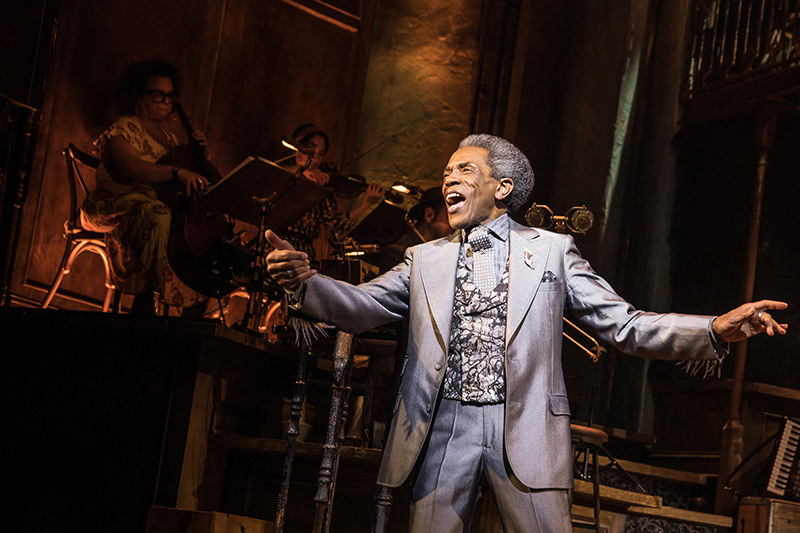 Hadestown Rocks Broadway
As with director Rachel Chavkin's previous Broadway musical Natasha, Pierre and the Great Comet of 1812, Hadestown defies conventional expectations through singer-songwriter Anaïs Mitchell's updated musical retells the Orpheus myth that contrasts a timeless New Orleans setting with an industrial vision of hell (a.k.a. Hadestown). The quick breakdown: Orpheus (Reeve Carney) goes to the underworld to rescue his fiancée Eurydice (Eva Noblezada) after she is lured there by Hades (Patrick Page) with the promise of work security, only to learn she is to become a mindless slave.
An instant hit upon opening in April at the Broadway's Walter Kerr Theatre, it won eight Tony Awards this year, including Best Musical, Best Direction of a Musical, and Best Sound Design of a Musical, which was shared by Jessica Paz and Nevin Steinberg. Impressively, this is Paz's first show as a full sound designer and her first Tony win.
Hadestown evolved in an unusual way. Starting around 2006, Anaïs Mitchell presented it as song cycle in community theaters around her home state of Vermont before recording a concept album in 2010 that included appearances by Ani DiFranco, Greg Brown, and Justin Vernon of Bon Iver. Over time, a cult following emerged through the album's exposure via streaming, which lured Chavkin to the project and led to the show's first run at the New York Theatre Workshop in 2016. Following that, Hadestown played in Edmonton, Canada and then London, before officially opening on Broadway in late April.
When Paz and Steinberg joined the team for the Canadian run, they knew little of what had been done in New York. "We started creating our vision for the sound in Canada, and then that carried forward," recalls Paz. "In Canada, we had about four days of tech. So it was a sketch — here are all the cues, here's what we need to do, here's our opportunity to learn about the show. In London, we moved a lot of those ideas forward. We changed some things and some reverb engines, moving to Lexicons instead of TC Electronics. Now we had a good vision for what the show was as a whole."
‡‡         The Challenge
"I think the central challenge of Hadestown was how to maintain the character of the way it was originally conceived, which was essentially the concept album played live in concert to a staged storytelling event," explains Steinberg. "What you're getting is a hybrid, I think, which is what Rachel Chavkin and [choreographer] David Neumann brought to it." He feels that the show's creative team was committed "to an event that felt very much like a music event as it did a theatrical event. I think that's the needle that Jessica and I were constantly trying to thread. And I should say, joyfully. It wasn't a hardship. It was actually the central question of the piece at every moment: How do we continue to honor that approach and make sure that we're not falling too far to one side or the other at any given moment?"
The Hadestown cast numbers 13, and there are eight musicians onstage, including piano, bass, guitar, cello, violin, trumpet, trombone and drums. The musicians are distributed on opposite sides of the multi-level stage, while the drummer is housed behind a plexi baffle in an enclosed space directly beneath the winding central staircase leading up to Hades' abode.
"Getting the drums enclosed in a way that was both physically appealing and worked for us in terms of sound was a challenge," admits Paz. Tony Award winning scenic designer Rachel Hauck "came up with a solution for that for Canada. He was just behind the plexi baffle for that. In London, the idea that the band would be surrounding the space was born. From what was learned about the scenic design in Canada, Rachel came up with this brilliant idea to put him center stage in this enclosure, which has worked really well. You still get to see him, but we don't have to deal with the bleed, which is great."
"It presents more like a concert than a theatrical performance, with the singers and the band being in close proximity to each other," says Steinberg of the show. "Even though the drummer is isolated, there's still interaction between those two sources. Because the theater's not big, the acoustic energy of both the cast performers and the band are not insignificant in a room that size. Managing that is part of the trick of the show."
According to Paz, the piano is the loudest instrument on stage. "The strings are a little bit further away from the action on an upper level, as are the bass and guitar," she elaborates. "The biggest sources of sound are really the piano and the trombone. Luckily, we have incredible musicians who are quite capable of controlling their dynamic very well. Normally a band would be in a pit or in a remote room somewhere and we'd be piping them in, or they'd be somewhat separated from the action. This band is very much part of the action."
Paz adds that she and Steinberg had the advantage of working with the whole band in every rehearsal and throughout tech in London. This allowed them to really learn about the orchestrations and dig deeper into the show. "The thing about the orchestrations for the show is that they're so detailed, and for such a small band, you've got to be very careful," stresses Paz. "They're delicate in that there is only one guitar. It's not a guitar section. There's only one violin and the cello — there aren't four violins. Sometimes, the trombone orchestrationally plays what might be considered a string part, if we had a viola. That makes this score and these orchestrations very unique."
To capture the sound of the band, Paz and Steinberg picked a collection of different microphones, including Sennheiser, Shure, beyerdynamic and DPA mics, with Radial Engineering DIs. For the actors, they selected Sennheiser 3732 receivers with SK-5212 mics. Most of the principal actors as well as the three Fates are double-miked with a combination of DPA 4066 booms, with DPA 4061s as backups attached onto the 4066s.
‡‡         The Sound System
The show is running a DiGiCo SD7 console and using nearly 250 inputs, including front of house P.A. for the band and monitor mixes. "It sounded like a lot [of inputs] when that console came out, but we routinely fill it up," notes Steinberg. "But we also duplicate a lot of inputs for monitoring and stuff like that. This quickly elevates the channel count in terms of processing. In terms of how many inputs actually hit the desk, it's not quite that many."
Eight reverb engines are hosted in Apple's MainStage. They have another Mac Mini running MainStage that handles all of their bus processing for the band. QLab is used for all of the playback, with a second QLab program running click tracks for the band.
Meyer Sound Leopard speakers comprise the two stereo line arrays for the orchestra and two line arrays for the mezzanine. Meyer Mina arrays cover the small, two-row balcony located high up in the theater. The audio team is using Meyer UPQs for the main left/right downstairs and Meyer UPJs for effects speakers over the stage. All of the surrounds are d&b audiotechnik E6s and E4s; front fills are E5s and the speakers built into the scenery for on-stage monitoring are E4s. Delay speakers are Alcons — VR8s, VR12s and VR5s. Subwoofers are Meyer 1100-LFCs located underneath the apron and Meyer 900-LFCs hanging from the apron truss.
‡‡         Complications
Asked about the most challenging Hadestown sequence, Paz and Steinberg each offer their own special choice. For Paz, it is the tune "Chant I" in Act I which moves between three different scenarios: Hades and Persephone are coming up from the underworld on the lift in the center of the stage; Orpheus performs his song, which breaks into what Hades and Persephone are singing; and then — isolated from a neglectful Orpheus, a cold, lonely and starving Eurydice in the forest is having a dialog with Hermes, the show's narrator. There's a lot of information being imparted here.
"It's a busy moment for our engineer, for sure," continues Paz. "It's probably one of the hardest numbers to do, because all of the words are important. And we also have to help the audience understand where we are. Are we in the underworld? Are we with Orpheus? Are we with Eurydice? It's just a huge storytelling moment. I would say that's the hardest. The others were difficult in a different way, but in terms of just sheer storytelling and sheer mix — that was the most difficult."
For Steinberg, Hadestown's opening number is very tricky. One is establishing the world and characters of the show, and for this production, it's important to signal that this will be a "New Orleans-style jam concert, and yet they still get the information about who we're meeting and who they are as they're introduced by Hermes," he says. "Managing that sequence continues to be, particularly for the engineer, a very tricky line to walk, because we're giving the audience a lot of information, not just about who these people are, but about how they're going to experience the show. I think it's always a demanding transactional moment between audio, the performers and the audience. Once the show is underway, none of it is easy, but a lot of the rest of the show falls into place [after the opening]."
Paz says she learned a lot of new plug-ins while working on Hadestown as the audio team experimented with different reverbs and with different effects for the microphone that Hermes uses. It turns out that the mic that Hermes mainly uses onstage — an old-school-looking, double-headed Evelyn mic from Ear Trumpet Labs (eartrumpetlabs.com) — is actually real. When used in the Canadian production, it was hardwired and used live. Things changed once the concept of the triple turntable was introduced into the show.
"We realized that there was no way we were going to be able to move this microphone around with it being plugged in," recalls Paz. "It's not wireless. It's now just a prop. We create the sound of it. We use a vintage-style effect for Hermes throughout most of the show, which we then elevate in both 'Wait For Me I' and 'Wait For Me II,' where he's coming across the radio and gets further away. It's got a totally different look. We also use a slapback effect for both Hades and Persephone at the end of Act I and top of Act II. We wanted Hades to feel as if his voice were being broadcast all across Hadestown."
‡‡         A Team Effort
Steinberg and Paz have worked together for years on various shows, including Bandstand and Dear Evan Hansen on Broadway. "The timing was right and the project was right," Steinberg says of his co-designer collaboration with Paz. "The stars aligned in a way that you hope they will for something like that to happen."
As Steinberg recalls, Paz was "intimately involved in the production, in the developmental stages between Edmonton and then at The National" in London. Prior to the show's Broadway run, Paz spent the bulk of the time onsite. She and Steinberg collaborated on the approach to the musical, but she was the daily hands-on person.
"She did a beautiful job in both venues," declares Steinberg. "I was in Edmonton for a short visit, and then also at The National for a short visit to check in, put my hands on it, and try and help where I could from an audio and collaborator point of view. In those earlier productions, Jessica had almost sole control over the day-to-day execution. My job was more of a consultant and backstop and experience point of view."
Steinberg adds that when they came to Broadway, he was there mostly full time and that their work became "a natural split. It was big picture/small picture stuff. Because she had a much more intimate knowledge of the moment-to-moment development of the sound design for the project, I was able to step back and take a [wider] look at the way we were approaching it. [Doing so] from a system point of view, in terms of distribution through the room and delivering the experience to the new venue, but also from a storytelling point of view and how we were participating in the storytelling."
Paz says that it helps that their aesthetics are aligned and, if Steinberg was not present at particular moments, she had a good idea of what he would go for.
"I also have my own style that I brought to the table," emphasizes Paz. "I do think it was a pairing of both of our styles. We already had a working relationship for many years. We knew how to communicate with each other. We're respectful of each other. We've talked through just about everything, and it turned out very well. Nevin is just one of the most generous collaborators I've worked with. He asks great questions of himself, of me, of the process, of the room, of the director, and he's very respectful of everyone's thoughts and opinions and ideas."
That sonic synergy served them well, and it is attested by the show's continued success and their shared Tony Award. Unsurprisingly, the show continues indefinitely at the Walter Kerr Theatre, where it opened for previews on March 22 for an official opening night on April 17, 2019.
Leave a Comment: