Yamaha DZR10-D and DXS15 XLF Speakers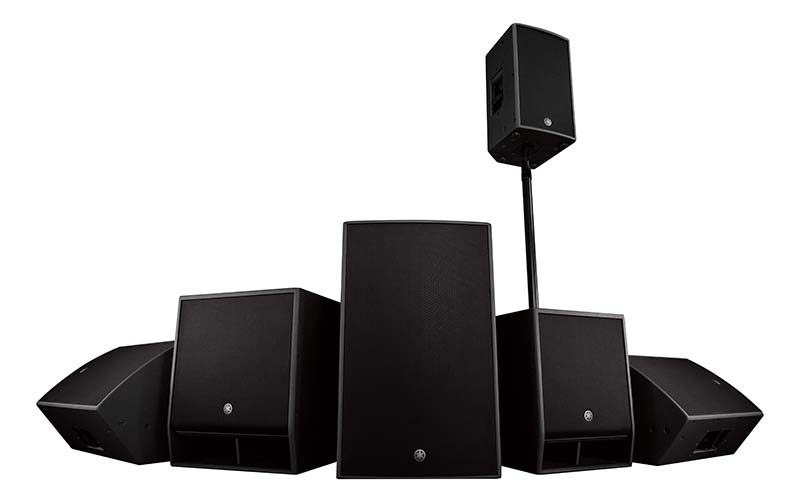 The "speaker-on-a-stick" topology has been with us for over two decades and over those 20-plus years, dozens of manufacturers have made them available, spanning a broad range of prices, quality and customer satisfaction. The most prominent among these manufacturers even offer multiple lines of pole-mounted speakers to serve several distinct markets, ranging from consumers to high-end professionals. As with other major players in the market, Yamaha's products have evolved and incorporated technological developments over time. Yamaha's latest lines are the DZR and DXS XLF series, representing its top-end of self-powered, pole-mounted line units. In all, this new line of products includes 12 speakers. There are four full-range models, including the three-way DZR315 (with an 8-inch mid driver), the DZR15, the DZR12 and the DRZ10. Two subwoofers are offered — the DXS18 XLF and the DXS15 XLF, along with Dante-enabled versions of each of the aforementioned six speakers (indicated by a "D" designation in their names).
‡‡         The Physical Goods
I checked out a DXS15 XLF sub ($1,399/street) and a pair of DZR10-D full-range speakers ($1,149 each/street). All three speakers exhibited robust and excellent build quality. The front baffle on the 17.7-by-23.1-by-23.6-inch (WxHxD) DXS15 XLF sub is just a bit wider than the 15-inch LF transducer contained inside and just tall enough to include space for the speaker's low-noise port at the bottom of the cabinet. Meanwhile, the DZR10-D top cabinets, measuring 12.4 by 21.2 by 13.6 inches (WxHxD) are, as with the sub, big enough to contain their transducers, but still of a polite, not-too-bulky size.
Both cabinets are formed of 15mm plywood and covered with a durable black polyurea coating. The full-range cabinets feature butterfly joints and 10 rigging points (eight M10 and two M8), and Yamaha also offers U brackets, wall brackets, baton brackets and ceiling brackets. Of course, the speakers can be pole-mounted, and two sockets are available; one for perfectly vertical pole mounting, the other tilting the speaker seven degrees downward. The subwoofer is intended exclusively for ground use and has no rigging points. It features two standard pole sockets — 35mm and M20 screw type. Cups atop the subwoofer facilitate the stacking of an additional sub. Both the smaller speakers and the sub feature recessed aluminum handles to help users carry them.
The handles in the DZR10-D are located atop and on the side of the cabinet, which puts the speaker in a comfortable position for one person to carry — definitely doable, considering the speaker's relatively light weight of 39.5 pounds. The subwoofer weighs in at 88.2 pounds, so moving it around is more likely a two-person task. The design includes handles on both sides of the cabinet. A wheel kit is also available for the subwoofer.
‡‡         The Electronics
The DZR10-D features two custom transducers. The aluminum-frame LF unit is 10 inches in diameter with a three-inch voice coil and neodymium magnet. The HF unit is a one-inch throat compression driver with a two-inch voice coil and titanium diaphragm. These proprietary drivers were developed specifically for these loudspeakers and represent the latest advances from Yamaha. The HF driver's dispersion pattern is 90 degrees horizontal and 60 degrees vertical, and it can be rotated to effectively reverse these figures. The speakers' fan-cooled Class-D amplifiers produce a net 2,000-watt dynamic (1,300W continuous).
Internal DSP operates at 96k Hz and features Yamaha's proprietary "FIR-X" tuning, which facilitates linear phase in the crossover, for smoother frequency response. The full-range speakers also implement "D-Contour," which is a multiband compressor intended to make the speakers more useful across multiple applications. Its three settings are "FOH/Main," which boosts lows and highs for main speaker use; "Monitor," to reduces lows that can become boomy with the speaker in a floor-wedge orientation; and "Off," which eliminates the processing altogether. Processing to extend low-end response is also available for use without a subwoofer.
‡‡         Rear Panel and Controls
The speakers' rear panels feature XLR/TRS inputs, XLR out/thru connectors, input level knobs, LCD display, main control encoder knob, power and limiting indicators, a USB port and Dante jacks (in the case of the "D") variant. The LCD display relates information about unit ID, metering, protection circuit status, presets and signal routing, among other things. The controls can be password protected, and all settings (including PIN codes) can be stored on a USB drive. Among other presets, there are settings that easily facilitate cardioid subwoofer operation with two or three cabinets deployed. The DZR/DXS speaker series is the first line of professional SR speakers equipped with Dante functionality, facilitating sophisticated signal routing and remote control of various functions from Windows computers and iPads.
‡‡         The Test Drive
I was able to easily deploy and connect the system, including Dante integration, in 30-45 minutes. The navigation of the speaker controls was simple and straightforward, and it was easy to configure the setup the way I wanted it. I put the system through its paces with speech and a broad array of music genres — music with which I have been familiar for decades. I've spent a great deal of time in front of pole-mounted, self-powered speakers from many manufacturers, so when I say the Yamaha DZR/DXS speakers sound magnificent, it doesn't come lightly. The stereo image is well-defined and high-frequency energy is consistently dispersed by the constant directivity horns.
The frequency response is smooth and there's no discernible hole or bump at either crossover point. The DRX10-D full range speaker provides a surprising amount of low-end (-10 dB down at 44 Hz), but for applications in which substantial rumbling bass is necessary, the addition of the DXS15 XLF brings plenty of it (-10 dB down at 33 Hz). I put a DZR10-D on the floor in wedge monitor mode (with its up-angle of 50 degrees) and set the output to the monitor preset to minimize the tubbiness created by half-space effect. They sound marvelous as floor monitors as well — again delivering substantial SPL, but with high clarity. Overall, I was truly thrilled with the quality of the reproduction, and I was astonished at the SPL of which these speakers are capable.
‡‡         Conclusions
There are lighter and cheaper self-powered speakers available and there are speakers that are simpler to operate for non-engineers, but for critical applications in which dead-solid, high-quality portable SR is called for, it's hard to beat the Yamaha DZR/DXS series. They provide plenty — and I do mean plenty — of SPL, but it's not just about quantity. The superb drivers, highly evolved DSP and excellent amplifiers combine with sturdy plywood enclosures to provide truly exceptional sound. These are the kind of speakers that might cause a professional to re-assess a smaller budget in order to accommodate the acquisition. In my opinion, the increase in sound quality (and quantity), along with additional roadworthiness and longevity due to superior manufacturing, make the additional expenditure a no-brainer.
At a Glance
Raising the Bar for Pole-Mounted SR
A compact, two-way system ‑— with optional subwoofer(s) — offers a lightweight solution for portable sound applications, with and onboard Dante interfacing and versatile DSP.
Yamaha DZR10-D and DXS15 XLF Speakers
PROS: Great sound; Dante integration increases convenience and functionality; High SPL output for size
CONS: Portable, but hefty — low weight is sacrificed for better quality (use of plywood vs. plastic enclosures)
STATS
Configuration: DZR10-D combines 10" woofer with 1'' exit HF compression driver on 90×60 horn
Power: DZR10-D has 920+380 watts continuous, Class-D
Frequency Response: 44 Hz to 104 Hz (-6 dB)
Max SPL: 137 dB peak (@ 1m)
Dimensions: DZR10-D, 12.4 x 21.2 x 13.6"; DXS15 XLF, 17.7 x 23.1 x 23.6"
Weight: DZR10-D, 39.5 pounds; DXS15 XLF, 88.2 pounds,
Street Price: DZR10-D, $1,149; DXS15 XLF, $1,399
Manufacturer: Yamaha
More Info: http://usa.yamaha.com
John McJunkin is a freelance engineer and writer based in Arizona.
Leave a Comment: