PreSonus StudioLive 64S Console
PreSonus, a leading manufacturer of audio interfaces and studio equipment, entered the digital console market ten years ago, introducing the StudioLive 16.4.2. Designed for live sound applications, the StudioLive console was at home in the studio and on the road.
These intuitive digital mixers with their single-layer control surface and easy-to-navigate fat channel controls made the transition from an analog console to the digital domain easy and painless. Loaded with powerful internal digital signal processing, the StudioLive series soon became an affordable alternative to other consoles in the marketplace. Over the years, the StudioLive family evolved into a complete solution offering increased channel counts, AVB networking, more robust remote-control integration and improved multi-track recording flexibility.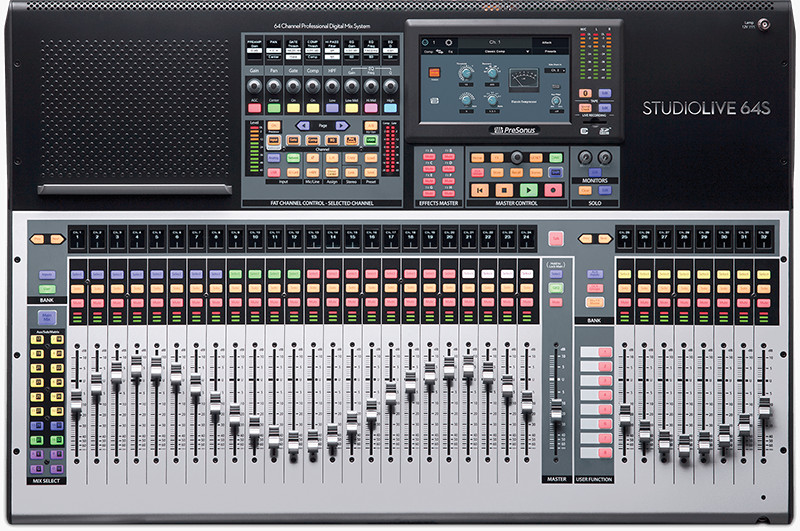 ‡‡         Welcome to the Ecosystem
Part of the PreSonus StudioLive Series III "ecosystem," these consoles offer moving faders, FlexMix configurations, a highly visible touch screen with dedicated controls for the "Fat Channel," improved onboard digital effects processors, AVB digital bus integration, networking and more. The-top-of-the-line StudioLive 64S brings the power of a large production console to small-format digital mixing, with 76 mixing channels, 43 buses, and 526 simultaneous effect processors (including eight stereo reverberation systems) using an all-new quad-core FLEX DSP engine. Thirty-two individually configurable FlexMixes allow you to create the perfect combination of aux mixes, matrix mixes and subgroups tailored for your application. StudioLive 64S mixers feature an independent main Mono/Center bus; each channel has a dedicated level control and a Center Divergence control that lets users control the pan placement in their LCR mix.
The quad-core Flex DSP engine in the 64S offers full Fat Channel processing on every input channel and mix bus. The on-board flexible digital patching is unparalleled in this price class. Like other Series III models it delivers 128 channels (64 x 64) USB recording, along with 34 x 34 integrated SD recording/playback (for digital sound checks), more than any other mixer.
Utilizing its AVB network connection, the SL64S integrates with other Series III AVB ecosystem components to create a system that is customized for your needs. Connect PreSonus NSB-series stage boxes to add remote analog inputs and outputs wherever required, add up to 32 EarMix 16M personal monitor mixers to give musicians their own customizable 16-channel monitor mix. Multiple StudioLive Series III mixers can be networked together enabling the routing of audio to/from any device on the audio network thanks to the flexibility of Digital Patching available onboard the StudioLive 64S digital mixer. UC Surface control software allows password-protected remote control and mixing. Available for iOS and Android tablets as well as Windows or Mac computers, UC Surface puts you in full control of your system.
‡‡         When I'm 64…
I have been using StudioLive mixers since their inception and own an original Series III 16, so I was excited when a big box from Baton Rouge arrived at my shop. Once unpacked, the first thing I noticed was how light the unit was. At just over 37 pounds, I could easily pick it up and move it without assistance.
Built into the same form factor chassis as the StudioLive 32, the only way you know this guy is different when powered down is the "StudioLive 64S" name badge on the top panel. Like the StudioLive 32, the bottom half of the console front panel is split into two sections (24 faders on the left, eight on the right), separated by the "master fader", eight user assignable function buttons, and talkback mic on/off button. Bank select buttons allow faders to be configured for Inputs and User on the left section and Aux, DCA, and Mix/FX masters on the right. Unlike other digital consoles that use multiple layers, the SL64S uses previous and next arrow buttons to maintain a "single layer" philosophy. Similar to scrolling on a computer screen, I found the arrow buttons intuitive to use. This same functionality is echoed in the UC Surface remote control with its scroll bar.
Above each fader are a three-segment bar graph showing input level for the channel and illuminated buttons for mute, solo and select. The select button can be assigned one of 17 colors for color-coding input types and glowed softly when not selected. Over the buttons are backlit scribble strips that show channel number, name and pan position. The level of the backlight and buttons can be set for best visibility. For my indoor gigs, I found the brightness was more than adequate, however in bright light it was hard at times to see the buttons.
On the back panel are 32 XLR/TRS combo jacks for the internal XMAX Mic Preamps and TRS line inputs, 16 XLRM-type mix bus output connectors, along with XLRM outputs for left, right and mono/center mains. The two stereo Aux inputs use 1/4" TRS connectors and tape in/out land on RCA connectors. A local XLR input is provided for a talkback mic.
An RJ-45 network connector interfaces the console to a local area control network while a ruggedized locking Ethernet RJ-45 connector connects to the AVB audio network. AES digital audio appears on an XLR-M connector and a USB type A connector allows direct connection to a computer for multi-track recording and UC Surface control.
A standard IEC power connection and power switch round out the rear panel. Finally, the ubiquitous BNC connector is provided on the top panel for a 12V console lamp.
‡‡         Let's Get Fat….
Pressing the Select button for any fader engages the Fat Channel display and controls. Dedicated buttons allow you to select the input source (Analog, network, USB or SD card) based on the routing setup under "digital patching" (more later). Buttons are provided for turning on 48 VDC phantom power, polarity, stereo linking and direct assignment to L/R or Mono/Center main outputs. Copy, Load and Save buttons allow Fat Channel settings to be copied from one channel to another or presets to be loaded from the console's internal preset library. You can load the entire preset or pick and choose the filters desired (i.e., EQ and compressor, but not the gate or polarity). If you create your own Fat Channel configuration it can be saved to one of the empty preset locations for later recall.
From day one, I have always liked the PreSonus Fat Channel presets and use them on almost every gig. They are well thought out and very musical sounding. If you need to get a gig configured quickly, they are a good starting point.
At the top of the Fat Channel control section are eight LCD scribble strips with encoders and illuminated buttons. These, along with the touch screen display, will change based on which "channel function" button is pressed. For example, pressing the EQ button opens the standard EQ graphical display with "points" for each of the filters. Touching a point makes it active and controllable by the rotary encoder below the display. But, that's not all! When the EQ button is pressed, the 8 scribble strips, encoders and buttons now reflect what is shown on the touchscreen making it quick and easy to make changes on the fly. This happens for the Gate, Compressor and Aux sends giving you complete and accurate control over the selected channel's DSP. Along with the standard dynamic processors, there are vintage and passive style EQ's, along with selectable Tube and FET compressor plug-ins — and more are available for purchase. Even though you can't "draw" an EQ curve on the touch screen, I prefer the more accurate control offered by the encoders.
‡‡         And Now for Something Completely Different…
But when you are under pressure and need to make a quick Fat Channel change, simply press the button marked input. The touch screen shows an overview of all channel settings and the eight scribble strips, buttons and encoders allow immediate access to key Fat Channel settings. Need to make a quick EQ change? Press the button for the desired filter band (B1-B4), and quickly adjust gain, frequency and Q. The same goes for the compressor, gate, pan limiter, mono send and preamp gain. I guess you could say it is a slimmed down Fat Channel…
I do a lot of gigs where different vocalists share a common mike. Often it is the female jazz singer followed by the amateur male crooner. I simply use the A/B alternate dynamics control. Yep, that's right two independent Fat Channel settings for every input. Configure A for the female vocal, and B for the crooner. With a push of a single button, all the channel dynamics change.
Finally, the User button allows you to configure the 8 encoders and associated buttons to your liking.
‡‡         Let's Get on the Bus
The StudioLive 64S sports 32 Flex mix buses that can be configured as aux sends or submasters. Additionally buses 17-32 can be setup as matrix mixes. Out of the box the 16 mix output connectors are assigned to mixes 1-16 but with the extensive built-in digital patching, all of that can be changed to your liking.
When a FlexMix bus is configured as a submaster, channels are assigned using the Fat Channel aux send controls. You can also assign channels by pressing and holding the Mix Select button for the submaster, then pressing the Select buttons on any channels you want to assign. I like the fact that when the submaster is selected, only the associated channels show up.
Of course, if you are a DCA-type mix engineer, the same thing happens. Pressing the DCA groups button opens the DCA edit screen where you can name and assign channels. To make assigning channels easier, their select buttons blink letting you know they are available for assignment.
‡‡         Which Route Do We Take?
The StudioLive 64S offers extensive built-in digital patching and signal routing. Accessible via the touch screen or UC Surface remote control, any source can be routed to any channel including a single input point to multiple channels. (Makes doing Mid-Side miking easy.) Likewise, any source can be assigned to any output. Need to send a direct feed from the pastor's mic to a dedicated location? Simply route the "Pastor" channel to a mix out.
‡‡         Take that Network Superhighway
AVB connectivity introduces a whole new way of doing things. Connect directly to multiple NSB 8×8 or 16×8 throwdown style stage boxes to add remote analog inputs wherever they are required. I have grown accustomed to placing NSB stage boxes at the front and rear of a stage for I/O convenience and to eliminate the old analog subsnakes. Having eight assignable outputs per box makes powered stage monitor layouts a breeze. For situations where performers want their own customizable monitor mix, simply add EarMix16M personal monitor mixers to the AVB network and let them go. As they say, "everyone gets a mix and how they abuse it is up to them."
I have even linked my StudioLive 16 console to the 64S via AVB to provide an onstage monitor mixer location. The powerful UC Surface remote control app (currently at version 3) and flexible on-board digital patching made it straightforward and easy to configure. And any combination of analog console inputs and outputs can be seamlessly configured with their AVB counterparts. The NSB stage boxes also incorporate onboard DSP that provides gain compensation on every input so that individual mixers on the network can adjust the preamp level locally for optimal gain staging. This is so much better than the days where the monitor mix engineer tweaked his input trim and affected my house mix!
‡‡         Total Recall
Every setting in the 64S can be saved, including mic preamp gain settings and individual phantom power configurations. Multiple scenes are saved under a project; and projects and scenes can be backed up over the network. I do several multi-act festivals and the project/scene concept is ideal for these gigs. Simply create a project for each festival day and a scene for each act. Up to 20 scenes can be saved per project for easy recall during the gig.
‡‡         But, How Does it Sound?
I have used PreSonus gear for many years and have always been impressed with the overall transparency and quietness of the preamps. The StudioLive 64S is no exception and I have used the 64s in critical live and recording sessions with great success. The XMAX preamps in the NSB Stage Boxes can be remote controlled from the console and the trim and phantom power setting saved along with other parameters in scenes and projects. The PreSonus EQ sounds very musical and their compressors offer a wide range of control without sounding "forced." I have only begun to explore the additional vintage EQ and compressor emulations available in the 64S; there's a lot under the hood.
‡‡         Oh, Did I Mention it Records?
One of my gigs is as the archival recordist for a symphony orchestra. Typically for these concerts, I use a PreSonus StudioLive 16 16-channel console to multi-track record and provide a two-track broadcast mix. Last spring, the orchestra did the concert version of West Side Story, that required multiple wireless mics for the cast, spot and section miking for the orchestra, a P.A. mix, multi-track record mix and the two-track archive. All in all, its about 48 channels total. My record position is a small room in the back of the hall accessible via stairs. I simply tucked the lightweight, 64-channel console under my arm and trotted up the steps. I added a PreSonus NSB 16.8 Digital Stagebox for the additional 16 inputs, patched in my I/O lines and sent USB to a laptop running the PreSonus Studio One Professional (Ver. 4) DAW software. I was tracking 48 channels over USB and the processing load on the laptop was minimal. Considering that five years ago, this gig would have been a truck parked out back with a ton of copper snake run into the hall, I must say I am impressed.
‡‡         From the Studio-to-Live
There is so much more to talk about on this one… I haven't even touched on using it as a DAW controller in the studio, virtual sound checks from an SD card (which also contains the preset scenes for the gig), the eight awesome-sounding built-in effects processors with some really cool presets, the console's ability to assign different levels of permissions for access control or how you can put the console into a fun "Mardi Gras" mode to amaze your friends and those who walk up to FOH and ask if I know what all the buttons do!
This is one powerful, yet affordable console. As part of a scalable ecosystem, the StudioLive 64S is a go-to solution for live sound applications including house of worship, performing arts centers, theaters, concert venues and festivals. It is easy to use, intuitive to operate and a robust performer. PreSonus has got it right on form factor, interface, networking and audio performance. Add in AVB and the UC Surface remote control and this system is an all-star grand slam.
Like that big pot of jambalaya cooking out back, it tastes as good as it looks!
At a Glance
Light in Weight, But No Lightweight
PreSonus' flagship StudioLive 64S digital console packs a mighty punch into a relatively compact, 37.2-pound chassis with 76 mixing channels, 43 buses, and 526 simultaneous effect processors — all at an affordable price tag that won't break the bank.
PreSonus StudioLive 64S
PROS:
Huge channel count in a small form factor
Highly useful FlexMixes
Versatile routing and digital patching
Scalable Series III AVB ecosystem
UC Surface remote control app
CONS:
Buttons could be brighter
No jambalaya recipe in the box
FEATURES
64 Channels (76 in mixdown)
24-bit/48 kHz A/D Resolution
32 Mic Preamps
32 FlexMix Buses (aux/subgroup/matrix)
64 in/64 out USB Audio
24 DCA Groups
7" Touch Screen Display
33 Touch-Sensitive Moving Faders
STATS
Size: 32.4 x 23 x 6.5" (WxDxH)
Weight: 37.2 pounds
Price: $ 4,399/street
Options: NSB 8.8 8×8 & NSB 16.8 16×8 stage boxes, SW5E AVB switch, EarMix 16M personal monitor mixers
Manufacturer: PreSonus
More Info: www.presonus.com
Steve Savanyu operates Buford T. Hedgehog Productions, an independent sound company in Northeast Ohio.
Leave a Comment: