Carlson Audio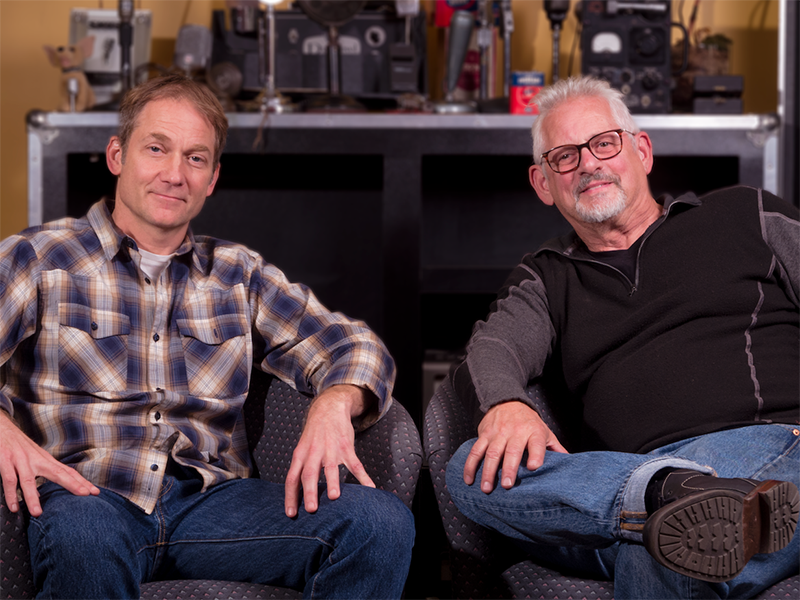 Company Founders Jonathan Myers and Mark Carlson will Soon be Celebrating 30 Years…
It has long been said that "the true artist makes it look easy." And this certainly applies to Seattle-based sound company Carlson Audio, whose founders — Mark Carlson and Jonathan Myers — make it look easy.
While their origins have much in common with pro audio companies everywhere, their ability to hire well and know what equipment to invest in is not. Because of this, they are the go-to soundco for touring acts and regional festivals. They have earned a steady supply of enviable corporate clients, including the Seattle Seahawks, Microsoft, Live Nation, Boeing, Tableau Software and Starbucks.
"We do get hired for major corporate events and we're sort of chosen, which is nice," Carlson says. "We don't have to hustle that hard for it, because we have a good reputation with these companies." Carlson Audio's special projects list includes Bumbershoot, the Capitol Hill Block Party and ZooTunes, as well as install projects such as the modern, landmark Benaroya Hall concert venue, home to the Seattle Symphony Orchestra. Carlson Audio has taken home two Parnelli "Hometown Hero" sound company awards for the Northwest region, and in 2007, they were named the Hometown Hero Sound Company of the Year.
‡‡         Thrown into the Fires
Carlson himself was a working musician — a guitarist, singer, and songwriter who also spent some time in the recording studio. Alas, as we often read often in these pages, he figured out he could make more renting the sound gear he owned then playing in a band. Meanwhile, as both he and Myers hailed from Seattle, their paths crossed. The two spent a summer as hired hands for local audio companies helping out on regional festivals. "I would say it was an exercise in developing chops and problem-solving," he says. "We were thrown into a lot of fires. We saw how things weren't properly designed or put together." They decided to form Carlson Audio in 1990. "Our goal at that point was to handle the 3,000-seat and below events. We felt that market was underserved. We did good work for those clients and they appreciated us, and soon, we had that market." Of course, it began in a one-car garage in Everett, WA before moving up to a 1,500-square-foot space in a strip mall.
By 1994, Carlson Audio had its own proprietary boxes, some of which are still used today as the shop P.A. "Then we brought in Dave Stevens, who had been a touring engineer for many years and worked for another local company," Carlson says. "He came aboard with us at about the time we decided to take the plunge to serve bigger clients, and that's when we bought our first [EAW] KF850 rig. That's when we started to climb." That was a seminal year as they already had four full time employees and a cast of up to 20 freelancers to call on as needed. Another EAW rig was added, as was the addition of a Yamaha PM3500 console. All of this elevated their stature, and soon business doubled. Then the whole Northwestern grunge scene exploded, which Carlson was perfectly situated for. "The opportunities were there, and we were the go-to company for those bands. That really worked out well for us."
Of course, a test of any audio company's mettle came with tragedy, which in this case was 9/11. About that time the Carlson team was in talks with the Desert Inn Casino in Las Vegas for a major acquisition of gear. The casino was slated to be torn down, and the offer on the table was for Carlson to buy the entire audio system, which included a Yamaha PM4000, another EAW KF850 system and lots of wireless. "It was a cash deal, so we used all the deposits from all the gigs we already had booked and sent two trucks down there. It was kind of fun because the building was slated to be imploded, so we ran in to the already gutted building with headlights on helmets and flashlights pulling out the gear." The fun was short-lived. September rolled around and all the gigs planned immediately beyond it were cancelled and the market froze up. He and Myer elected to not let anyone go and wait it out, which involved the two owners going seven months without a paycheck.
Work eventually bounced back, and as soon as they could they invested in more equipment, which included taking a plunge into EAW's then-new KF750 box. "It was a complete departure from the 850 world, and tours we put the 750 boxes on did extremely well." A 2003 Pearl Jam tour provided the opportunity for their first foray into line arrays and they picked up EAW's KF760/761 system. The Pearl Jam tour connected the company to R.E.M. and then Carlson went on to support their international tour for 18 months. Others followed.
‡‡         Building a d&b House
Then there was the decision to diversify their inventory, which lead to a partnership with d&b audiotechnik. It was "a very small [investment] at first, but today we have over 200 of their boxes in our inventory," Carlson says. Enter Jason Waggoner, who worked for d&b for 10 years — eight of those serving Carlson as a client. Waggoner hails from Dallas and studied sound design at the University of North Carolina School of the Arts. He got his job at d&b's Asheville, NC office, and from there, he ended up in Seattle opening a western regional office.
Waggoner says he first ran across Carlson's people at a training session in 2010. "They came to the second training session we had ever put on, and right from the beginning Mark, Jonathan, and the other [Carlson] people struck me as an impressive group that clearly knew what they were doing… because you know, sometimes these training sessions are a mixed-bag!" he laughs. Waggoner first started freelancing with them, going out when they needed help with corporate events, and today his title is business development. One part is maintaining current client relationships while developing new ones. The second half is managing special projects. "Anything that comes up that takes us out of normal mode. This can be a unique installation, an event that's far away — anything."
‡‡         The Big, The Small — The Business
An example of the "special" includes international video game tournaments. "We've been supporting DOTA's The International (TI) for the last seven years. The upcoming tournament [Aug. 20-25] will be at the Mercedes Benz Arena in Shanghai. You'll have 18,000 people in the arena watching teams playing against each other, which is simultaneously broadcast in four languages to 15 million viewers around the world." It involves eight to ten consoles and hanging a lot of d&b V Series line array cabinets. "It's incredibly complicated — they will cut away to man-on-the street interviews as well as delivering full in-game analysis and commentary on everything involved in the tournament. Miles of fiber is involved!" But at the same time, Waggoner emphasizes that the box-on-a-stick segment the market is still important. "Everyone sees us do the big gigs, but there are plenty of events we do that serves the needs of our community. No event is too big or too small for us."
A few years ago, Carlson Audio moved into a 22,000 square-foot warehouse that was the original home of Amazon.com. "We're blocks away from both football and baseball stadiums, and we have docks for five trucks which are all busy at all hours of the day and night. We do about 500 gigs a year, and most are one-offs," Carlson says. The EAW boxes are still in demand, and Carlson Audio continues to increase their d&b offerings. Console-wise, there's a lot of variety, from a wide selection of Yamaha boards along with DiGiCo SD10s and SD12s. Also in the mix are a Midas XL4 and Heritage 3000 and "all the analog toys that go along with those boards." Carlson adds that they are looking to purchase another pair of consoles this spring. They are a Shure house, having just received a 12-channel Axient Digital Wireless, as well as 24 channels of PSM1000 wireless in-ear package with 40 beltpacks. Waggoner adds they have the largest collection of wireless in the region.
In 2015, Carlson Audio opened a satellite office 170 miles south in Portland, OR to better serve that market. "We were doing work down there already and people begged us to open a shop," Carlson says. "We landed some festivals to make it even more worthwhile, and opened a 5,000-square-foot warehouse and hired a crew of people. That's going really well."
‡‡         Now About Their "Lighting" Rig…
While "diversifying" for Carlson Audio has included expanding gear and serving new markets, there's one aspect that is noticeably absent: They've never gone over to the "dark side" and gotten into lighting. "Now we do have one PAR 56 upstairs somewhere with the bulb burnt out," Carlson laughs. "But here's the thing: there are a multitude of good lighting, video, and staging companies in this region that we enjoy partnering with, and working with them allows us to concentrate on what we do well." In a world where "one-stop shop" seems to be the mantra, Carlson Audio is successfully standing its ground on this issue. He tells of last year's 50th Anniversary of the Special Olympics at the University of Washington's Husky Stadium, where a grand opening ceremony was broadcast on ESPN. A number of companies put forth proposals that involved a more complete "package," but Carlson was chosen for the audio with other vendors chosen to supply the other aspects. "It turned out to be a spectacular event that sounded great. Everyone was happy."
As he approaches his 30th year in the business, does Carlson consider at least slowing down? He laughs. "Every year I think I should, but it never happens. What's happening around here keeps me young and excited. I balance it all with quality time off, but the passion we have here — not just me, but everyone who works here — keeps me going. If you don't have this passion, you really should think of having another career."
Company Snapshot
Carlson Audio
Founded: 1990
Founders: Mark Carlson and Jonathan Myers
Locations: Seattle, WA (main); Portland, OR (branch)
Services: Professional sound reinforcement sales/rentals, event production, audio installations
More Info: www.carlson-audio.com
Leave a Comment: