The Backstreet Boys DNA World Tour
Nostalgia is a powerful force, but don't fool yourself into thinking that's the sole driver behind the Backstreet Boys' recent resurgence of success. This long-running vocal quintet has sold over 100 million albums worldwide, making them one of the most revered and successful musical acts in history. They're also in an elite group of artists to hit #1 on the Billboard charts in three different decades, with the most recent instance coming courtesy of the band's latest and ninth studio album, DNA, which debuted in the top spot upon its release in January 2019.
What's more, some of modern pop's biggest acts — from One Direction to Fifth Harmony to global juggernauts BTS — wear their BSB influence on their sleeves, offering a constant reminder of the group's indelible and undeniable legacy over 25 years since they first formed.
As such, it seems only fitting that the group has embarked on its most expansive arena trek in 18 years, the DNA world tour, which kicked off May 11 in Lisbon, Portugal, and will cover four continents before wrapping up with a string of dates in Latin America in February and March, 2020. We caught up with the tour at the 19,772-seat PNC Arena in Raleigh, NC in late August.
‡‡         The System
For its current North American run, the tour is carrying an audio package from Escondido, CA's Sound Image comprised of an expansive E-Series P.A. from Adamson Systems Engineering and SSL Live consoles at the FOH and monitor positions — all part of a unique audio system design that complements the relatively elaborate set and visuals.
"The biggest challenge of this design was trying to find the best place to put the P.A. within a complex visual show design," begins Cam Whaley, the tour's systems engineer from Sound Image, before listing a few specific obstacles.
Key among them is the large, diamond-shaped thrust in front of the stage with a sizeable audience area in its center. There's also an automated video wall that descends in front of said thrust at one point in the show. "So the challenge for us is to keep the P.A. off of that thrust and video wall, but still have great coverage for the expensive seats right along the thrust," Whaley says.
The solution was to go wider with the main arrays at a slightly tilted angle while incorporating larger side hangs that cover the audience to the sides of the thrust to minimize the necessity for front fills.
As such, the main left-right arrays are comprised of 18 Adamson E15 three-way, true line source enclosures per side while the slightly smaller side hangs have 12 E15s atop six E12 three-way, full-range boxes per side. The low-end comes courtesy of 12 E219 subwoofers ground-stacked on each side of the stage, and the design also incorporates rear hangs of a dozen S10 sub-compact two-way, full-range cabinets per side.
"The interior of the pit was also a bit of a design challenge," Whaley adds. "Those are the VIP seats, so it's really important to make it sound great there." To do that, they rely on a complement of Adamson S10ns — the narrow-dispersion version of the S10 — and smaller IS7p point-source enclosures. Three of the former are built into shelves in the stage while a pair of the latter are loaded on the thrust facing the opposite direction. "That many boxes in a small area helps with the obstruction of people, and we can keep them at a lower volume with the audience right next to them," Whaley notes.
An added benefit of the point-source cabinets, he tacks on, is that they help with the perceived location from which the sound is emanating. "So when the artists move to the thrust from the stage, it's a psychological trick that makes the sound appear to come from their location."
Whaley leaned heavily on Adamson's Blueprint AV design and simulation software from show to show, as was also the case in the initial design period. "Blueprint is critical to me in the design phase," he stresses. "I know I can count on the results even when doing something unconventional, and I know that when I model something and tell the promoter which seats we can cover, it will be accurate to the row." That's been especially valuable on the trek since many of the dates sold out, leaving promoters hungry to open up additional blocks of tickets.
Whaley is using the software's 3D measurement input tools in each new arena. He recently got his hands on the MapStar
TruAngle Encoder and TruPulse 200X laser rangefinder from Laser Technology (lasertech.com), which enables him to shoot virtually any venue from a single location. "With the 3D input options in Blueprint, it's as simple as entering the distance and vertical inclination from the TruPulse and the horizontal inclination for the TruAngle and you have an XYZ point with no fuss," he says.
Speaking generally about the Adamson system, Whaley says its overall sonic performance is ideal for a vocal-heavy pop group like BSB.
"The mid 7-inch Kevlar drivers in the E15 and E12 are really incredible," he enthuses. "That midrange quality really makes it easy for the engineer to bring the vocals forward without sacrificing the rest of the mix, and the impact and tightness of the E219 make it easy to achieve that big pop feel and sound that's exciting without being overwhelming or loose."
‡‡         The FOH Viewpoint
James McCullagh, the group's FOH engineer since 2013's In a World Like This tour, shares a similar opinion.
"My relationship with Adamson goes back a long way," he says. "I've always been a huge fan of their 'mid-forward' sound. It's not something you can EQ into a P.A.; it's just the way their drivers handle that frequency range and it's especially great for vocals and guitars, so it was the most logical choice for a vocal harmony pop group. We get a really big sound."
McCullagh is driving that sound from a Solid State Logic Live L550 console at FOH. Despite the iconic recording brand being relatively new to the live sound market, his history with it goes back decades.
"I come from a studio background, and started out working in my uncle's studio in South Africa in my teens," the engineer says. Since moving to the U.S. in 2005, however, he's taken to the road with acts including Katy Perry, INXS, Journey, Alanis Morissette, Miley Cyrus, and Lana Del Rey, among others.
"The best quality about the SSL console is its sound," he adds. "It has the famed SSL studio console sound, which is the quintessential pop sound of the '90s that we were after for this tour."
McCullagh is managing about upwards of 150 inputs on the trek (and monitor engineer Austin Schroeder has even more) despite the fact there's no live band onstage for the headliners.
"Playback is fairly complicated," he explains. "We have no live instruments; everything is in the box, but the boys took their band into the studio for a couple of weeks and re-recorded and re-arranged all of the music for this tour. I worked closely with their MD, Keith Harris, to make sure we maintained the essence of a live band, so we have every single track that was recorded separated, un-EQ'd, uncompressed, and unedited, which amounts to around 150-plus tracks on some songs, which are then bused out to the consoles at 96k Hz via 64 channels of MADI."
He stresses that even the programmed parts were recorded live for the tour, "So what you end up with is a show with an amazing live feel, but no band on stage."
The five vocalists are using Sennheiser Digital 6000 mics across the board. Ahead of their Backstreet Boys: Larger Than Life residency in Las Vegas, which ran from early 2017 to early 2019, the group auditioned a lot of mic and capsule combinations and, put simply, the 6000s suited their voices the best.
"To be honest, there was really no other choice; these sounded that much better than the other options," McCullagh says candidly. "A huge plus for us is that there's no intermodulation between mics when they sing next to each other or put their mics down next to each other."
McCullagh is seeking to get the best of both worlds when it comes to his mix, balancing the aesthetics of modern pop with those from the unmistakable '90s sound that BSB helped pioneer.
"Yeah, of course there is a degree of modernization, but at the same time, we've really tried to stick to the sonic signature that made the Backstreet Boys who they are," he says. "For obvious reasons, my mix focuses around the vocals and the blend of their voices in harmony. This is a bit more difficult and a little different to other bands I've mixed that only have one singer, as I now have to find quite a lot more space in the mix for the extra vocals."
‡‡         At Monitorworld
Schroeder faces a similar challenge at the SSL Live L550 monitor desk, noting he's developed an entirely different workflow for BSB in order to give an equal amount of attention to the five singers onstage. "One thing that's helped me accomplish this is using a lot of automation and spending a lot of time getting cues and changes happening via time code," he reveals. "Oftentimes, I'll have to run into the quick-change area during the show to check in on how one of the guys is doing, and not having to worry about changing snapshots while I'm doing this has been invaluable."
Compounding the challenge is the fact that, considering their different ranges, timbres, and roles within their prized polyphonic harmonies, each of the five singers has different preferences for what they want from their mix.
"They have very different-sounding voices and traits to the way they sing," Schroeder reinforces. "James and I still spend a lot of time discussing tricks and things we can do to manage that."
He adds that it's been interesting "getting into each of their heads psychologically" to figure out the best way to communicate and collaborate.
Schroeder came into the BSB camp for the Las Vegas residency, though he'd worked with Nick Carter on a previous solo outing. He had his eye on the SSL Live platform for some time, and saw the DNA world tour, being an entirely new show, as a prime opportunity for a test drive.
"Both James and I spent several months learning about SSL, paying visits to their facilities, phone calls, emails, really learning as much as we could about what they have to offer," says Schroeder. "The thing that probably grabbed our attention right away was how fantastic their support was."
Since the tour kicked off in mid-May, though, he's had plenty of time to appreciate some other advantages. "They've got very powerful features — especially for mixing monitors," he says. "Their unique 'stem' buses create a whole new world of opportunity for complex routing, and the solo and talkback systems they've developed can do some awesome things that no other digital consoles have been able to pull off."
‡‡         A Team Effort
Speaking with FRONT of HOUSE about halfway through the North American leg, Whaley, McCullagh and Schroeder are all enjoying their work and collaborations on the DNA World Tour. "It's been great so far," Schroeder states. "The crew from Sound Image have been amazing and pulled off some incredible feats with getting the show up-and-running in some very precarious situations. Our account manager, Jesse Adamson, has gone above and beyond to take care of us and get us everything we need, which we really appreciate."
The tour will pause for a few weeks between mid-September and mid-October, after which they set off for a string of dates in Asia before capping off their 2019 touring schedule with four nights in Honolulu. Then, in February and March, they'll be performing in Mexico, Central and South America, wrapping things up in São Paulo, Brazil on March 15.
The worldwide success of the DNA album and the extensive routing and excellent reception for the world tour supporting it make it clear that, well into the third decade of their career, Backstreet Boys are back in a big way. However, considering the steady stream of hits they've produced throughout that time, not to mention their lingering influence on mainstream pop to this day, you could also point out that it feels like they never really left.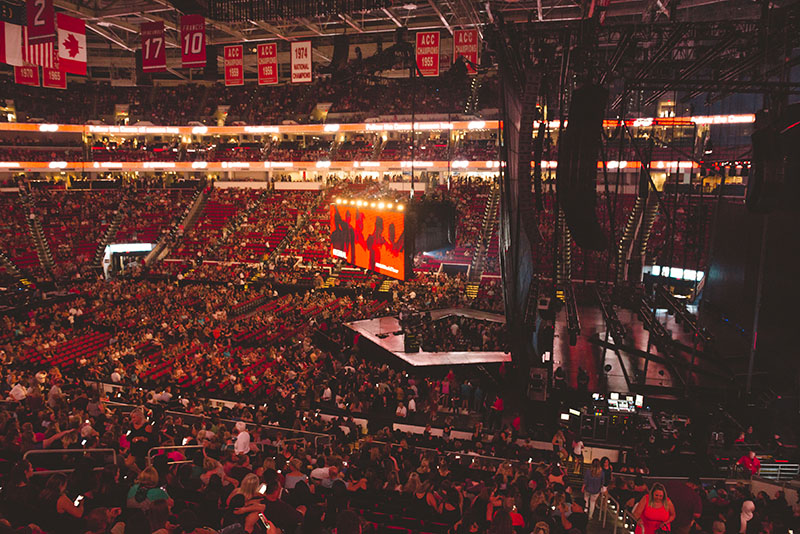 Backstreet Boys' DNA World Tour
AUDIO CREW
Sound Company: Sound Image
FOH Engineer: James McCullagh
Monitor Engineer: Austin Schroeder
Systems Engineer: Cameron Whaley
Playback Engineer: Romain Garnier
RF/Monitor Tech: Austin Dudley
P.A. Tech: Matthew Garrett
P.A. GEAR
Main Hangs: (18) Adamson E15s/side
Side Hangs: (12) Adamson E15s over (6) Adamson E12s/side
Rear Hangs: (12) Adamson S10s/side
Subs: (12) Adamson E219s/side (ground-stacked)
Front Fills: Adamson S10ns & IS7ps
Amplification: Lab.gruppen PLM20000Qs
Drive Processing: Lake LM44; Roland Octa-Capture; Rational Acoustics Smaart v.8; iSEMcon EMX-7150 measurement mics
FOH GEAR
FOH Console: SSL Live L550
Outboard: SSL G-Series Compressor, SSL Fusion Processor; Bettermaker Mastering Limiter; Burl B2 Bomber ADC; Bricasti M7 Reverb; Waves Extreme Server, Waves DiGiGrid MGB Interface
Nearfields: VUE Audiotechnik i-8s with HS20 Sub
MON GEAR
Monitor Console: SSL Live L550
Stage Boxes: SSL ML32.32(analog), SSL D32.32 (AES),
SSL Blacklight MADI Concentrator
Outboard: Rupert Neve Designs 5045 Primary Source Enhancer
Sidefills: Adamson S10
IEMs: Shure PSM1000 hardware; Jerry Harvey Audio Roxanne in-ears
Wireless Mics: Sennheiser 6000 Digital Wireless w/9235 capsules
Intercoms: Clear-Com HelixNet (wired); Riedel Bolero (wireless)
Leave a Comment: